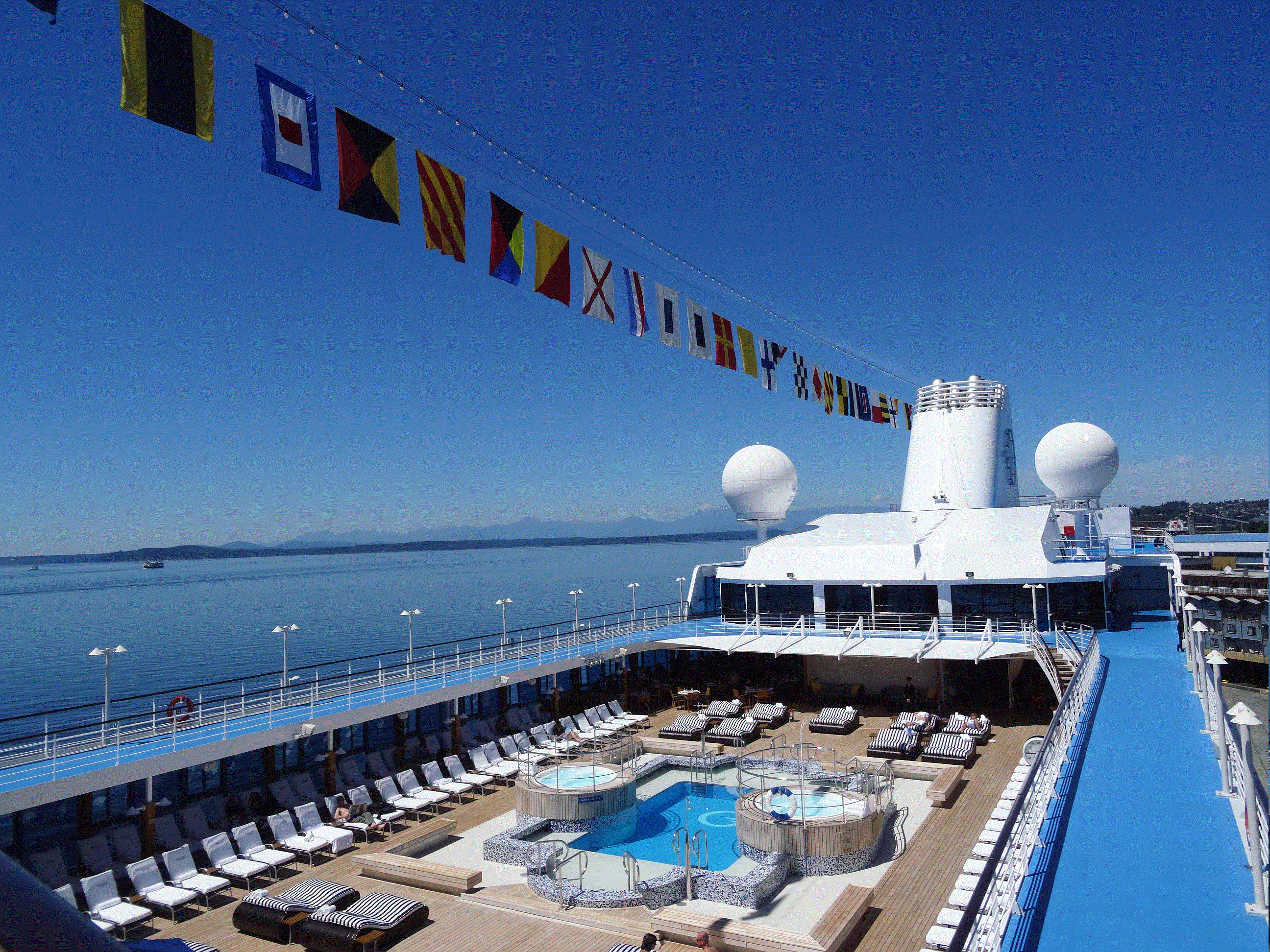 Join Patricia Marques as she begins her unforgettable trip to Alaska aboard the Regatta of Oceania Cruises. If you're thinking of a cruise for yourself and your family, there's never been a better time to book! Check out the great offers today with Oceania Cruises and pick out a cruise you'll never forget.

Sixteen years ago, newlyweds of two years and poorer than church mice, my husband and I scraped together as many pennies as we could to embark on our first Alaska cruise vacation. We managed the lowest inside cabin and one shore excursion booked on the nicest cruise line we could afford. What we would remember was that this land was vast, the nature was diverse, the air was sweet and clean, and our time there was too short.
Three months ago, while discussing my vacation plans with one of our professional CAA travel consultants, a twelve night cruise to Alaska with Oceania Cruises was offered and it took all of five seconds for my husband and I to book. After many other adventures across the globe, we'd return north to Alaska, albeit under very different circumstances. No inside cabin for us this time – rather, a veranda suite with floor to ceiling windows to drink in the landscape illuminated at night by the solstice midnight sun.
The flagship of Oceania Cruises, the 694-passenger Regatta would sail this itinerary with 400 of the most expertly trained crew. The anticipation of service excellence was palpable. Fine touches, elegant decor, comfort and design were combined with luscious Bvlgari amenities were available in all public rooms and staterooms. There was no hint of the uptight atmosphere some would think would come with choosing a luxury cruise. Friendly smiles and warm greetings met us as we boarded the Regatta. This small but luxurious ship would be delivering us to tiny villages, inaccessible by larger cruise lines, for days of adventure and nights of incredible cuisine.
June 26, 2015 – Time to Unwind, Day at Sea
In the early morning, we headed to the pool deck and settled for a plush chaise for two located in a quiet little corner of the pool deck. Next was the library, excited at the prospect of being able to read a novel on vacation, something I had not managed to do before. The library works on an honor system, and all books contain a polite note requesting the book be returned to its stunning mahogany cupboard when finished. Although the overstuffed leather armchairs were tempting, it was the chaise in the fresh ocean air that I craved. I settled in with my book, and as soon as I made a quiet comment to my husband regarding the brisk North Pacific breeze, a nearby heat lamp flickered on. A brief moment later a warm fleece blanket was presented, and I tucked in to enjoy a bit of long-deserved me time.
I am going to be honest. I am used to, and enjoy, the high-energy buzz of other cruise lines' sea day events and games, where you can fill every minute of your day with stimulating activity. On reviewing the daily schedule, I felt a small sense of panic when the entire day's activity list fit on one page instead of two and a half, and my first at-sea day was, much to my chagrin, unscheduled. Yet as I reclined on my chaise, reading the first novel in a few years, occasionally looking up at the glistening ocean, I found myself actually relaxing. I looked around to see many other passengers doing the same. No one was holding a tablet, smartphone or laptop. Some did have e-readers, books and/or binoculars, others taking a stroll or enjoying a drink with a new friend. This is when I finally "got it". The passengers on the Regatta were not onboard to be entertained every minute of the day. They were onboard to simply enjoy the salt air, partake in an old-fashioned conversation or have a nap, if that is what their hearts desired.
Over the next 12 days we all cruised in a level of comfort and luxury that as I am writing this blog, I miss entirely. The cuisine was outstanding, with dishes created by Jacques Pepin served on Versace plates in the dining rooms. One of my favorite meals was at the a la carte Terrace Cafe, dining with our wonderful new friends on fresh Atlantic lobster tails and succulent lamb chops. The evening brisk air caused a few slight shivers amongst the ladies, and instantaneously the maître d's brought us warm fleece blankets so that we felt no rush to end our night.
My husband insists that I mention the bread that he singularly blames for his sports jackets no longer fitting him by the end of the cruise. Handmade daily by skilled hands using the best French milled flours and accompanied by creamy butter also from France, each bite produced eye rolls that this gluten-free girl was almost envious of if I hadn't been equally satisfied by my daily selections of delicious gluten-free pastries and desserts. I would be remiss if I didn't mention the Polo Grill and Toscana, the Regatta's specialty restaurants. We dined like kings on huge ribeye steaks and perfectly whipped potatoes, finishing with hand-made marshmallows dipped in the most delectable caramel sauce at Polo Grill. At Toscana, we were transported to Italy gobbling down dishes like Octopus Carpaccio, succulent lamb chops and creamy tiramisu while being entertained by the maître d' who sang to us, who sounded exactly like Frank Sinatra.
Après cuisine, Martini's lounge was always a-buzz and filled with the social, and endearingly competitive, who were reveling in trivia, name that tune and genuine conversation. Back in our veranda stateroom, it became tradition to watch a movie cuddled in our 1,000 thread-count 100% Egyptian cotton sheets in one of the most comfortable beds at sea, with curtains fully opened so that we could drink in the awe inspiring shoreline of the Inside Passage, illuminated by the midnight sun.