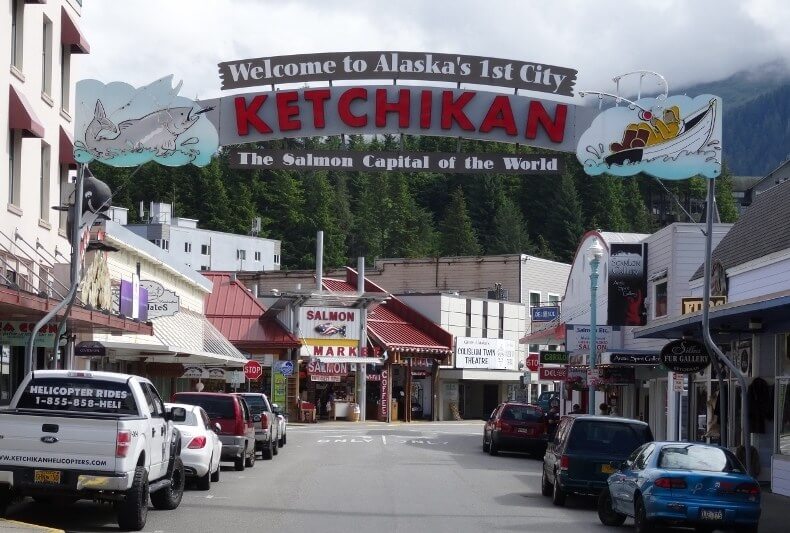 Join Patricia Marques as she continues to describe her unforgettable trip to Alaska aboard the Regatta of Oceania Cruises. If you're thinking of a cruise for yourself and your family, there's never been a better time to book! Check out the great offers today with Oceania Cruises and pick out a cruise you'll never forget.

It was 4:00 AM local time, and I found myself wide awake.
June 21 had marked the summer solstice, and we still had the full benefit of the extended daylight of the north. Wrapped in a plush Oceania terry cloth robe, I settled on my veranda to take in the vistas of a lavender sky and mist covered fjords of the Tongass Rainforest. My eyes and ears were fully open to take every moment in, and I sat reflecting on how fortunate I was to have my own private Alaskan moment while everyone was tucked away fast asleep.
Sixteen years ago, Ketchikan was my favorite port of call, colourful and oh-so-delightfully touristy. Docking at port, it did not disappoint. The rainbow of false-fronted buildings and shops were opening and vendors prepared for what promised to be a profitable day, as four ships were in port.
Voted one of the best excursions at this port of call, Ketchikan Outdoors Zodiac Adventure was our excursion of choice. Sun shining, we were met at our cruise ship by a lovely young lady holding a sign with our last name, and were escorted to a black Hummer party bus. We were the envy of the other cruise passengers all lining up for large-group bus transfers. As the only passengers on this departure, the fact that this tour operates with a minimum of two people is excellent, and one of the reasons we pre-booked with CAA prior to leaving home.
We watched the instructional safety video enroute to the launch port, trying to be attentive and not distracted by the gorgeous scenery passing us by. The warm welcome we received by our guide, Jack, and three other employees put our minds at ease and set the tone for this tour. Outfitted head to toe in a rain suit and boots, we wobbled to the dock and clumsily boarded our Zodiac boat to set out for our private adventure, one of the most exhilarating (albeit bumpy) rides a shore excursion can offer. Jack was an excellent guide; we had time to drink in the majestic vistas and learn about the culture of this historical port. The company is clear that wildlife sightings are not guaranteed, but on this day we were blessed to see many harbour seals sunning on a beach. A curious young seal was brave enough to swim a little closer to check us out before disappearing under the water and swimming away from my husband's submerged GoPro camera.
The highlight of this tour was man-made, but nonetheless memorable. Throwing a fish into the ocean six feet in front of our zodiac, Jack explained that a local eagle "may" make an appearance. No sooner did the fish splash in the ocean than a great American Bald Eagle, talons fully extended, rushed to grab his treat, his massive wings cutting through the air, sending droplets of salt water trailing behind him. My husband and I cheered with sheer delight as Jack stood proudly at his ability to entertain these city-dwelling tourists. Yes, he threw a fish into the bay, but I dare you to not be impressed by a close encounter with this iconic Alaskan predator. To the team at Ketchikan Outdoors – Mother Nature blessed us with a perfect day; however, you provided us with an educational and exciting truly Alaskan excursion that we will remember for the rest of our lives.
Back in town, we quickly scanned the shops of Ketchikan's former red-light district, Creek Street. The former homes of ill-repute are now gift shops filled with gold, mammoth tusk carvings and gifts made of whale bone, walrus ivory and fur. We always try to have an authentic Alaskan meal in at least one of our ports of call, and the quaint Crab Cracker Seafood Bar in downtown Ketchikan did not disappoint. Our perfect day in Ketchikan was topped off by a meal of one full pound of Dungeness crab dipped in luscious melted butter – incredible!