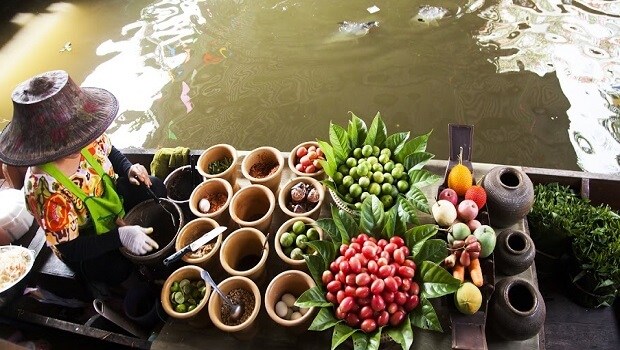 We get it. Your neighbourhood Thai takeout spot really is that good. They even give you some complementary sticky rice when you order – a reward for years of customer loyalty. We've all been there. With its sour lemongrass-spiked soups, rich coconut-enhanced curries, and sweet-spicy noodles, Thai cooking is great even in its most familiar forms.
Eating Thai food in Thailand, though? Let's just say that your delivery pad Thai might lose some of its zing when you realize that dish's full potential. And if you're already hungrily scanning travel websites in search of the best Pad Thai ever, it's pretty hard to beat these other regional specialties:
Sai Krok Isan Sausage
Spicy, sour, and slightly sweet, this fermented pork sausage of the Northeast region of the country manages to cram as many of the signifiers of Thai cooking into one delectable tube of meat as it possibly can. Northern Thailand produces a wide variety of fermented sausage, and you'll be wise to try as many as possible.
Khao Soi Gai
Contrasting textures and flavors abound in this Chiang Mai street vendor staple, an aromatic chicken curry soup. The broth is rich with coconut milk and spices, and a mixture of fried and boiled egg noodles allows you to crunch and slurp in equal measure.
Tom Yum Goong
Anyone who is slightly knowledgeable about Thai food probably recognizes the name of this quintessential Thai dish. Many have even tried Tom Yum before – but not like this. A pint container of glossy broth won't prepare you for the Tom Yum of Thailand, where the hot and sour soup is prepared in a plethora of ways. For instance, have you ever tried creamy Tom Yum with lobster?
The Coffee
The main distinction here is preparation. Coffee beans in Thailand are roasted in fat, then brewed and strained through a filter that resembles a butterfly net. If you don't want to stand out like a sore thumb, you'll take your coffee sweet. A condensed milk-assisted sugar rush on top of a caffeine buzz never hurt anyone. This is pretty much drinkable coffee candy.
Thai Sticky Rice With Mango
If you're still craving more sugar after that coffee, hit the streets for mango and sticky rice. Like Tom Yum Goong, this potentially familiar dish is made completely new when tasted in Thailand. Why? Three words: Thai honey mangoes, fresh from the source.
Want more information? CAA Travel Consultants are ready to help you plan your next vacation. Visit your local CAA Store to book with an in-store Travel Consultant or call us a 1-800-922-8143.