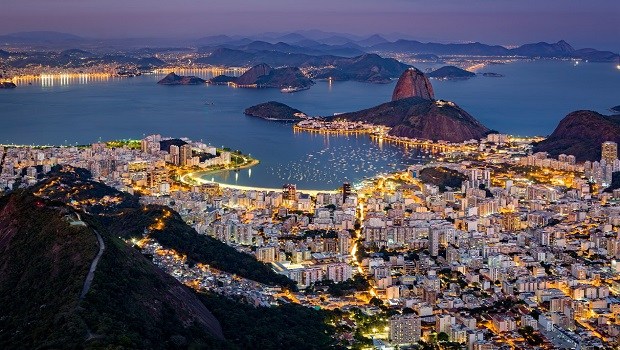 Dancing isn't just something you do in Rio de Janeiro — it's a way of life. From the moment you land to the moment you leave, the city provides a non-stop party. Nowhere is this more evident than Rio's streets, where locals and visitors start their night out. Regularly held street festivals such as Baixo Gávea offer live music and entertainment as well as ample opportunity to make new friends before hitting the club. When the weather is right, many spend the entire night outside, sipping cheap beer from street vendors beneath the stars.
Carioca de Gama is an ideal destination for perfecting your samba moves. Some of the best samba bands play at a two-floor dancehall tucked away in the historic neighborhood of Lapa. For a taste of old Rio, try Estudantina Musical, a dancehall dating back to the 1930s, where the lesser known and more formal forro is practiced. Both destinations are likely to appeal to night-time revelers and romantic travellers alike.
Of course, not everyone is light on his or her feet. If you'd rather observe than participate, there's no better place to watch Rio de Janeiro's vibrant dance culture than during Carnival, a street festival and parade that draws more than a million people into the city's streets. The parades consist of elaborately decorated floats and numerous samba schools — community-organized groups that present choreographed dances and musical performances for the crowds. Needless to say, this is a great way to take in every aspect of local culture. If you happen to visit Rio during Carnival, which occurs around Ash Wednesday, you won't be able to miss it.
Throughout the remainder of the year, there are other, more easygoing ways to take in the art of samba. Shows such as the Plataforma Samba Show offer all of the exciting costumes, dances, and live music from Carnival in the more comfortable setting of a theatre. It's the dinner-and-a-show version of the festival, but it's no less exciting. Spirited sounds and sights will have even the most lead-footed travellers tapping their feet.
Want more information? CAA Travel Consultants are ready to help you plan your next vacation. Visit your local CAA Store to book with an in-store Travel Consultant or call us a 1-800-922-8143.