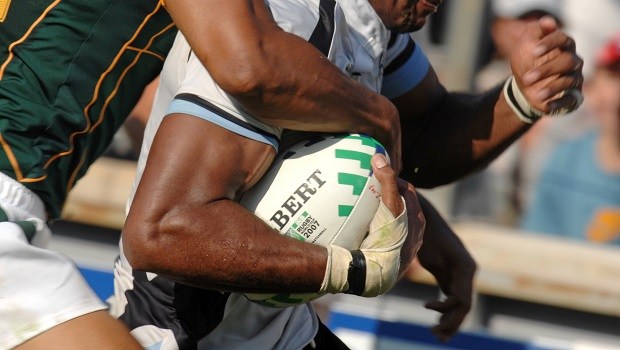 Attending a rugby game among the screaming throngs will turn you into a true local. Just make sure you're "rooting" for the local team!
First played in Fiji by soldiers in the 1800s, rugby is now the island's main sport. Though it's often seen by those not familiar with the game as a more rough-and-tumble variation of American football with its kicking, running and passing from goalpost to goalpost, rugby is so much more. While most travelers come to Fiji for the beaches, snorkeling and poolside relaxation, you can't be blamed for following suit.  But for those looking for a real Fijian cultural experience, attending a rugby game among the screaming throngs will turn you into a true local. Here are the answers to some basic questions you might have about the sport before embarking on your trip.
Who do I root for?
Fiji, duh.
I know, but which player?
On the national team, Vereniki Goneva is someone to look out for. He's considered a real powerhouse on the field and is ranked highly in the sport.
Are there a lot of rules to follow?
Yes and no. While one can pour over the countless terminologies associated with rugby, it's actually easier to follow than American football. For one, the ball is almost always in play, with possession determined largely by who's willing to fight hardest. Just keep an eye on your team and track their momentum to the goal.
Is there anything else I should know?
The scrum. A means of restarting the game after an infraction, the scrum occurs when the eight forwards on each team huddle with their faces down and their heads interlocking. When the ball is thrown into the mix, the struggle begins, kind of like a more brutal hockey face-off, with bodies instead of hockey sticks determining the possession of the ball. The scrum is actually the inspiration for American football's "line of scrimmage."
Also, if you find yourself frustrated when players don't throw a forward pass, know that they can't. Passes can only be made laterally and backwards. A punt is the player's best bet at covering a lot of ground.
Where do I go to watch rugby in Fiji?
Good question! Locations of Fijian rugby matches vary, with many taking place in parks all over the island. For a big crowd experience, see if there's a match in Suva at ANZ Stadium. Your best bet is checking the national team's website. See you there!
Want more information? CAA Travel Consultants are ready to help you plan your next vacation. Visit your local CAA Store to book with an in-store Travel Consultant or call us a 1-800-922-8143.