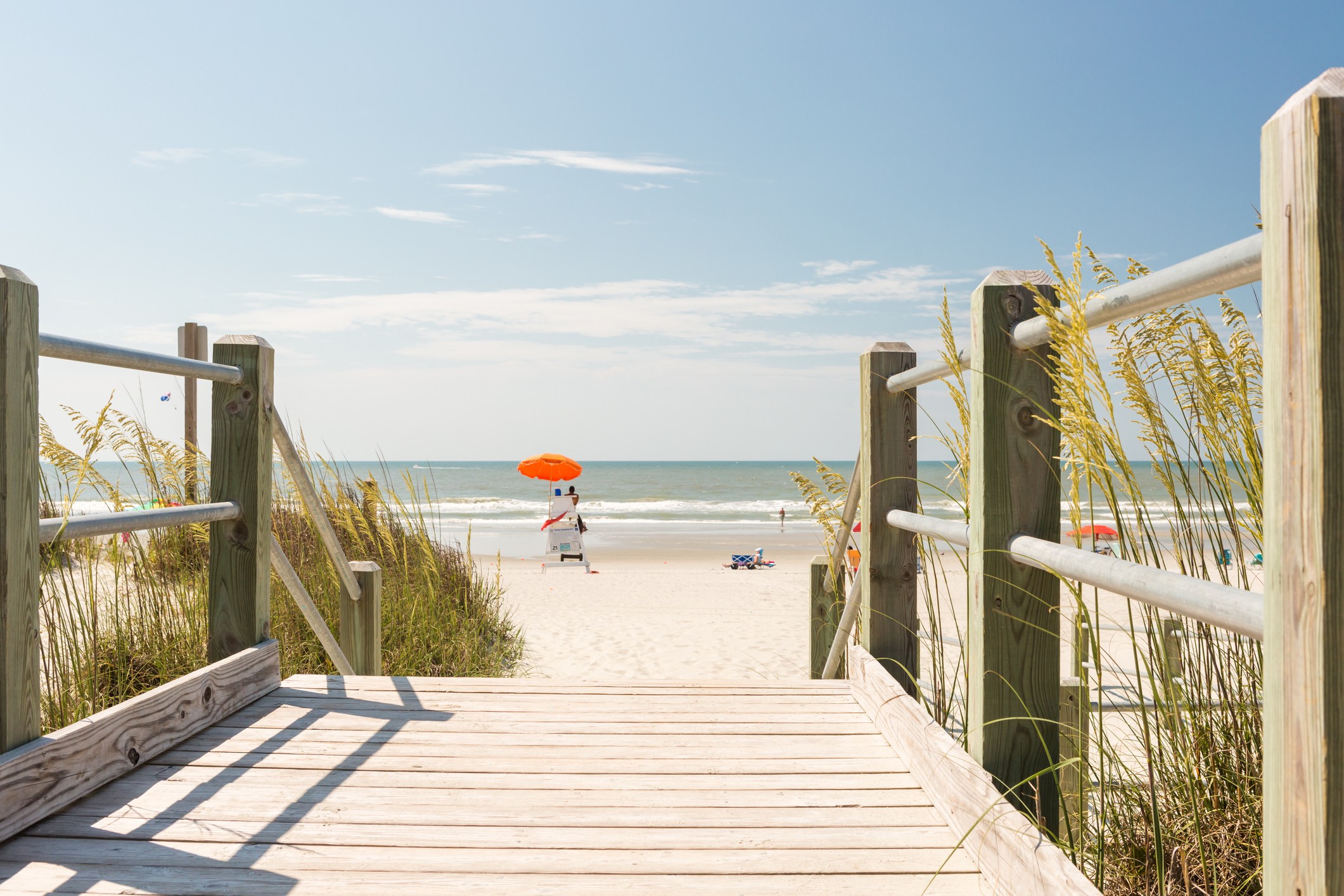 If you are in denial that summer is practically over don't fret, the sun is still shining brightly in Myrtle Beach and will continue to do so because they get an average of 215 sunny days per year. This South Carolina jewel is located alongside the mid-Atlantic region of the Eastern United States and is about a two and a half hour flight from Toronto, or a 15-hour road trip. This ocean town is perfect for families, couples, friends, and even solo travellers. You will never be bored with 100 kilometres of gorgeous sandy beaches to explore and endless activities. It's hard to choose only seven attractions, so consider this list a starting point to all the exciting adventures you will have in an area known as the Grand Strand.
One of the most memorable (and totally free) activities in Myrtle Beach is to walk along the spectacular oceanfront boardwalk. This $6.5 million initiative stretches almost 2 kilometres and winds through the sand from the 14th Avenue to 2nd Avenue piers. There are informative plaques to learn about turtles, crabs, and dolphins while the ocean waves lap against the shore. Arrive hungry and dine on the beach and shop for unique souvenirs. Save time to check out Gay Dolphin – a family owned Myrtle Beach landmark since 1946 where you can sort through more than 70,000 unique souvenirs at this one of a kind gift shop.
If you are already on the boardwalk (or even if you aren't), the Myrtle Beach SkyWheel is famous worldwide for it's thrilling fun for all ages and a must-visit. It stands at a staggering 20 storeys high and if you ride at night, you will witness more than one million colourful LED lights glowing in the sky. The comfy 42 glass-enclosed climate controlled gondolas will take you on four loops around so you will have plenty of opportunities to snap spectacular views of the ocean from the top of the world. When the SkyWheel opened in 2011, it was the first of its kind in the United States and still attracts visitors from around the world.
This former rice plantation is a National Historic Landmark and dates back to 1740. Hopsewee Plantation is located just south of Georgetown and is about an hour-long road trip along U.S. Highway 17 from Myrtle Beach. It's a very scenic drive as it's located along the Sampit River. The plantation was built before the American Revolutionary War and the birthplace of Thomas Lynch Jr. – one of the people that signed the Declaration of Independence.  Visitors can step back in time and stroll through the serene woods and tour the now private residence while learning about rice culture and the Colonial Period. Sweetgrass basket weaving is a South Carolina tradition and you can take a workshop with Vera Manigault right onsite.
You can literally spend an entire day on Broadway at the Beach. Start off at WonderWorks, the whacky amusement park for your mind, and learn about spaceships, hurricanes, and ride a virtual roller coaster. Then stop and feed the wild swimming fish for fifty cents and watch as they gobble it up. Of course by then it will be time to enjoy a meal yourself and you can choose from pizza, sushi, and everything in between, including the newly opened Dave & Buster's. Save room for dessert at It's Sugar, and then burn off all the calories walking around the 350-acre park to check out zip lining, dinosaur exhibits, mirror maze, and fountains.
Ditch your bathing suit for a fancy outfit to attend Myrtle Beach's original live theatre – The Carolina Opry. It's a classic variety show and the ideal evening activity with state of the art lighting, sound and special effects. You can sing along to the award-winning music that is very high energy (no sleeping through this one) and also features fun comedy and dance. The cast includes the nation's most talented performers from rock to country to broadway, so someone in your party is sure to know the words to a few songs. The fun takes place in the renowned 2,200 seat Calvin Gilmore Theatre.
Not for the faint of heart or anyone afraid of heights obviously, but if you are brave and daring, you can parasail high above the ocean with Ocean Watersports. This family owned company located on the beach was started by Captain David in 1981 – one of the most experienced parasailers in the world. So get ready to feel what it's like to be 300-feet in the air with your feet dangling below. Guests ride the Sea Shuttle Banana Boat from the beach to the parasail boat, which is also a thrilling experience. You will need your bathing suit for this courageous undertaking and you may even see dolphins swimming in the distance.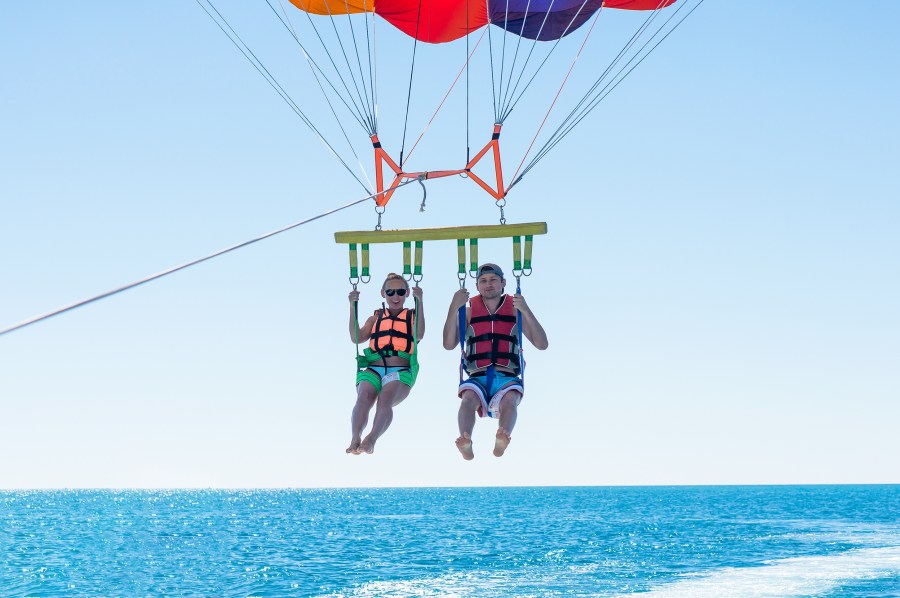 Mini-golf, that is. Kids and kids at heart will love this year round activity. There are 50 mini-golf courses to choose from (and 100 'regular' golf courses, should you be so inclined). Dinosaur fans will love Jurassic Golf and Captain Hook's Adventure Golf will entertain all Peter Pan and Tinkerbell enthusiasts. If you are staying at the DoubleTree Resort, it's only a five-minute walk to Shipwreck Island, where you can play a few rounds among palm trees and waterfalls at Shipwreck Island Mini Golf .  Afterwards, head back to the resort to enjoy delicious grilled veggies, hummus sandwiches, or fresh salads created onsite by Chef Rob or Chef Chad at Ocean Blue Restaurant before retiring for the night so you can wake up bright and early to watch the morning sunrise.
Excited for your next vacation? Book online, contact your local CAA Store or call 1-855-660-2293 to speak with one of our knowledgeable Travel Consultants to help plan your trip of a lifetime!