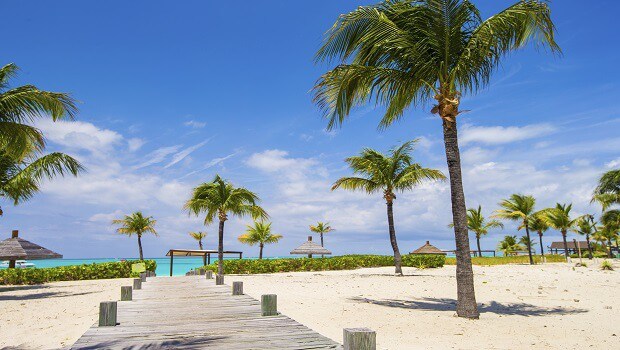 While you'd be hard pressed to find a bad beach in Turks and Caicos, with its crystal clear water and white sand beaches, some have their own specific appeal. Continue reading to find the best place to set up camp on your next vacation.
Grace Bay Beach and Governor's Beach — For the Seasoned Snorkeler
Grace Bay Beach, on Providenciales island (nicknamed Provo), where many of Turks and Caicos' resorts are located, is world renowned among snorkelers and divers. A quick swim out to Smith's Reef allows visitors to mingle with a wide variety of aquatic life. If you'd like to get up close to a giant sea turtle, this is the place to go. Grace Bay is also great for sailing, kayaking, and windsurfing.
If you're looking for a beach more off the beaten path, try Governor's Beach on Grand Turk. It offers fantastic snorkeling and diving without the proliferation of resorts and their attendant crowds. In fact, it's easy to feel like you have the entire beach to yourself. Just walk past the massive shipwreck that divides the shore.
Long Bay Beach — For Finishing That Book
Located on Provo but far enough from the crowds of Grace Bay Beach lies Long Bay Beach, the best place to catch up on your book or your tan while you sit peacefully by the water. With calm, shallow water ideal for beachside strolls, Long Bay offers visitors that little bit of serenity they're looking for.
Malcolm Beach — For a Little Bit of Everything
Once you arrive at secluded Malcolm Beach, you're pretty far away from the crowds on the other side of Providenciales island. In other words, you're in the perfect spot for quiet relaxation. How you get to Malcolm Beach, however, is slightly less peaceful. This beach is best reached by renting a 4×4 and traversing a rough road. You're almost guaranteed to get shaken up a bit before that peaceful afternoon at the beach, so Malcolm Beach offers something for the adventurous type as well.
Want more information? CAA Travel Consultants are ready to help you plan your next vacation. Visit your local CAA Store to book with an in-store Travel Consultant or call us a 1-800-922-8143.