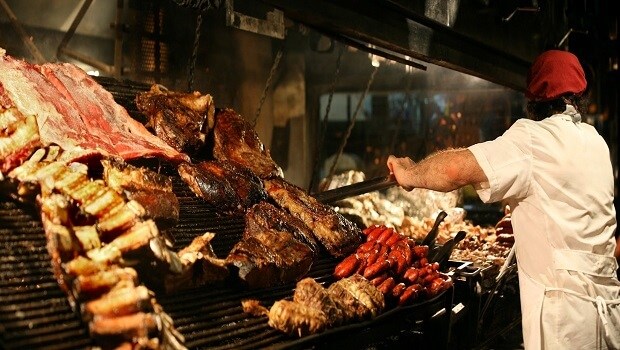 Hungry for adventure and a massive plate of sizzling steak? If so, the Argentine capital of Buenos Aires may be the place for you. Beyond its gorgeous beaches and vibrant nightlife, Buenos Aires is all about the local cuisine: a mixture of local staples and reinterpreted Italian classics that is perfect for travellers who have a big appetite.
Let's start with the steak. Carnivores would be wise to check out Don Julio, a classic Argentinian steakhouse (or parrilla) and a quintessential Buenos Aires experience. With grilled sausages and sweetbreads served on top of cuts of grass-fed beef, be sure to come hungry for this meal. A more modest local dish, and a must-have whenever one sets foot on the South American continent, is the empanada, a flaky pastry stuffed with seasoned meats and cheeses that can be found pretty much anywhere. It not be advisable for right after the steakhouse dinner, but it's a perfect snack between meals.
A lot of dining in Buenos Aires grants visitors the opportunity to interact with residents. Bodegones are neighbourhood eateries where communities congregate and chow down on simply prepared but delicious items like breaded chicken cutlets. On the other side of the spectrum, Buenos Aires' puertas-cerradas, or closed-door restaurants, often situated in the homes of chefs looking to experiment with seasonal ingredients, place an emphasis on interactive, communal dining. What better way to make new friends on your trip than at a secret dinner, chatting over a plate of locally sourced seafood in a stranger's home?
The Italian influence on the food in Buenos Aires manifests in two of the country's most notable dishes: pizza and gelato. And while Argentine pizza may be heretical to some thin-crust aficionados, those who like their pizza extra thick with lots of cheese would be remiss not to try a slice after a few rounds at one of the craft breweries. Gelato, on the other hand, is a must for all who visit and a major cultural institution in Buenos Aires. You can stop at one of the city's heladarias on almost every block, with many showcasing their own specialty flavours. Just make sure to get at least one scoop of the dulce de leche — it's a local favourite.
If you're starting to get hungry, we can't blame you. If you're worried that expanding your palate goes hand-in-hand with expanding your waistline, rest easy. Buenos Aires provides plenty of opportunities to swim, walk and tango away those calories.
For more about Buenos Aires, visit Extraordinary Explorations: South American Passage.
Want more information? CAA Travel Consultants are ready to help you plan your next vacation. Visit your local CAA Store to book with an in-store Travel Consultant or call us a 1-800-922-8143.