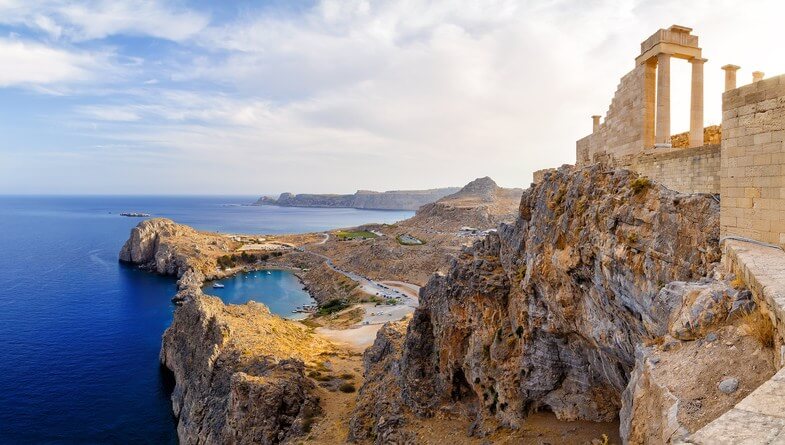 If you have never been to Greece, you should put a visit to this country on your bucket list. For ancient sites of history and legend, some of the world's most breathtaking landscapes, and endless kilometres of beaches and island shores, Greece is a must-visit for travellers of every taste. Here are the top three reasons why you should consider making Greece as the destination for your next vacation.
The Culture.
A visit to the country that was the birthplace of the classic myths and legends we learned in school and the backdrop for the history, philosophy and language that have influenced so much of the world is a genuine cultural experience.
Greece is home to 18 UNESCO World Heritage sites, ancient cities, architecture and artefacts that are thousands of years old. You can step into the world of antiquity with a visit to the Acropolis and the Parthenon, the ancient sanctuary at Mount Olympia where the first Olympic Games took place in 776 BC, or the archaeological site at Delphi, which was once considered to be the very centre of the world.
Whether you're a history buff or not, walking in the footsteps of legends will be sure to move you. From fascinating monasteries carved into towering mountain peaks to well-preserved archaeological ruins and ancient cities – including Mycenae, the storied kingdom of Agamemnon who sacked Troy – immersing yourself in this culture that has so heavily influenced civilizations the world over feels like both exotic travel and a homecoming at the same time. It is something to be experienced at least once.
The Scenery.
In Greece, you can walk the paths of the Gods and capture some fantastic photographs of your journey. There will be sites that are sure to amaze you throughout your travels. With its rugged mountains and dramatic cliffs, beautiful white beaches with crystal clear waters, ancient sites, and bustling towns, Greece is a photographer's dream destination.
The diversity of great photo ops ranges from engineering marvels to breathtaking treasures of antiquity and more. Just for example, stop for pictures at the Corinth Canal – where the first shovel full was once dug out by the Emperor Nero in 67 AD, or atop the Rio–Antirrio Bridge, one of the world's longest cable-stayed bridges, connecting the Peloponnese Peninsula to the Greek mainland. Be amazed by ancient sites, such as Nafplio's oldest castle, Acronafplía, which has walls still standing since The Bronze Age, or the ancient monasteries high atop the magnificent rock formations of Meteora.
As amazing as these sites are, some of the most spectacular views in Greece are of its natural scenery. Everywhere you turn, this country will present you with beautiful backdrops for your travel photos. Picture gorgeous lush valleys and rolling hills lined with white houses, green forests, olive groves and rugged mountains.
Some of the most breathtaking sites you'll likely take in are on the Greek coast. The beaches and shores of Greece are simply spectacular. They are also incredibly diverse – from clear, turquoise waters to crystal blue waters, from soft sand to pebbles, seashells, and volcanic soil shores, from secluded and tranquil to popular and bustling. Explore thousands of kilometers of sand dunes, coves and seaside cliffs along the shores of the Greek mainland and islands.
The Islands.
The Greek islands are another fantastic reason to visit this country. They are some of the most beautiful and unforgettable places to see on the Mediterranean. There are over 6,000 Greek isles of varying sizes altogether, offering a vast range of unique experiences for travellers. Over 200 of these islands are inhabited, each with its own distinct flavour.
Mykonos and Santorini are among the quintessential Greek islands, decorated with gleaming white houses scattered along rocky seaside landscapes. They are popular for their sandy beaches and old-world charm.
The Saronic Gulf islands offer visitors a chance to sample island life without travelling too far from mainland attractions, such as the Peloponnese and Athens. This group includes the island of Hydra, which remains a car-free island to this day.
Crete is the largest of the Greek islands and it offers something for travellers of every taste all in one spot – from archaeological sites and ruins to picturesque mountains, beautiful beaches and traditional villages.
The Greek islands are an ideal destination for island-hopping and cruising with such a variety of flavours for every taste to explore.
BONUS! The Food.
And speaking of flavours, with all these great reasons everyone should visit Greece, we haven't even mentioned the food. Greece is famous for its healthy and delicious cuisine. Think roasted lamb and potatoes, olive oil, fresh vegetables, tzatziki and goat cheese – and of course the seafood. Imagine enjoying just-caught squid being freshly prepared for you in a traditional seaside taverna.
Whether it's to experience the wonders of an ancient civilization, take in some of the world's most breathtaking scenery or explore a wide variety of the finest beaches on the Mediterranean, you should be sure to visit Greece at least once in your lifetime. Of course, once you do, you'll probably find that a single trip is not enough. With so much to see and do, travelling in Greece can be addictive.
Ready to plan your Greek getaway?
If you want to explore the Greek Islands like Mykonos and Santorini, discover ancient towns or visit Athens, Mycenae, Olympia and more, visit our Destination Guide for Greece for tours and offers.