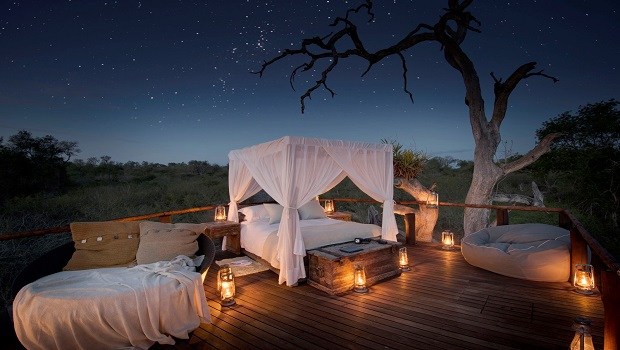 When I'm planning a vacation, a lot of thought goes into choosing where to go. What will I be able to see, do and experience there? How nice are the hotels? Can I experience the local flavour? Why is the destination unique? There's no shortage of questions to consider, but what's important to me is simple: I want to have an exceptional, comfortable, bucket list experience that works for my budget. South Africa is one of these magical destinations where you can truly have it all! Home to beautiful coastal cities, amazing wildlife and boasting some of the best food and wine in the world, South Africa is the destination to visit now. Here's why:
1) The Majestic Wildlife.
South Africa is home to Africa's most iconic animals: lions, leopards, cheetahs, elephants, rhinos and so much more. Kruger National Park is the top wildlife destination for travellers looking to experience an exciting safari in the bush, but it is far from your only option. Many private reserves border Kruger to form the Greater Kruger National Park and these reserves offer the same incredible wildlife combined with the unmatched luxury of 4-star and 5-star accommodations.
Private reserves also enhance the safari experience with open safari vehicles, giving you an unobstructed wildlife experience. Knowledgeable trackers and rangers accompany you on your safaris to deliver unexpected insights about the animals you will encounter. The best part about a safari? No two safari's alike – you never know what amazing animals await around the next corner!
2) The Stunning, Scenic Beauty of Cape Town and the Cape Peninsula.
In 2014, the New York Times named Cape Town the #1 "Place to Go", while Lonely Planet gave the "Mother City" the coveted #2 spot on its "The hype is certainly justified – situated on the southwestern edge of South Africa, the picturesque scenery in this coastal city is nothing short of breathtaking. Magnificent mountain ranges surround Cape Town with the iconic Table Mountain, one of the world's largest flat-topped mountains, overlooking the city's downtown core. This impressive mountain on one side of the city paired with the azure waters of the Atlantic Ocean on the other truly makes Cape Town one of the most naturally beautiful cities in the world. To take it all in, I recommend travellers take the cable car to the top of Table Mountain to enjoy downright gorgeous views.
The extraordinary scenic beauty doesn't end in Cape Town either – the Cape Peninsula extends south from Cape Town down to Cape Point. Known as the southernmost tip of the African continent, Cape Point is also the meeting place of two oceans: the Atlantic and the Indian. It's a stunning place and a must-visit for any traveller to Cape Town.
3) Inspirational History and Culture.
Nelson Mandela is one of the most inspiring figures in modern history. His fight to end apartheid transformed South Africa into a democracy and brought about an era of racial reconciliation. Travellers have the opportunity to "walk in the footsteps of Mandela" at Robben Island, located off the coast of Cape Town. Robben Island, a former prison, is where Nelson Mandela spent 18 years of his life behind bars. A visit to Robben Island is a powerful and moving experience where you can begin to learn about Mandela's struggle to bring justice and freedom to South Africa. Despite its history as an oppressive institution, Mandela's experience, along with the experiences of countless other political prisoners, helped to transform Robben Island into a symbol of hope and freedom for South Africa.
Travellers looking for cultural experiences should visit Cape Town's Bo Kaap neighbourhood. This area features wonderfully colourful homes that reflect the strong history and cultural identity of Cape Town's Muslim community. Be sure to sample some delicious Malay curry while you are there!
4) The Modern, Cosmopolitan Infrastructure and First-class Accommodations.
In 2010, South Africa hosted the World Cup – a massive soccer event that saw hundreds of thousands of people visit the "Rainbow Nation". The influx of visitors led the country to significantly enhance its already advanced infrastructure. Airports were renovated, roads and highways were upgraded and modern buildings were constructed. Not only did the World Cup bring the world to South Africa, but it also resulted in a permanent boost to the country's organization, making it an ideal destination for international travellers visiting Africa for the first time.
Hotels and game lodges offer stunning first-world luxury amenities. Large, comfortable beds, spacious rooms, sumptuous design, air conditioning and Wi-Fi are features that will be found in most 4-star and 5-star accommodations in the country. Travellers can also expect networks of ATMs and the ability to pay for most services using credit cards, ensuring that handling money and payments in South Africa is secure and hassle-free.
5) World-class Food and Wine.
Cape Town is renowned as Africa's culinary capital for good reason – trendy new restaurants, bistros and cafes are vibrant and bustling, featuring their fresh fusions of local South African ingredients and international flavours. The landmark Victoria & Alfred Waterfront in Cape Town is home to many innovative restaurants that offer the international traveller a variety of memorable dishes to suit all tastes and dietary requirements.
I encourage guests to spend some time in the Cape Winelands and not just for the pleasing wines. Franschhoek, in particular, is a foodie's paradise where lunch is a delightful experience with delicious, locally sourced meals and award-winning wines served on beautifully decorated patios. Stop by one of the local wineries to learn about the history of winemaking in the region and to bring home an unforgettable taste of South Africa with you.
6) The Commitment to Conservation and Sustainability.
The trips we choose and the places we visit can have a dramatic effect on a destination's economy and environment. That's why I encourage travellers to think about how their travel dollars are being used to build a better future in the places they visit. With its need to build sustainable economic growth, South Africa offers so many opportunities for travellers to give back. On a recent trip, I had an opportunity to visit the Amy Foundation in Cape Town. I saw first hand how the organization is supporting children and youth in vulnerable communities, helping them to build important life skills for their future careers.
Wildlife conservation is front and centre in South Africa. With rhino populations constantly under dire threat from poaching, it's important to know that the game reserves you visit are working hard to save these endangered giants. We only partner with private reserves that have strong anti-poaching programs to ensure we are doing everything we can to ensure this species remains vibrant for generations to come.
7) The Value for Money.
Let's face it – our money doesn't always go as far abroad as we would like it to. That's part of what makes South Africa such a great destination for Canadians to visit now. The conversion from Canadian dollars to South African Rand is very favourable, which gives Canadian travellers exceptional value for the money they spend. Restaurants are very affordable, as are exciting add-on excursions. When you have more buying power you can indulge in a bonus experience that you may not have otherwise considered (relaxing spa visit anyone?).
Excited about South Africa? Contact your local CAA Store or call:1-855-660-2293 to speak with one of our knowledgeable Travel Consultants to help arrange your trip of a lifetime!
For added inspiration, we have another South African blog that will give you more insight into what you can expect from this wonderful country.