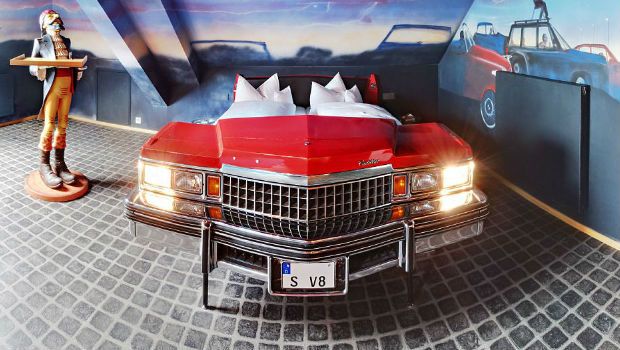 Travelling the world is something we all dream of doing one day. Some of us are lucky enough to visit a few countries and stay at some awesome hotels. We aren't just thinking about a hotel room with two double beds, bathroom and an outdoor pool. We're talking about some of the most unique hotels around the globe. Need some hotel inspiration for your next trip? Check out these one-of-a-kind hotels.
Liberty Hotel, Boston, U.S.
Boston's Liberty Hotel is filled with historic charm and used to be the home of the Charles Street Jail. Located in the heart of Boston's Beacon Hill, the jail was originally built in 1851 and was converted into a 298-room luxury hotel in 2007. The hotel showcases some aspects of the original jail architecture and 18 rooms actually feature a real jail cell. CAA Members save 15% at the Liberty Hotel and an additional 5% for pre-payment.
Book and Bed Tokyo, Tokyo, Japan.
If you love books and reading, you'll enjoy your stay at this reader's haven. At the Book and Bed Tokyo, each compact room is equipped with a bookshelf, reading light, a cozy nook (actually it's like a cubbie) and a shared bathroom. So if you're looking for a luxurious stay, say goodbye to fluffy pillows, Egyptian cotton and comfortable mattresses. The hotel is described as an "accommodation bookshop" that features over 3,000 books in English and Japanese and it costs about $35 USD a night.
Hotel Costa Verde, Quepos, Costa Rica.
Costa Rica is a must-see travel destination for people who love the tropics. One of the coolest places to stay in Costa Rica is the Hotel Costa Verde, where guests can sleep in a 1965 Boeing 727. That's right – you can sleep in a plane! It's been converted into a two-bedroom luxury guesthouse with covered patios over the wings surrounded by ocean and jungle views. Located right beside the Manuel Antonio National Park, the hotel's slogan is "Still more monkeys than people," so you're bound to see some amazing wildlife during your stay.
Kakslauttanen Arctic Resort, Finland.
For a year-round, enchanting arctic experience, the Kakslauttanen Arctic Resort is one of the best places in the world to see the Northern Lights and the Midnight Sun or to enjoy a husky safari, horseback ride and more. You can choose to stay in a log cabin, snow igloo or even a glass igloo. During the summer and the winter there is so much to see and do at this one-of-a-kind hotel. Just talking about the resort doesn't do it justice. Check out this amazing video of the resort in the winter.
Palacio de Sal, Uyuni, Bolivia.
The Palacio de Sal is like a piece of art because the entire building is handcrafted and made from salt. From the floors and walls to the dining tables and even the beds, the hotel is made of salt blocks. This 30-room masterpiece is located in the Bolivian desert on the world's largest salt flat and is surrounded by serene views and picturesque natural landscapes. This luxury hotel is the first of its kind and has an unusual, historic charm.
The Santos Express Train Lodge, Mossel Bay, South Africa.
All Aboard! The Santos Express Train Lodge is a 1920s train converted into a hotel on Santos Beach in Cape Town. The train has five passenger coaches – four of them include five compartments filled with double and single beds, while the fifth car is perfect for large groups as it's equipped with bunk beds. If you want to get a bit more romantic, there is also the Honeymoon Caboose. The Santos Express is literally 30 metres from the beach, so swimming, whale-watching, boardwalk shopping and activities like scuba diving and surfing are right outside.
V8 Hotel, Stuttgart, Germany.
The V8 hotel is a car lover's oasis.  The hotel is a converted airport hangar with each room decked out in car decorations and memorabilia from the past and present. There are car-themed suites inspired by various car eras, like the 1950s drive-in, a vintage gas station and even a vintage car wash. These special car-themed rooms are furnished with beds made out of authentic car parts and will make any car fanatic feel right at home.
Attrap'Rêves, Allauch, France.
Be one with nature and sleep under the stars when you stay at Attrap'Rêves. To describe this unusual hotel, think camping times 100! Guests are enclosed in a transparent bubble sphere surrounded by trees and bushes – perfect for panoramic views all day and all night. Open for the past seven years, these suites are ideal for stargazing and each has its own unique flair and ambience. The best thing about it is the bubbles are great any time of year and they are made of recyclable materials.