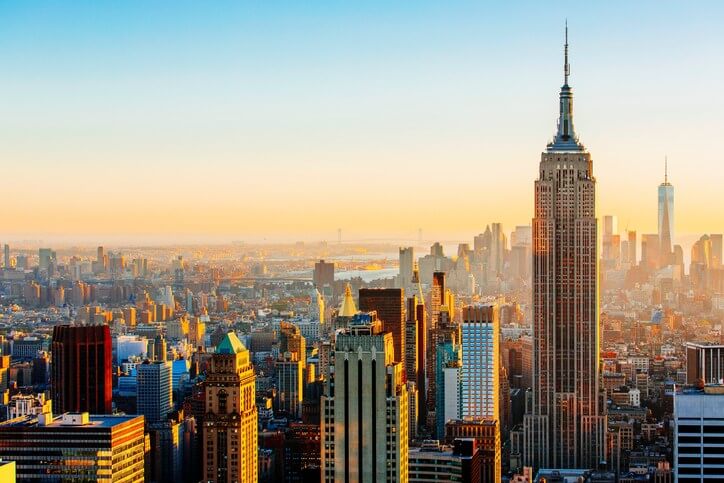 So, you're heading to Manhattan, New York City, for the weekend!
Your flight gets in late Friday afternoon, and you have to leave early Sunday evening to get back to work on Monday. So, you and your family have about 48 hours in the Big Apple. That's not a lot of time, but you can still pack in some of the most fun you've ever had in your life.
Here's an itinerary that takes you to some of NYC's greatest institutions, and a couple of hidden gems.
You've Arrived!
Friday afternoon: Check into your hotel. CAA has an array of partner hotels with properties in NYC that cover all styles and price ranges so be sure to check what deals your membership offers.
A Lively Dinner, New York Style.
Friday evening: Go get some dinner at Sammy's Romanian Steakhouse. Sammy's is like a constant bar mitzvah and some of the most fun you can have in New York City. It's crushingly crowded and incredibly noisy so if you like this sort of environment, it could be just what you're looking for. The nightly entertainment consists of DJ Dani Luv playing his keyboard, singing and cracking jokes while wait staff serve heaping plates of chopped liver, steak, and even more meat, if you can believe it. Then, everyone gets up and does the hora!
This isn't the place for an intimate evening, but it is a place for a wild and crazy time and some good food. Seating and shows happen once nightly on weekdays and twice on weekends. Be sure to make reservations at least a week in advance.
Friday night: Go back to your hotel and sleep. You're tired. It's been a long day and a fun evening.
Breakfast, With an Acerbic Twist.
Saturday morning: Get up in the morning and head to Shopsin's for breakfast. This tiny café/diner is a tucked inside the Essex Street Market and is a New York institution. The huge menu features hundreds of items, which are the creations of owner Kenny Shopsin, including eggs, pancakes, burgers, sandwiches, soups, chilis, hashes, potatoes, and more.
There is something very unique about Shopsin's that you need to know about ahead of time. There are many rules at this establishment. A 1:1 kid to adult ratio in your party is required, parties of more than 4 will not be accommodated, there are no substitutions, people with severe allergies are also out of luck and there are no reservations taken.
Also, Shopsin himself is known for being very rude, so, don't be shocked. It's part of the shtick. Think of the famous episode from Seinfeld involving ordering soup and you have that in a surly, albeit comedic version of Shopsin.
That said, the food is excellent, well-priced and the atmosphere is fun and famous. Show up prepared to wait in line but to enjoy a delicious meal and a part of NYC history.
If you don't want to be yelled at, and you have more than two kids, try Katz's Deli instead.
A Must-see Walk Back in Time.
Saturday midday: Get on the subway and head to the American Museum of Natural History. This museum is truly a wonder. Located on Manhattan's Upper West Side, it's one of the largest museums in the world and sits in a complex that houses 28 interconnected buildings, 45 permanent exhibition halls, a planetarium and a library.
The museum collections contain literally millions of specimens of plants, animals, fossils, minerals, rocks, meteorites, human remains, and human cultural artifacts, of which only a fraction can be displayed at any given time. The kids will love the huge dioramas.
Highlights include the largest collection of dinosaur fossils in the world, the Hall of African Mammals, and the Hall of Ocean Life.
The Neon Lights Are Bright on Broadway.
Late Saturday afternoon: Go back to your hotel and rest before you go to dinner.  Later tonight we're going to send you to a Broadway play so depending on what you see, you should probably pick something close to the theatre. Toloache (Mexican), Sushi of Gari (Japanese), and Dan Ji (Korean) are all nearby and have great reviews.
Saturday evening: Go see a Broadway show! Obviously there is no shortage of entertainment on Broadway, and productions to delight anyone and everyone. If you have children, current shows that they will enjoy include Harry Potter and the Cursed Child, Disney's Frozen, Disney's Aladdin, The Lion King, and Wicked.
Dear Evan Hansen is the winner of the 2017 Tony Award for Best Musical, while Come From Away, set in Gander Newfoundland is getting rave reviews. We clearly can't list all your options here, but suffice to say that if you can't find something you like, you're probably not that into theatre.
Central Park and High Line.
Sunday morning: Today we're spending the day outside. Have coffee at or near your hotel. Check out and leave your bags with the concierge. Then pick up food and head to Central Park for a brunch picnic.
The food options are plenty for this, as you can get food from salad bars and buffets at pretty much any convenience store in NYC. Restaurants will also put picnic baskets together for you (search the web and call first) or you can just get takeout from something nearby, depending on what entrance you're close to.
After brunch there's a lot to see in the park. Here are just a few ideas:
Visit the Central Park Zoo
Go fishing at Harlem Meer
Visit Strawberry Fields' Imagine Mosaic
Check out the view from Belvedere Castle
Rent a boat for a paddle around the lake
Ride the 110-year-old carousel
See butterflies at the North Meadow Butterfly Garden
Alternately, you can take your picnic to the High Line – a public park established in 2009 located on an elevated rail trail. The innovative and gorgeous example of landscape architecture is 2.33 kilometres long, and you'll find picnic spots along the way. There are also cultural events and tours operated by Friends of the High Line.
Sunday afternoon: Unfortunately, it's mid-to-late afternoon by now, and since you've got an evening flight, you have to go get your bags and head to the airport.
Say goodbye to the Big Apple. For now.
We hope you had a great trip!