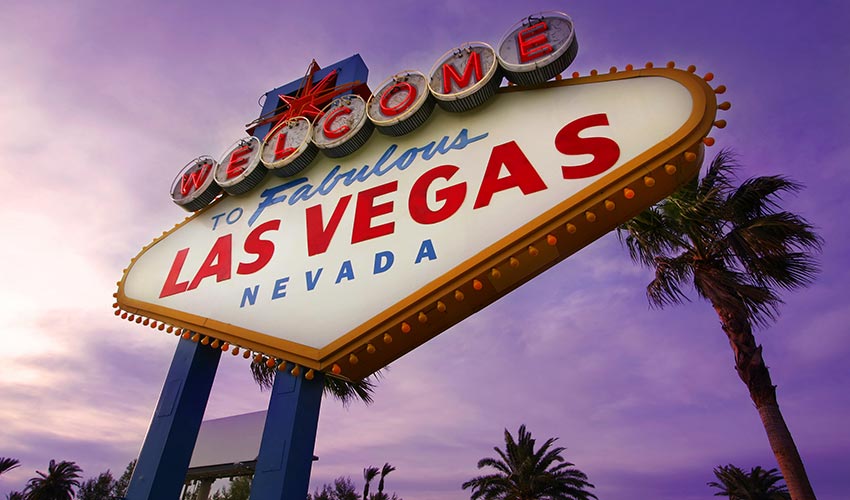 When you think of Vegas, a family-friendly vacation destination probably isn't the first thing that springs to mind.
However, the gambling mecca in the Mojave Desert has much more to offer than just casinos and conventions. From fine and festive dining to unique attractions and limitless entertainment options the whole family can enjoy, there's something for everyone in Las Vegas.
Here are just a few sure-fire ways to fill four days of fun in America's playground with kids – without placing a single bet – and why we're all in for a Vegas vacation.
Visit M&M's World.
A favourite spot for kids – and chocolate lovers of all ages – is the 28,000-square-foot, 4-level M&M's World in the Showcase Mall right next to the MGM Grand.
Find your favourite candy in an astounding array of colours on the famous M&M's chocolate wall. Kids can interact with giant live M&Ms, see the replica of the M&M's NASCAR racing car and create their own personalized candies at the "My M&M's" station. You can also catch the free, interactive 3D film called I Left My M in Vegas in the M&M's movie theatre.
If you're a fan of the brand, be prepared to shop. At M&M's World, as well as buying the candy by the pound, you can purchase virtually everything conceivable with the famous logo. Products range from clothing and accessories to travel gear, toys, cosmetics, cooking supplies, office equipment, sporting goods, work-out gear and much, much more. M&M's fans, show your pride!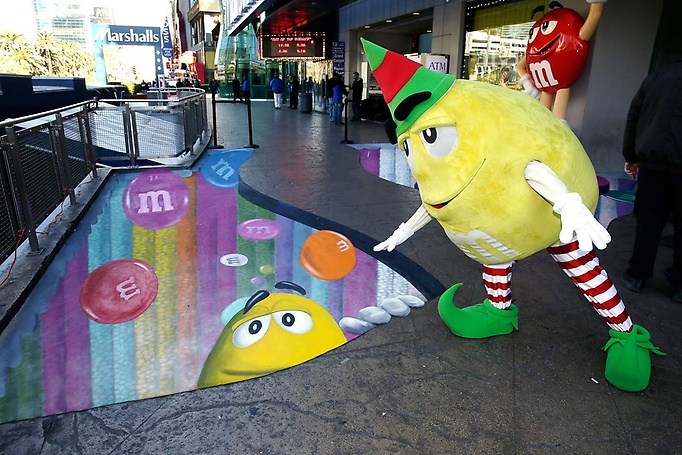 See the Chocolate Fountain at Bellagio.
If you haven't gotten your chocolate fix from a stop by M&M's World, you can also check out the chocolate fountain at the famous Bellagio hotel. It's free to visit the world's tallest chocolate fountain, but after watching the delicious floor-to-ceiling cascade of melted coco, you may not get away without opening your wallet to indulge in some gourmet chocolate from the Jean Phillippe Patisserie.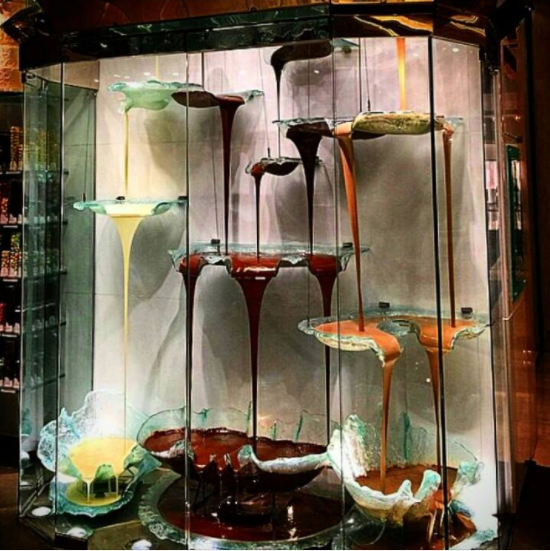 Experience the Shark Reef Aquarium at Mandalay Bay.
Another favourite attraction for the whole family is the Shark Reef Aquarium at Mandalay Bay. Visitors can walk through a submerged glass tunnel making them feel like they are right in the deep-sea world surrounded by sharks and other aquatic creatures. Shark Reef is home to more than 2,000 different animals, including 15 species of sharks, exotic fish and shellfish, stingrays, sea turtles and more.
There are 14 different exhibits to explore – from the interactive touch pool to the shipwreck to the 2,000-gallon piranha pool all while an educational audio-guide leads you through the displays.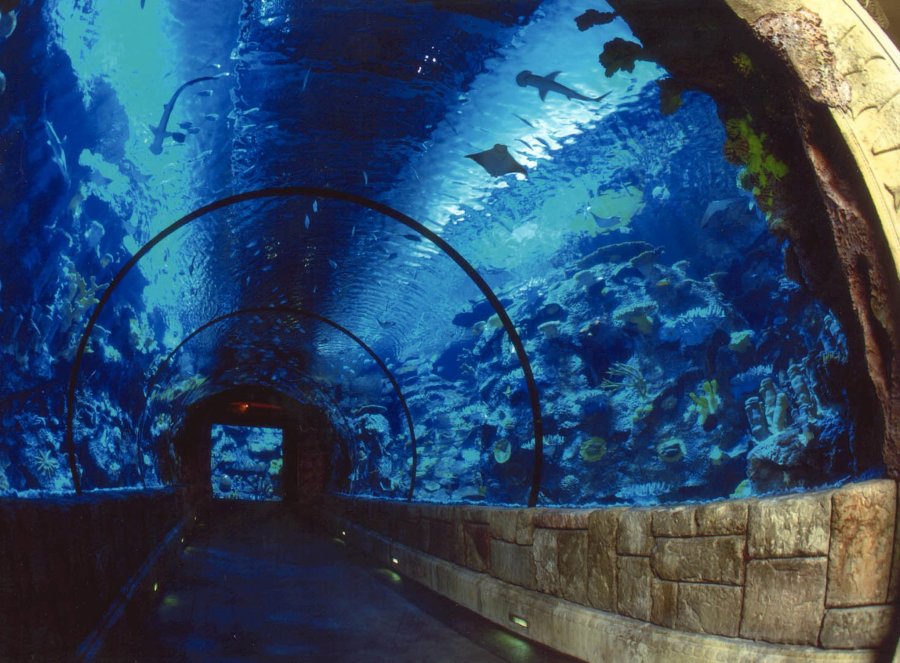 Spend the Day by the Pool.
Inspired by the aquatic world of the Shark Reef? Why not spend a day at the pool? Most of the resorts on the Las Vegas Strip feature amazing pool areas. For example, the Mandalay Bay Beach features an incredible pool complex that has real sand, giving the impression you're spending the day at the beach! It also has a giant wave pool where you can body surf the constantly rolling waves and a lazy river you can float along in a rented tube.
The MGM Grand is home to a large 6.5-acre pool complex made up of three pools, a lazy river and three whirlpool spas in a tropical landscape background. The kids will love floating along the quarter-mile lazy river in an innertube.
Circus Circus has gone a step further and has a full-on waterpark called the Splash Zone attached to its swimming pools with giant waterslides, an aqua tube, whirlpools and splash buckets.
The pool at the Mirage is beautiful, large and relatively shallow – making it a great choice for kids. They also provide complimentary lifejackets on request.
Most of the pool attractions in Vegas are reserved for hotel guests only, so research the pools and amenities at your resort when you book to select the one that best suits your family's needs.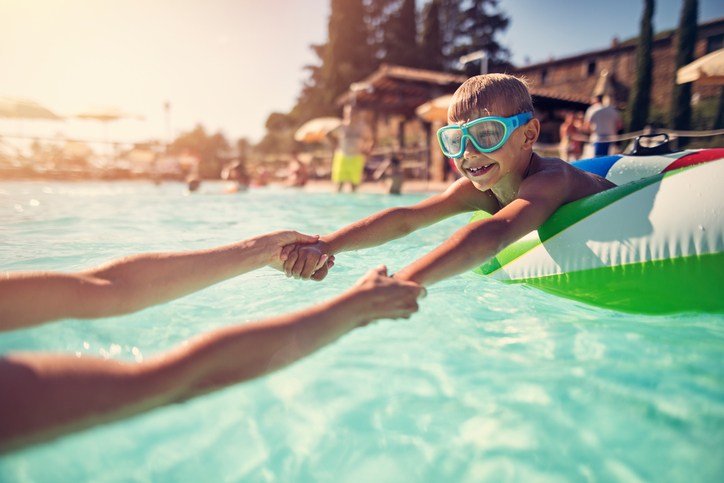 See the Strip – from Above.
The lights of the Las Vegas Strip are truly something to see. However, as the evening wears on and the party crowd comes out, sometimes the Strip might not be the most family-friendly of spots.
A unique and unforgettable way to see the city lights shining in the middle of the dark desert night would be with a flyover! Your kids will be thrilled to board a helicopter for a 15-minute flight over Las Vegas Boulevard. Helicopter tours also make for some great photo and video opportunities to create lasting memories.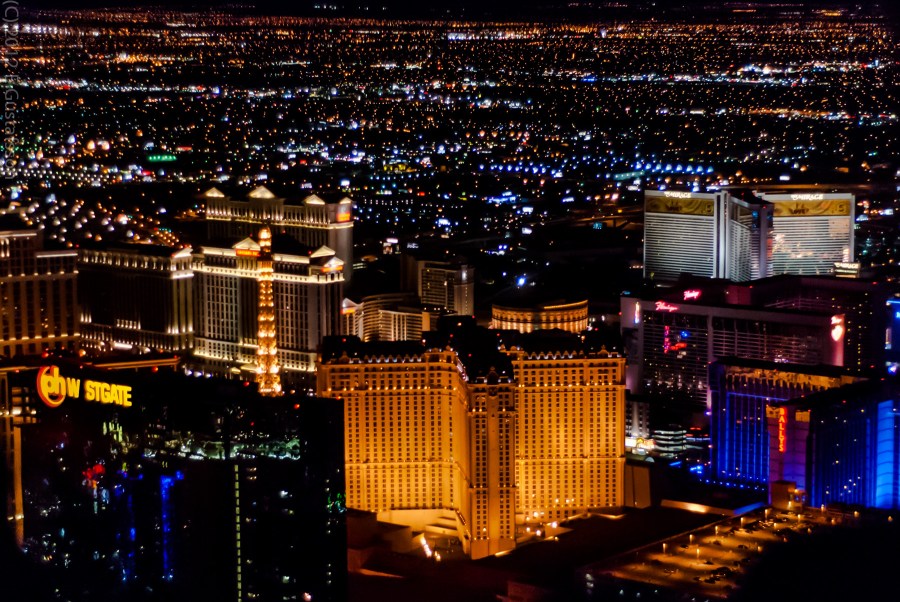 Visit the Mob Museum.
The history of Las Vegas is inexorably connected with the mafia. The Mob was heavily involved in building up the city in the desert as a hub for gambling and other illicit activities.
So, it is appropriate that today, the Mob Museum is located in a historic downtown Las Vegas building that was once a federal courthouse. The museum depicts the history of organized crime in the United States.
The Mob Museum features three stories of entertaining exhibits, including video presentations, historic artifacts and interactive displays. Learn the real-life stories of the iconic gangster names you know from your favourite mob movies and the lawmen who worked fearlessly to bring them to justice.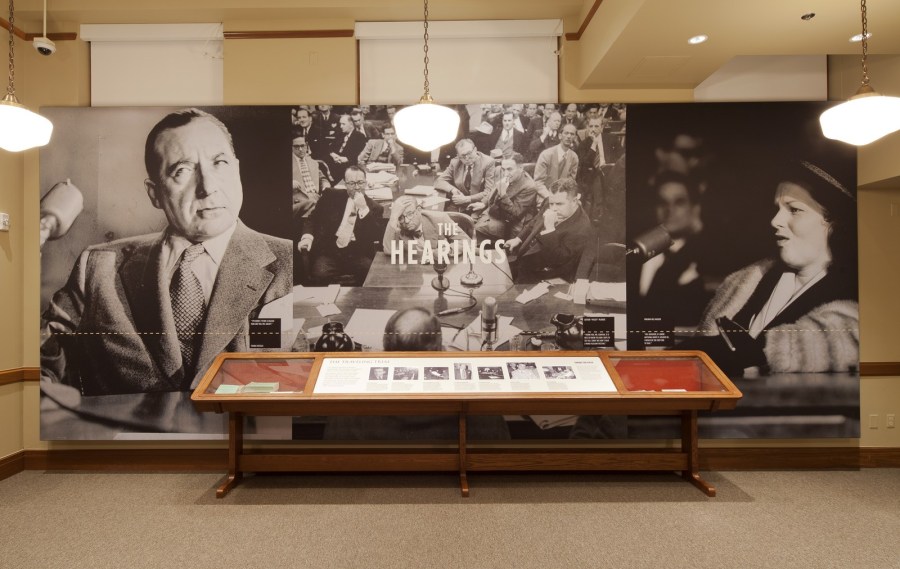 Eat at a Celebrity Restaurant.
Vegas is a foodie's destination of choice. If you drop in for a meal at one of the famous buffets, you'll literally find something for every taste all in one (all-you-can-eat) setting. However, the bigger draw is the rise of the celebrity chef restaurant. Wolfgang Puck, Gordon Ramsay and local favourite Guy Fieri (he studied at the University of Nevada) are just a few of the renowned chefs behind dining hotspots along the Strip. From high-end and formal to casual gourmet, you'll have the opportunity to try the recipes and cooking styles of your reality TV and Food Network favourites.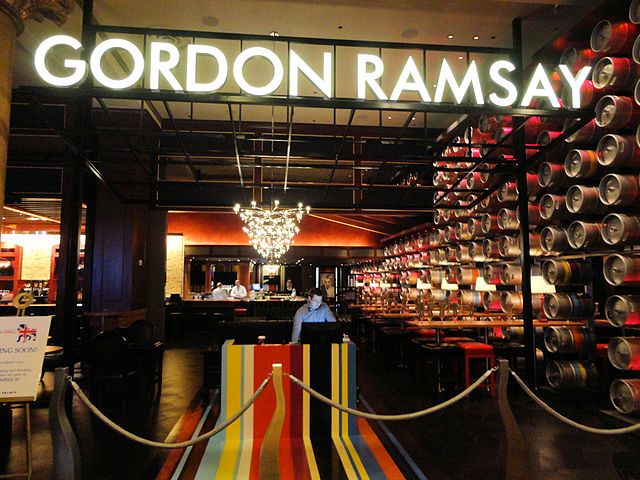 Catch a Show.
If your family enjoys the theatre, you'll find plenty to love in Las Vegas. From the astounding acrobatics of Cirque de Soleil to the comedy and magic of acts such as Penn and Teller and the sounds of some of the music world's most iconic voices in concert, this city knows how to put on a show. See dance troupes, hypnotists and magicians, tribute acts and genuine superstars live in concert venues and on smaller stages all around town.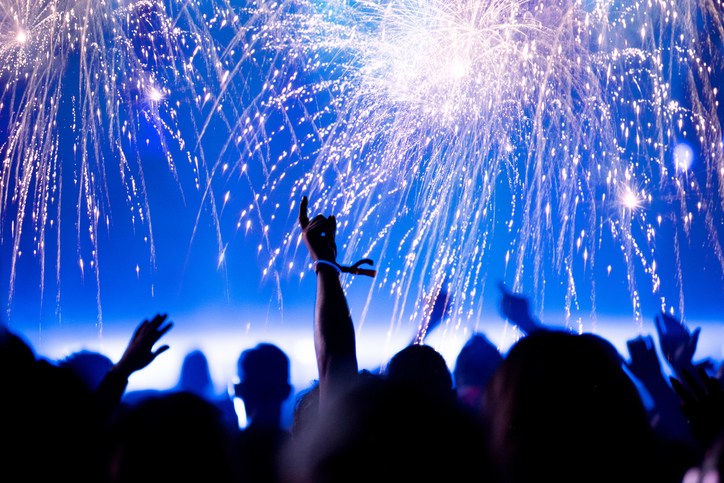 Get Married!
If you are still feeling that your family vacation to Vegas is somehow lacking, you could always get married in a Las Vegas wedding chapel!
It is not quite as easy as it is often portrayed in television and the movies – you can't just show up at the chapel spontaneously and request that the officiant perform the ceremony on the spot. However, it is still fairly simple to get legally married in Vegas.
Couples need to present themselves at the Clark County Courthouse downtown to fill out some paperwork and request a marriage licence. However, there is no waiting period in Nevada. So, once you have the licence, you're free to wed. You can have your ceremony at the Little White Chapel (where Britney Spears had her first – and quickly annulled – wedding), on a replica of the Titanic (at Luxor), in front of the Eiffel Tower (at Paris Las Vegas) or even have the service performed by Elvis himself (okay, well, a guy dressed like Elvis himself). There are plenty of chapel options on Las Vegas Boulevard. What could be more Vegas than that?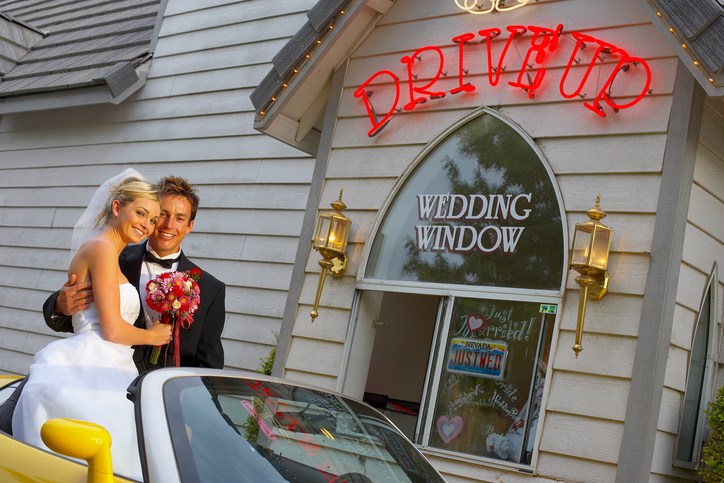 Enjoy the Strip Itself.
The Las Vegas strip is its own attraction – and something to behold. Walk along it in the daylight and enjoy seeing Egyptian pyramids, the New York skyline, the Eiffel Tower and gondolas paddling faux Venetian canals all on Las Vegas Boulevard. Be sure not to miss the spectacular fountains of the Bellagio. The dancing waters are choreographed to rise and fall in tune with popular songs. Catch them after dark for the added element of a synchronized light show. Soaking in the atmosphere of the main drag and its competing attractions is a fun and free way to experience iconic Las Vegas.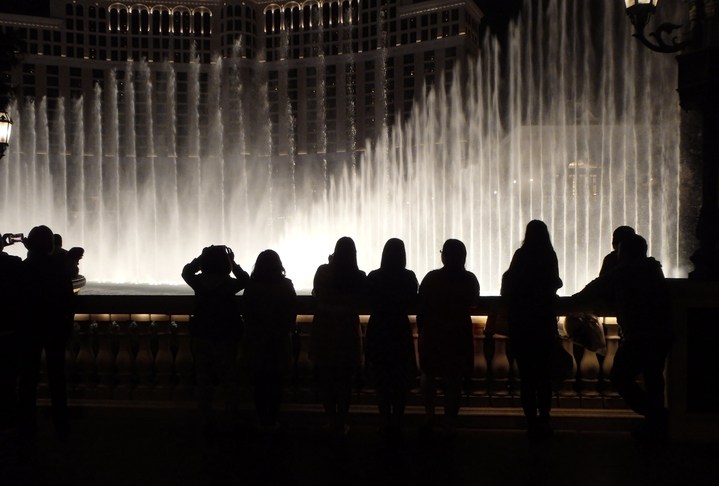 Inspired to Visit Las Vegas?
If you didn't know before, now you know there's so much more to do in Vegas than simply trying your hand at lady luck – so what are you waiting for?
As a CAA Member, you can get these exclusive offers when you book your Las Vegas vacation with CAA, WestJet Vacations and MGM Resorts®1:
Mandalay Bay Resort and Casino – Book a King Strip View room and receive a free upgrade to a Bay King Suite.
Luxor Hotel and Casino – Book a Tower Premium King room and receive a free upgrade to a Tower Elite  King room.
Park MGM Las Vegas – Book a Park King or Queen Strip View room and receive a free upgrade to the Stay Well Park MGM King or Queen room.
MGM Grand Hotel and Casino – Book a Grand King or Queen room and receive a free upgrade to a Grand King or Queen Strip View room.
With the most flights from Canada to Las Vegas and special offers on vacation packages, like the promotion above, your unforgettable Vegas experience starts in a WestJet seat.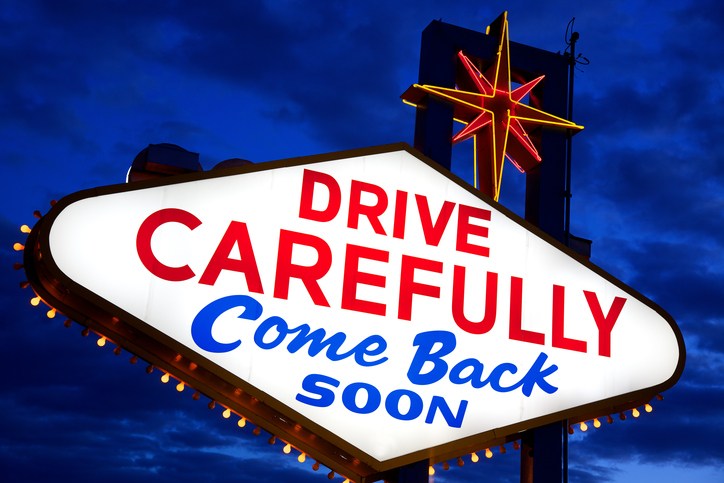 Photo Credits: M&M's World photo courtesy of M&M's World. Chocolate Fountain at Bellagio, courtesy of the Bellagio. Shark Reef Aquarium at Mandalay Bay photo, courtesy of Shark Reef Aquarium at Mandalay Bay. Aerial of Vegas strip by Eje Gustafsson, courtesy of Wikimedia Commons. Exhibit photo from the Mob Museum, courtesy of the Mob Museum. Gordon Ramsay Las Vegas restaurant, courtesy of Gordon Ramsay Restaurants.
+ Terms and Conditions
1
Offer applicable on bookings made from August 1 to September 30, 2018, with CAA and WestJet Vacations to select MGM Resorts, for travel August 2 to December 23, 2018.
Offer requires a 2-night minimum stay, based on availability. A daily resort fee will be added to your room account, which includes select hotel amenities. Guests must be at least 21 years of age to check in. Offers are subject to availability; and are not available to groups or persons attending meetings or conventions. Not available for existing or consecutive reservations. Early departures will not be refunded.
This offer is non-transferable and may not be used in conjunction with any other public promotion, excluding rate promotions. Guests booking above mentioned room categories at participating properties will receive a complimentary upgrade to the next room category. Any additional charges will be the responsibility of the guest at check out and will be applied to the credit card on file.
Management reserves the right to cancel or change this promotion at its discretion without prior notice. ©2018 MGM Resorts International®.