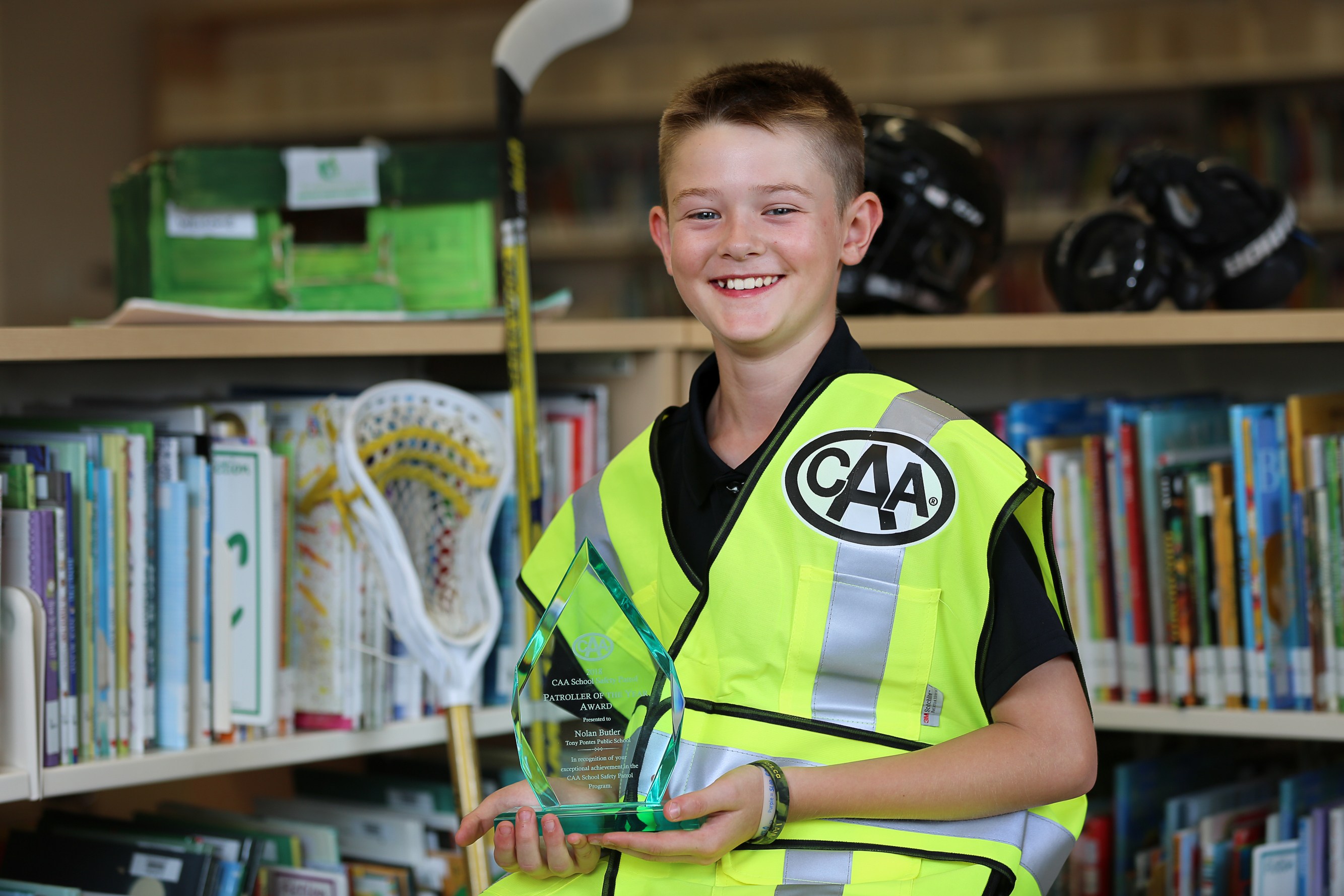 Sometimes you don't need to witness a person responding to an emergency situation to know how competently they would perform. Such was the case with Nolan Butler, the grade 5 student at Brampton's Tony Pontes Public School who was named Ontario's CAA School Safety Patroller of the Year.
As a one of Ontario's 20,000 volunteer CAA School Safety Patrollers, Nolan Butler was tasked with keeping his fellow students safe on their daily school bus rides to and from school. His duties were to ensure that the students remained quiet and seated throughout the ride – not an easy feat with a bus full of kindergarteners. He was also specially trained to respond appropriately in the unlikely event of a bus emergency. Thankfully, 2018 evolved without incidents under Nolan's watch.
What then led the committee to select Nolan as Patroller of the Year, given the fact that his safety skills weren't put to the ultimate test? Nolan impressed the committee by being the very first student to insist on being granted the opportunity to be trained as a Bus Patroller. The fact that Nolan earned himself a perfect score on his Patroller safety test also carried considerable weight. But what contributed most to Nolan earning this award was his exceptional competence, his responsible demeanor, and the profound respect of his fellow students, teachers and bus drivers.
Winning Endorsements.
Submissions for CAA School Safety Patroller Awards often include testimonials from teachers, supervisors, and bus drivers. Nolan demonstrated such competence as a natural born leader that CAA School Safety Patrol Supervisor Heather Wellard stated, "I can't think of anyone else I would rather take charge of an emergency bus situation other than Nolan." A substitute bus driver commended on Nolan being the best bus monitor he has encountered in his 30-year bus driving career.
In just one short year, Nolan was able to demonstrate outstanding leadership abilities and a highly mature sense of responsibility – two integral qualities of a great CAA School Safety Patroller. Kindergarten students adore him; he is often found playing games and singing along with them while they wait for the bus – even when he isn't on duty. "Seeing all the smiles from the kindergarteners when they see a School Bus Patroller makes me happy," says Nolan. "But knowing they are safe makes me feel good inside."
This compassion and kindness are reflected in just about everything Nolan touches. For a recent school design project, Nolan invented a wheelchair accessible snack bar for the community and then insisted a portion of the ongoing proceeds be funneled towards research on issues relating to people with disabilities.
Congratulations, Nolan!