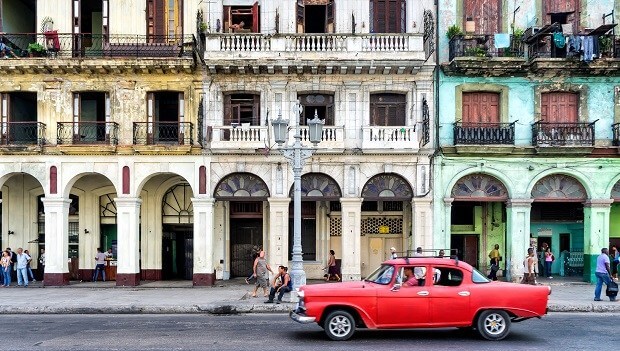 Canadians have long enjoyed a love affair with Cuba. The island destination is a favourite for travellers from this country. In fact, Canadians are the most frequent visitors to Cuba, vacationing in the island nation more often than people from any where else.
An estimated 1.2 million Canadians visit Cuba every year. With the endless white sand beaches on the warm turquoise Caribbean Sea, it's not hard to see why. Cuba is also home to 10 UNESCO World Heritage sites, 257 national monuments and 332 museums. Because of the decades long (and slowly ending) embargo on Americans travelling to Cuba, the country has retained a unique culture and history unlike other Caribbean destination. Classic cars still cruise past the faded colonial buildings of Old Havana as though time stopped with Castro's revolution.
So if you're planning a trip to Cuba before the influx of American tourists starts to change this unique destination, here's what you need to know to protect yourself before setting off for the historic land of breathtaking beaches, rolling mountains, rum and of course, cigars.
Since 2010, Cuba has required foreign travellers to show proof of travel insurance upon entering the country. If you don't have it, you will be asked to purchase Cuban health insurance at your point of entry. This tends to provide much less coverage, at an elevated cost, than what you would receive from a Canadian insurance company.
While it has been the case for the past several years that Canadians can show their provincial health insurance card as proof of travel insurance coverage, this actually leaves you at risk. Most hospitals in Cuba require up-front payment for treatment, and travellers will not be allowed to leave the country until any and all outstanding bills are paid.
So if you or a family member is sick or injured while travelling and handed a bill that exceeds the amount of cash you have on hand or your credit card limits, you could find yourselves stranded abroad.
The Canadian government advises travellers to Cuba to: "purchase the best travel insurance you can afford prior to your departure, as your provincial plan may cover only part of the cost of treatment and may not pay the bill in advance of treatment, which is required by most hospitals. Your insurance should include health, life and disability coverage." CAA's emergency medical insurance is protection you can't afford to be without. From emergency medical coverage up to $5 million CAD and medical repatriation to terrorism and family transportation, travellers should be prepared for unexpected emergencies, illnesses or injuries. Learn more about CAA's emergency medical insurance.
You can read more information on safe travel to popular island destination at https://travel.gc.ca/destinations/cuba. The Canadian federal government regularly rates destinations around the world for how safe they are for Canadian travellers. Cuba currently receives top marks as being among the safest spots for Canadians to visit. Just pack your sunscreen, swimsuits and beach reads – and get some health insurance in advance.
By Peter Harris