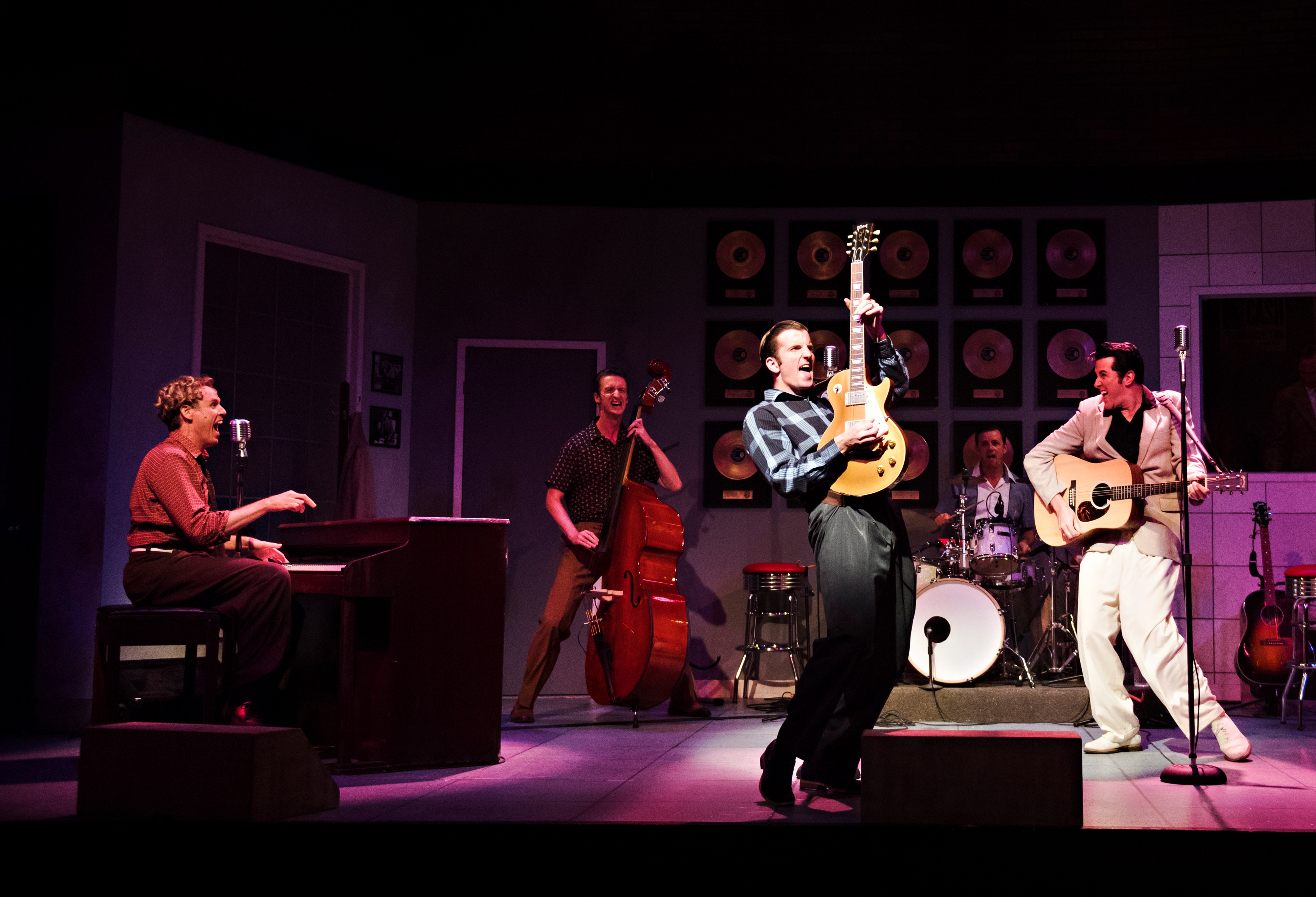 If early rock 'n' roll is your thing, you're going to jump at the chance to win opening night tickets to Million Dollar Quartet at the NEW CAA Theatre (formally known as the Panasonic Theatre).
The Tony Award-winning musical is modelled on that historic 'too good to be true' impromptu jam session in 1956, featuring Elvis Presley, Johnny Cash, Carl Perkins and Jerry Lee Lewis. And what a jam session it was!
Million Dollar Quartet takes you back to the days when rock 'n' roll was king.
Enjoy the rollicking nostalgia of such classics as:
"Down by the Riverside"
"That's All Right"
"Whole Lotta Shakin' Goin' On"
"Great Balls of Fire" and many more!
Enter now for your chance to win a pair of tickets for Million Dollar Quartet at the NEW CAA Theatre in Toronto on December 12, 2017 at 8:00 p.m. Hurry contest ends Sunday, December 10, 2017.
Create your own user feedback survey
If you love live theatre but are not a CAA Member, you're missing exclusive perks, such as:
Savings of up to 50% on select Mirvish shows
Main Season Subscriptions – up to 46% off
Off-Mirvish Subscriptions – up to 41% off
Complimentary coat check and coffee at Mirvish Theatres
Become a CAA Member today and start saving on some of Toronto's hottest shows.
+ Contest Rules and Regulations
CAA SOUTH CENTRAL ONTARIO
CAA Theatre Opening Night – CONTEST RULES
ELIGIBILITY
1. CAA Theatre Opening Night ("Contest") is open to persons who reside within the club territory of CAA South Central Ontario, and have reached the age of majority in the Province of Ontario (18 years of age) as of the date of entry for the Contest with the following exceptions: employees and retirees of CAA South Central Ontario and its affiliates ("CAA"), partners, suppliers, representatives, agents, advertising and promotional agencies, the independent contest agency if any, and the household members and Immediate Family of any of the above are not eligible to participate in the Contest. For the purpose of these Contest Rules, "Immediate Family" means spouse, parent, sibling or progeny, whether or not resident in the same household.
HOW TO ENTER
2. No purchase necessary. To enter the Contest, visit the website located at CAAperks.com and fill out the entry form by following the instructions provided.
3. All entries must be received by CAA during the "Contest Period" beginning at 12:00:01 a.m. EST on December 5, 2017 and ending on December 10, 2017 11:59.59 pm EST ("Contest Closing Date").
4. Only one (1) entry per person and per household.
5. Entries that are incomplete, late, lost, and/or irregular in any way or sent by an unauthorized method are automatically void and will not be eligible or accepted. Entries will only be accepted as described herein and will not be accepted by any other means.
6. By entering the Contest, entrants agree to be bound by these Contest Rules.
THE PRIZES
7. Two (2) Grand Prizes are available to be won, each consisting of one (1) pair of tickets to see the Million Dollar Quartet performance at the CAA Theatre on December 12, 2017 a value of $178.00 CAD.
8. THE GRAND PRIZE
a) is subject to availability, ii) may not be combined with any other offer or discount,
b) has no cash value, and
c) cannot be exchanged by the Winner.
9. The Grand Prize must be accepted as awarded, and may not be assigned, transferred, substituted, exchanged, refunded or redeemed for cash value. CAA reserves the right to substitute the Grand Prize with an item of equivalent or greater retail value in the event that the Grand Prize is unavailable due to circumstances beyond CAA's control.
THE DRAW
10. The Grand Prize winner ("Winner") will be selected by random draw from all eligible entries received during the Contest Period. The decision will be made by CAA on December 11, 2017 at 10:00 am at its head office located at 60 Commerce Valley Drive, East, Thornhill, ON.
11. The odds of winning the Grand Prize will depend on the number of eligible entries received during the Contest Period.
WINNER CONFIRMATION
12. Winner will be notified via email (at the email address provided during the entry process).
13. To be confirmed a Winner, the selected entrant must:
(a) Confirm compliance with these contest rules;
(b) Accept the prize as awarded;
(c) Correctly answer a mathematical skill-testing question without assistance of any kind, whether mechanical or otherwise, and within the time prescribed; and
(d) Sign and return a Declaration of Eligibility and Release, in the form requested by CAA, within ten days
14. The mathematical skill-testing question will be administered by email and returned to CAA South Central Ontario.
15. If the selected entrant cannot be contacted within five (5) business days of the first attempt to contact him/her and after a minimum of three (3) attempts, or fails to be confirmed as a Winner within the time prescribed, he/she will be disqualified and will not receive any Prize, and another eligible entry will be selected from the remaining eligible entries received until such a Winner is confirmed. The initial selected Winner will have no recourse towards CAA or anyone involved in the Contest.
AWARDING OF PRIZES
16. The Grand Prize of two (2) pairs of e-tickets (print-at-home) will be emailed to the winner(s) once the signed Declaration of Eligibility and Release has been completed and returned..
17. Selected entrants are subject to verification by CAA and/or its designated representatives, in their sole discretion.
18. Refusal by an entrant to accept the Prize or any part of the Prize releases and forever discharges CAA and its agents from all obligations related to the Prize, including delivery. The Winner is solely responsible for all expenses which are not included in the Prize description above.
GENERAL RULES
19. By entering the Contest, entrants agree to release CAA and its affiliated companies, and their officers, directors, employees, suppliers, sponsors, administrators, representatives and agents, including but not limited to CAA's advertising and promotional agencies (the "Releases'") from any and all liability claims or actions of any kind whatsoever arising from their participation in the Contest or use of any Prize awarded as a result of this Contest.
20. CAA's suppliers are independent third parties over which CAA does not exercise any control. CAA is not responsible for the acts or omissions of these suppliers, nor does it assume any responsibility for any claims, losses, damages, costs, expenses, delays or loss of enjoyment to the Winner.
21. By entering the Contest, entrants consent to the use of their personal information for the purposes described as follows. All entries become the property of CAA and none will be returned. By completing the entry form, all entrants consent to the collection, use, and distribution of their personal information by CAA for the purposes of administering the Contest and for any purpose required or permitted by law. CAA may, from time to time, upon consent of the entrant, use the personal information provided in connection with this Contest to (i) contact selected entrants for the purpose of notifying him/her, (ii) contact entrants directly regarding products and services provided by CAA and its affiliates, and (iii) research the effectiveness of websites and the marketing, advertising and sales efforts of CAA and its affiliates. Please see CAA's Privacy Policy at www.caasco.com/privacy for more information.
22. By entering the Contest, entrants agree that the decisions of CAA are final and binding. CAA may, at its sole discretion, terminate or withdraw any Contest entry without liability and without notice to the entrant. CAA reserves the right, in its sole discretion, to cancel, modify or suspend this Contest for any reason including should a virus, bug, unauthorized human intervention or other cause beyond the reasonable control of CAA corrupt or affect the security or proper administration of the Contest. Any attempt to deliberately damage any website or to undermine the legitimate operation of this Contest is illegal, and should such an attempt be made, CAA reserves the right to seek remedies and damages to the fullest extent permitted by law, including, where appropriate, criminal prosecution.
Entries are subject to verification and will be declared invalid if they are illegible, mechanically reproduced, mutilated, forged, falsified, altered or tampered with in any way. CAA reserves the right to change the terms of this Contest or terminate it at any time, without prior notice.
23. Online entries must be made by the original, manual keystrokes of the individual entrant. Use of mechanical assistance, form filling software, or robotic assistance is prohibited.
24. Only one (1) entrant's name may appear on the entry form. In the event of a dispute as to the identity of a selected entrant based on an e-mail address, the winning entry will be deemed to have been made by the Authorized Account Holder of the e-mail address at the time of entry. The "Authorized Account Holder" is the natural person who is assigned an e-mail address by an internet service provider, or other organization responsible for assigning e-mail addresses for the domain associated with the e-mail address in question.
25. CAA assumes no responsibility for entries which are late, lost, stolen, damaged, illegible, incomplete, misdirected, postage due, destroyed or delayed. CAA assumes no responsibility for any failure of the Contest website or computer systems during the Contest Period, for any problems or technical malfunction of any telephone network or lines, computer online systems, servers, access providers, computer equipment, software, failure of any entry including an online entry to be received by CAA on account of technical problems or traffic congestion on the Internet or at any website, or any combination thereof including any injury or damage to an entrant's or any other person's property, including computer, related to or resulting from participating in, or downloading any material in relation to the Contest.
26. By accepting a Prize in this Contest, entrants consent to the use of their name, city of residence, voice, photograph, image or likeness in any publicity or advertisement carried out by CAA in connection with this Contest without any further compensation.
27. This Contest is subject to all applicable federal, provincial, and municipal laws and shall be governed by the laws of Ontario.
28. All applicable federal, provincial and municipal taxes are the sole responsibility of the Winner.
29. CAA® and CAA logo trademarks are owned by and use is granted by the Canadian Automobile Association.
30. This Contest is sponsored by, and is at the sole discretion of, CAA South Central Ontario.