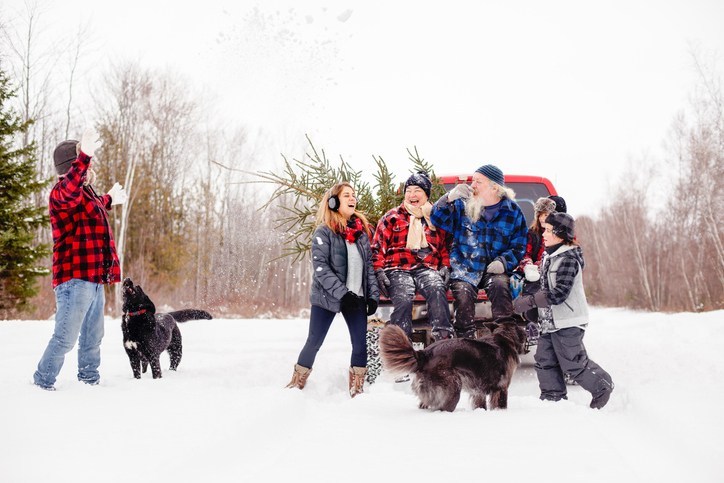 Just because it's cold outside is no reason to stay inside. We are after all, Canadians!
Why not take a day trip and go on a winter farm visit? Think sleigh rides, warm fires, hot drinks and tons of fun!
Ontario has many farms that are open year-round or at least through the holidays. Here are five you can visit any time of year (but are especially festive for the holidays) and three you can check out if you just want to get yourself a Christmas tree.
Hy Hope Farm.
5450 Lake Ridge Rd, Ashburn, ON
Hy Hope Farm, in is open year-round. Bring your own toboggan so you can hit the hills! The Hy Hope Farm Store is also open daily in winter, selling baked goods, apples, and jams and preserves. Hot drinks are available to warm up chilly tobogganers, including hot chocolate, hot apple cider and coffee. Call for tobogganing conditions.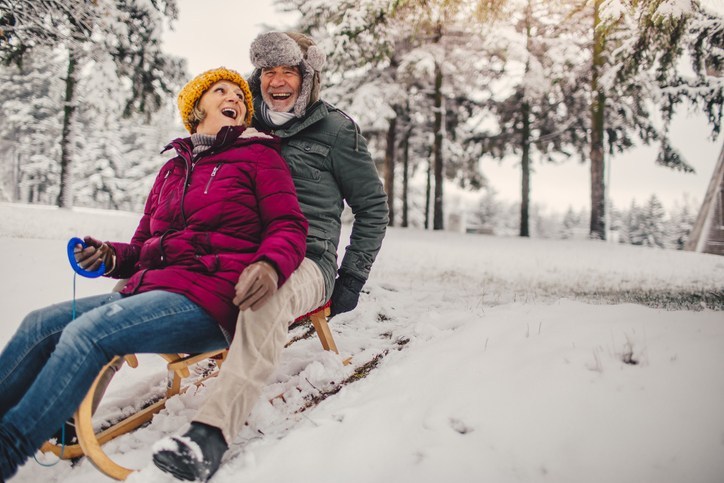 Haute Goat.
1166 5th line, Newtonville, Newtonville ON
Haute Goat farm is a 200-acre farm located just outside of Port Hope, where you can discover the magic of Nigerian Dwarf goats, alpacas, chickens and horses and shop for goat milk goodies and skin care products. In winter, you can snowshoe and cross-country ski on beautiful trails and in December, participate in Mini-Shmurgles (Goat snuggles)! Full shmurgle experiences are offered at other times of the year. Haute Goat also offers workshops, such as Needle Felting and Goat Milk Soap Making, which start-up after the holidays. The farm is open Thursdays to Sundays.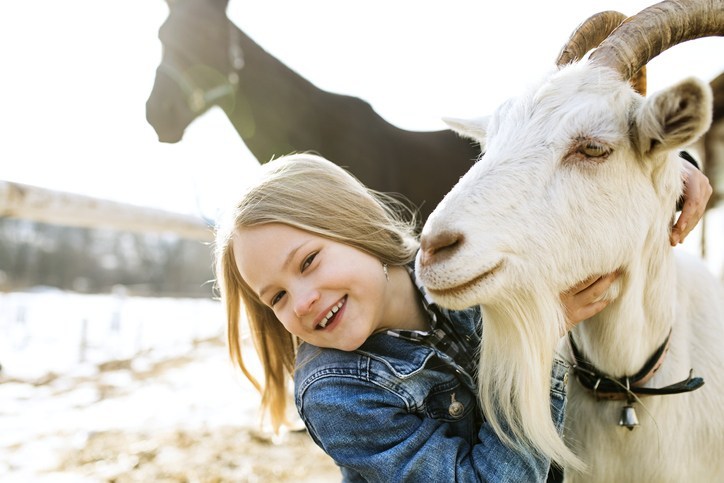 Muskoka Lakes Farm & Winery.
1074 Cranberry Road, Bala, ON
At Muskoka Lakes Farm & Winery you can skate on a 1.2 km trail with forest on one side and cranberry beds on the other. The trail is lit by torches on Saturday nights in winter. Stop by a waterfall and afterwards, warm up by a fire. The farm also offers the chance to play pond hockey on a cranberry bog! They've flooded a one-acre bed of cranberries and made it into a giant ice surface! Check for weather conditions but the trail is scheduled to open on December 27, 2018.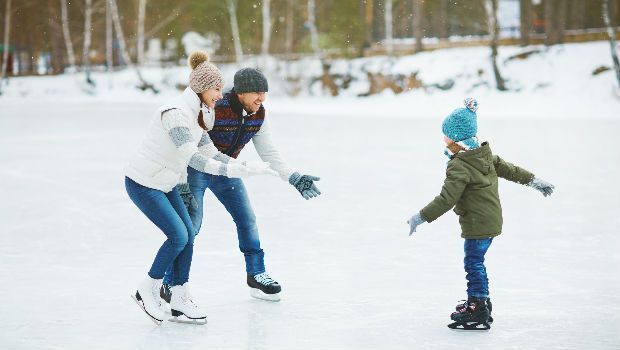 Riverdale Farm.
201 Winchester St, Toronto, ON
Riverdale Farm is a working farm located right in Cabbagetown, in downtown Toronto. The 7.5 acre property is open seven days a week, 365 days a year. Visitors can say hello to the horses, cows, pigs, sheep, goats and chickens, and participate in workshops and craft programs. There's great tobogganing on snowy winter days, as well as wooded areas and trails to explore. It's like a visit to the country without leaving the downtown core. Truly a gem.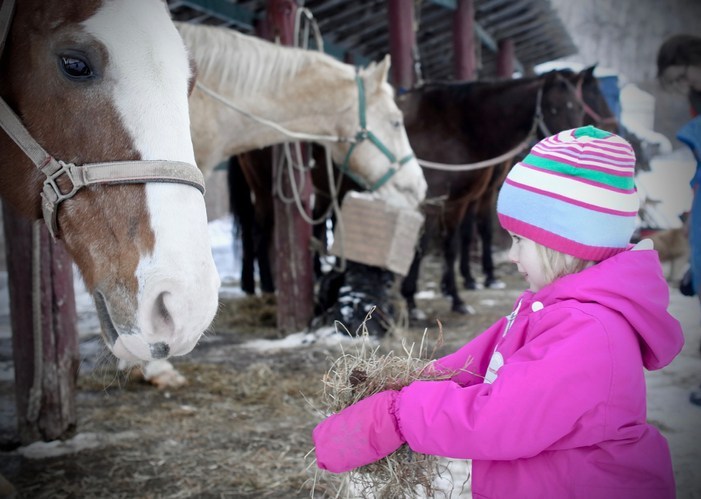 Gammondale Farm.
426 McCluskey Drive, Slate River, ON
Gammondale is a family-run farm in Slate River (near Thunder Bay) that offers sleigh ride parties in December and through the holidays. January to March there are standalone sleigh rides. These include one hour of exclusive use of a cozy log house, a 1/2-hour horse-drawn sleigh ride around the fields at the foot of Candy Mountain, unlimited hot drinks (hot chocolate, coffee and tea) and visits to the farm animals which include goats, sheep, rabbits, draft horses and hens. Reservation only, open year-round.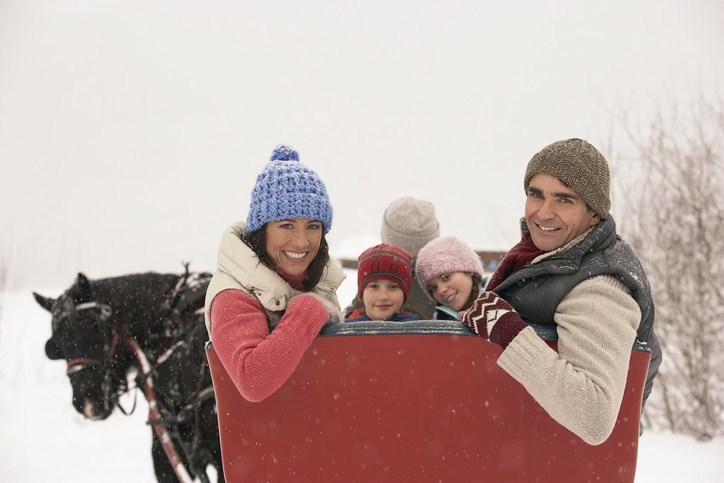 Laura's Christmas Trees.
998024 Mulmur Tosorontio Townline, Mulmur, ON
Laura's Christmas Trees boasts that they're "inconveniently located but worth the drive." The farm has a large selection of pesticide-free Blue, White or Norway Spruce and White or Scotch Pine. Laura's has over 2 km of walking trails, and offers free hot chocolate, candy canes and dog treats (the farm is dog friendly) on weekends (while supplies last). All the fixings to make your own  holiday wreath are also provided or you can shop for one at the craft shack.  Sounds like fun for the whole family, including the pups!
Spademan Christmas Tree Farm.
545 Regional Road 21, Port Perry, ON
Take a day trip to Spademan Christmas Tree Farm. All trees are 100% naturally grown without the use of pesticides, herbicides or any other chemicals. You can cut your own tree from a selection, including White and Scotch Pine, or choose from a selection of pre-cut, imported balsam and Fraser Firs. You can also enjoy wagon rides, hot chocolate, candy canes, hot apple cider, cookies and an open fire. What better way to spend a day leading up to the holidays?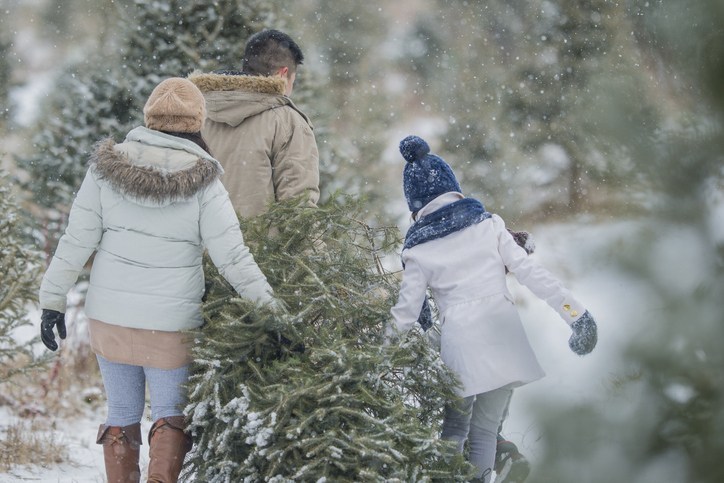 Horton Tree Farms.
5924 Slaters Road, Stouffville, ON
Founded as one farm in 1964, Horton's is now a collection of three farms that hosts an annual Christmas Tree Harvest Festival at each one. Cut a fresh tree, enjoy a wagon ride and warm up by a bonfire with a cup of hot chocolate. Each farm offers different features and a different selection of trees. Check the website for other locations.
If you're looking for more selection on the Christmas Tree front, visit CAA Magazine for additional farms, especially if you're in or around the GTA.