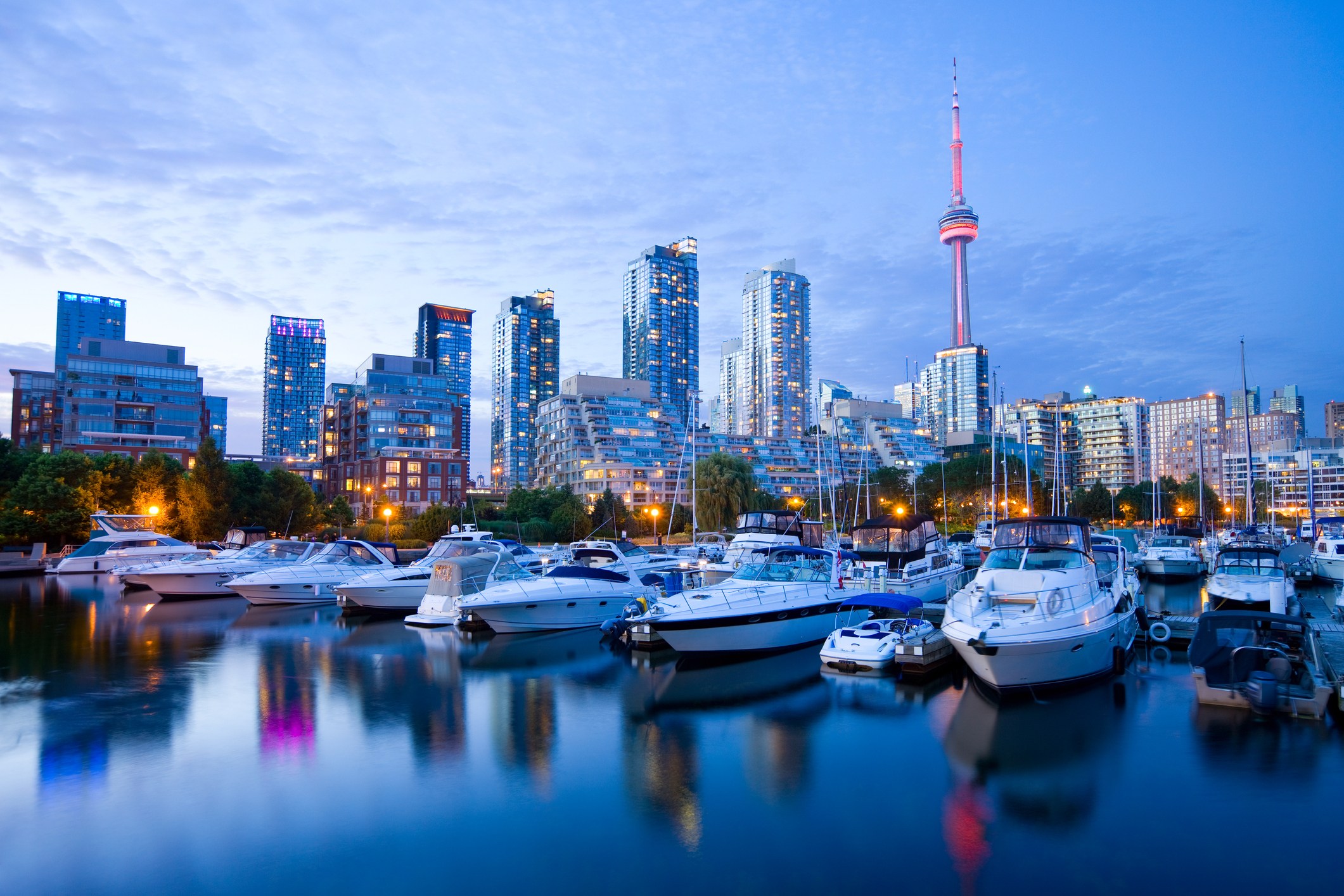 This is the third installment in our series on interesting Toronto neighbhourhoods to explore in this wonderful diverse city. If you want to catch up on what you have missed, check out the June and July blogs highlighting unique places to eat, drink and visit.
In this final article we are featuring Harbourfront, Little India, Yorkville, Koreatown, and Queen West. Read on to find out why they make such great destinations within Toronto.
Harbourfront.
There are so many things to enjoy at Harbourfront in the summer and into the fall months. Set against Toronto's gorgeous harbour located in Queen's Quay between Bathurst and Jarvis Street, there are cool places to walk, sit by the water, shop, grab a bite to eat, enjoy a festival, or immerse yourself in the theatre and gallery scene. There is multicultural programing throughout the summer and from September 7-9, 2018 is Veg Food Fest, North America's biggest festival of everything veggie. Summer Music in the Garden is happening until September 16, 2018 with free concerts on most Thursdays and Sundays. If you have kids, consider a visit to the pond located next to the Harbourfront Centre boardwalk. You can rent a paddleboat and paddle along with views of the CN Tower and Toronto's waterfront. There are lots of nearby restaurants in the neighbourhood and on a nice summer evening you can walk less than 20 minutes to the Esplanade and have dinner at the famous Old Spaghetti Factory, a fun restaurant that was originally a Blacksmith Shop dating back to 1898.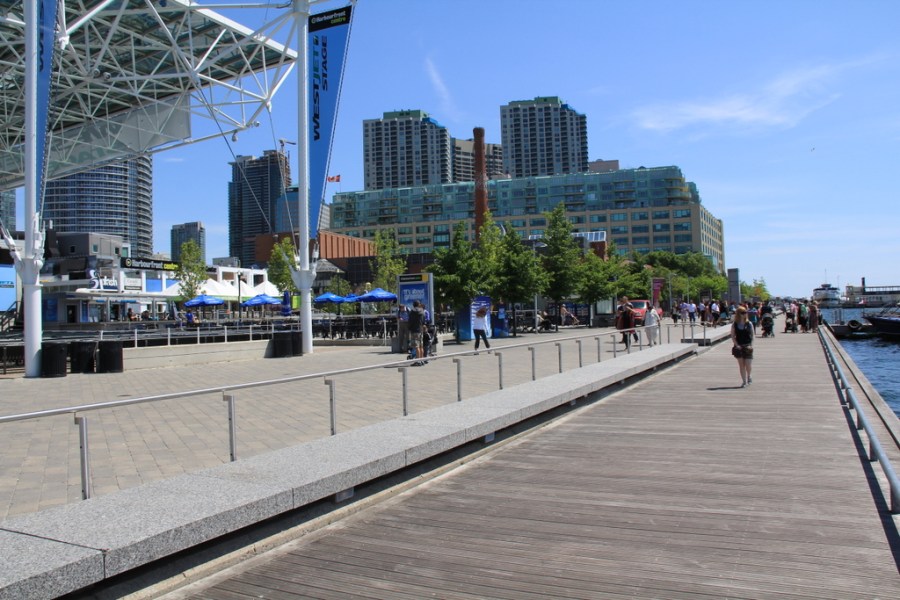 Little India.
North America's largest South Asian  market is in Little India. Located on Gerrard Street East between Coxwell and Greenwood Avenues, this neighbourhood is the place to be if you want to explore colourful textile shops or search for an authentic sari. There are over 125 shops and restaurants so you can try food from various regions that reflect South Asian culture including goodies from North and South India, Pakistan, Sri Lanka, and Bangladesh. There is also art for sale, home furnishings, jewelry, and other merchandise from South Asia. If you visit Little India in November get ready for Diwali, known as the Festival of Lights it's an important holiday on the Hindu calendar and there are hundreds of glittering tea lights throughout the neighbourhood during this time. If you want to try authentic Indian cuisine, visit Udupi Palace for indlies, uthappamas, and dosas made to perfection.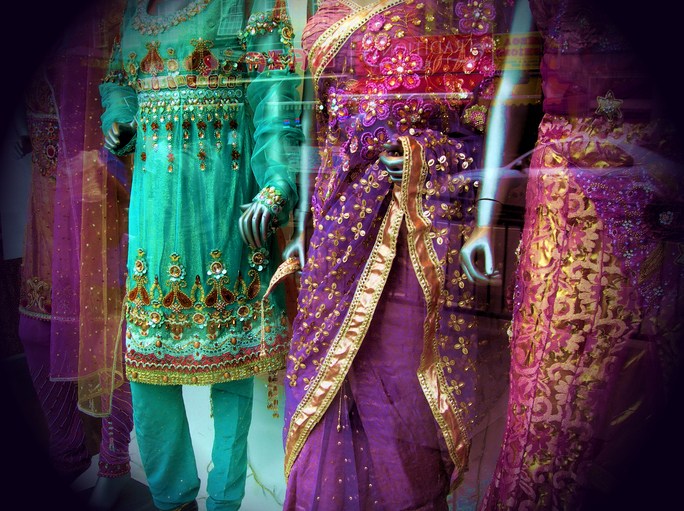 Yorkville.
Yorkville is known as the Beverly Hills of Toronto with high-end designers and fine dining around every corner. This chic neighbourhood is the place to be during summer evenings if you want to watch people walking by with the latest fashions and accessories. Yorkville is home to peaceful courtyards with tables and chairs to sit and have lunch next to fountains and flowers. Or choose to dine at many delicious restaurants including the trendy Italian eatery Cibo Wine Bar. If you want to shop at designer boutiques you have a long list to chose from. There is Kate Spade, Anthropologie, Burberry, Chanel, Prada, and many more – definitely no shortage on where to spend your money. Toronto Fashion week is happening in Yorkville from September 4-6, 2018 and will feature top Canadian fashion brands showcasing their new lines for 2019 on the famous runway.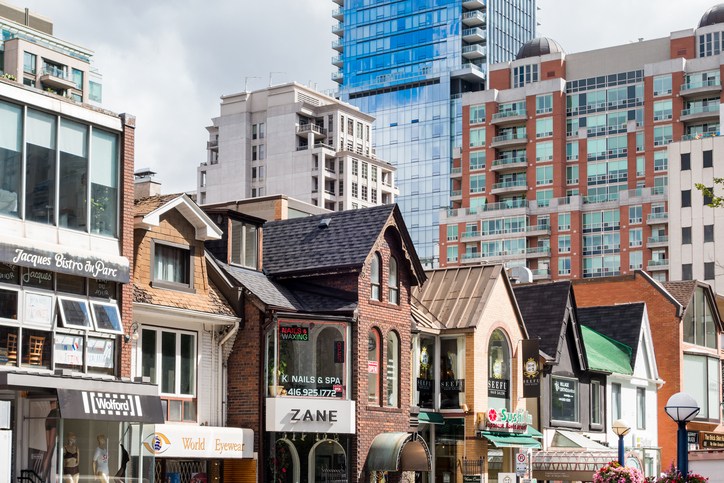 Koreatown.
Koreatown, also commonly called Little Korea, consists of a small stretch along Bloor Street West between Bathurst and Christie Streets; near Christie Pitts and west of the Annex. If you are searching for affordable Korean restaurants serving kimchi look no further. Alternatively, stop by PAT Supermarket on Bloor to pick up fresh authentic tofu, veggies, and kimchi to create your own masterpiece, or prepared foods such as bibimbap – a mixed rice dish in a hot stone pot served with various toppings. If you are in the mood to sing in Koreatown when the sun goes down check out Echo Karaoke on Bloor for a fun evening.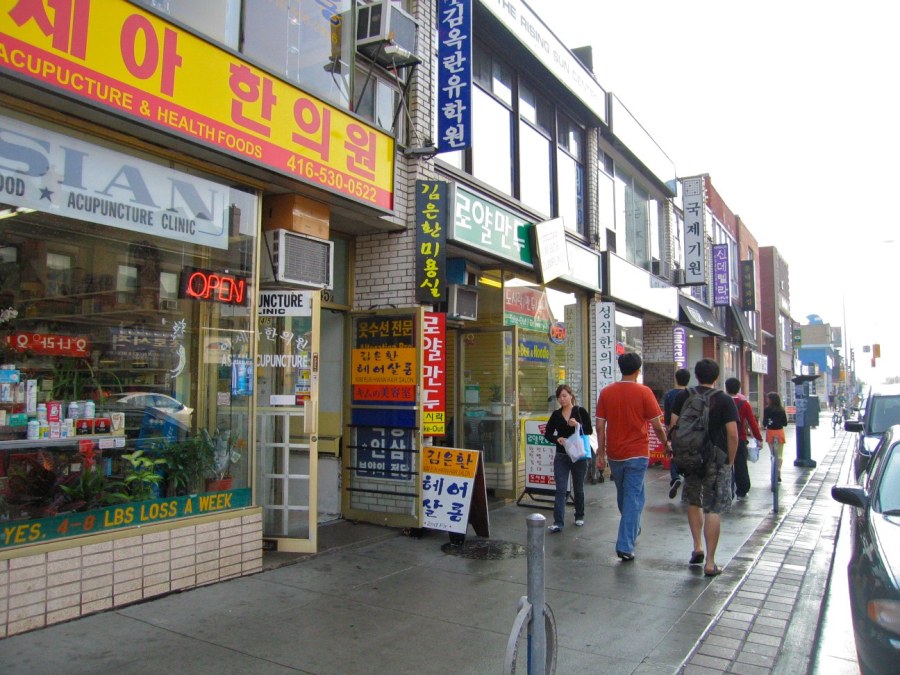 Queen West.
The funky neighbhourhood of Queen Street West is located between Simcoe and Bathurst Streets. This artsy area is a fun place to shop for treasures whether it's vintage and alternative clothes at the famous Black Market or Kind Exchange. With views of historic Toronto buildings, you  can walk along checking out kiosks selling handmade jewelry and treasures by local residents. On a nice evening sit outside at a lively patio listening to music. The Legendary Horseshoe Tavern on Queen has an interesting history dating back to 1947 and is still the place to be for a rocking good time and promotes Canadian talent. Or enjoy lunch, dinner, or a late night snack at Queen Mother Café on Queen, a well-known restaurant in the area that opened in 1978 serving a variety of delicious meals to the hungry Queen West crowd. Save time to check out artwork on the walls exhibiting interesting pieces by talented local artists.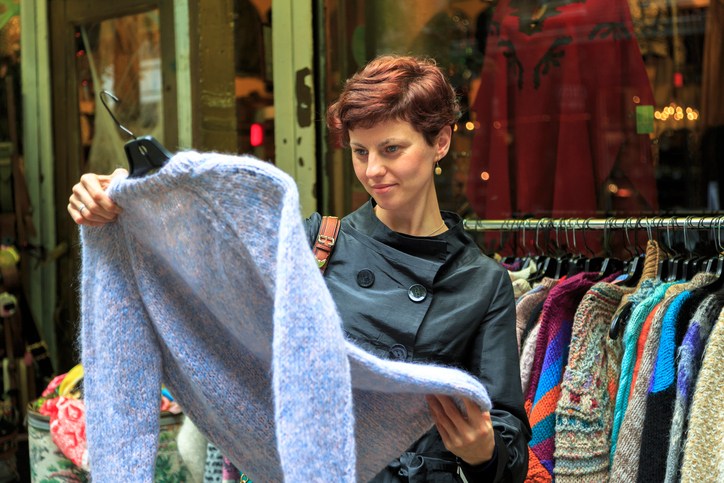 Did we miss your favourite Toronto neighbourhood in this series? If so please let us know what part of Toronto you love to visit!
Harbourfront photo courtesy of: Dmitry Rozhkov, Wikimedia Commons.
Koreatown photo courtesy of: Alain Rouiller, Wikimedia Commons.