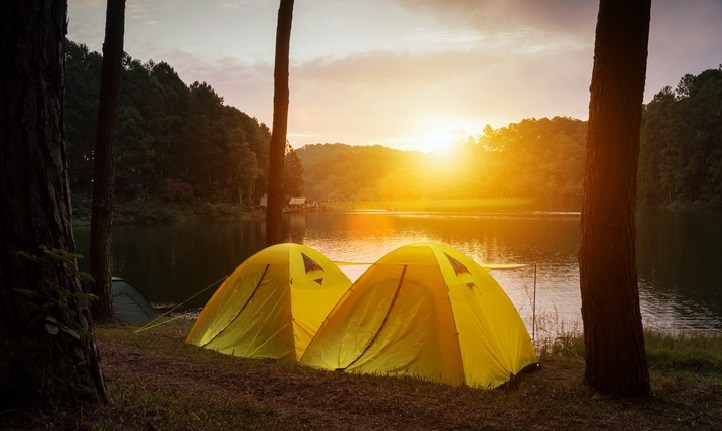 It turns out that taking vacations is good for your health, your career and your overall quality of life!
Research has found that people who take frequent vacations perform better at work – and, therefore, receive more frequent promotions, have lower stress levels and sleep better.
Sure. You're probably thinking: If I had the time and money to fly all over the world and be constantly vacationing, I'd have a better quality of life, too. The thing is, you don't need that much time or money to maximize the benefits you receive from time off and time away.
Several recent scientific studies have demonstrated that happiness levels experienced from vacations are largely felt during the planning and anticipation phase before the trip. And the rewards of a vacation tend to even out after several days away. That means you get the same restorative sense of wellbeing from a long weekend 80 kilometres away from home as you would from 10 days in the south of France.
In fact, some experts conclude that taking more frequent, shorter vacations is more beneficial than longer trips. This is because they come without the added stress of returning to your job after a long break to a backlog of work that piled up in your absence.
A study published in the journal Applied Research in Quality of Life found that more frequent, shorter vacations delivered much more happiness than fewer, longer getaways since the study didn't find any relationship between the length of the vacation and overall happiness. Its lead author, Jeroen Nawijn, told the New York Times: "The practical lesson for an individual is that you derive most of your happiness from anticipating the holiday trip," he said. "What you can do is try to increase that by taking more trips per year."
The good news is that Ontario is filled with magical spots within just a few hours by car that are perfect for long weekends and road trips. Plan a few mini-vacations this summer and explore all that this province has to offer. It's good for your health and happiness.
Here are a few of our favourite spots for getting away from it all that are deceptively close to home.
Paris.
You don't need a private jet to head to Paris for the weekend. That's because we have Paris, Ontario – ranked as the "Prettiest Little Town in Canada" by Harrowsmith Magazine. Because of its abundance of historic cobblestone buildings, it has also been dubbed "the cobblestone capital of Canada."
The Nith and the Grand Rivers meet in downtown Paris and there are restaurants and bars with patios overlooking the waters below. Along with the beautiful downtown, Paris is also a haven for outdoor enthusiasts. There are kilometres of hiking trails through the Grand River Valley. The river itself is home to over 80 species of fish and is a favourite for canoers and kayakers. You can even go tubing along the scenic waterway.
Grand Bend.
A visit to Grand Bend will have you feeling like you've taken a genuine beach vacation – right here in Ontario. The area boasts 40 kilometres of white sand beaches along the crystal-clear waters of Lake Huron.
Grand Bend's Main Beach is one of only 26 beaches in Canada that has earned the official Blue Flag status for water quality and safety. The beach also features splash pads, playground equipment for kids and a lively boardwalk with easy access to restaurants and shops. The beach is also just a short walk from the town's main street.
Rent a cottage or stay in a local hotel or motel steps from the water and enjoy a beach getaway not far from home.
Niagara Falls.
Can't swing a trip to Vegas? Consider Niagara Falls. This classic Canadian destination really does have something for everyone. From the carnivalesque main strip with themed restaurants and haunted houses to the games and shows at bustling casinos, Niagara has entertainment options for every age group.
Plus, of course, there is the natural wonder of the Horseshoe Falls. It doesn't disappoint.  More than six million cubic feet (168,000 cubic metres) of water tumbles over the crest of the falls every minute and crashes down 50 metres into the Niagara River below.
The region features a variety of observation areas from riverside platforms to nearby towers and tunnels behind the falls offering a variety of options for viewing the spectacular display. Plus, Niagara is in the heart of Ontario's wine country, perfect for daytrips to local vineyards.
Ontario's Hamptons.
Can't get to that fabulous beach retreat in the Hamptons where the New York elite spend their summer weekends? Who needs them. We have Southampton, Ontario. Located in the Saugeen Shores township in Bruce County on the unspoiled shore of Lake Huron, Southampton features a bustling boardwalk and kilometres of white sandy beaches.
The region is famous for its colourful sunsets that light up the evening skies over the lake. Just a kilometre off shore from the beach is the beautiful Chantry Island, home to a historic lighthouse and a federal bird sanctuary.
A popular tourism destination, especially in the summer months, the picturesque beach town of Southampton boasts a variety of cozy inns, historic B&Bs, campsites and other accommodation options for your mini vacation.
Prince Edward County and the Thousand Islands.
Take an island vacation. Prince Edward County is an island community encompassing approximately 1,000 square kilometres – with over 500 kilometres of shoreline on Lake Ontario between Toronto and Ottawa near Kingston.
This area is home to the beautiful beaches of Sandbanks Provincial Park, making it a top choice for a summer getaway. The region also has a lively arts and theatre scene and it is also rapidly becoming a destination of choice for foodies. With culinary festivals, emerging chefs and an abundance of wineries, there is something to surprise and delight every taste.
Prince Edward County is also the gateway to the Thousand Islands region. The Thousand Islands are actually 1,800 large and small islands dotting the waters of the St. Lawrence River from Kingston to Brockville. They are known for their beautiful views, historic sites and endless opportunities for watersports, such as sailing, kayaking, canoeing and more.
Take a romantic boat cruise on waters once travelled by bootleggers and pirates, sample some local wines, rent a cottage or even camp out under the stars on your own private island. Your getaway to the sandy shores of unique island destinations is much closer than you think.
A recent survey found that on average Canadians don't take three of their earned vacation days every year. That means most of us are throwing away enough time off for a relaxing and restorative getaway to one of Ontario's fabulous holiday spots.
So get out there and make the most of them this year. It's good for you!