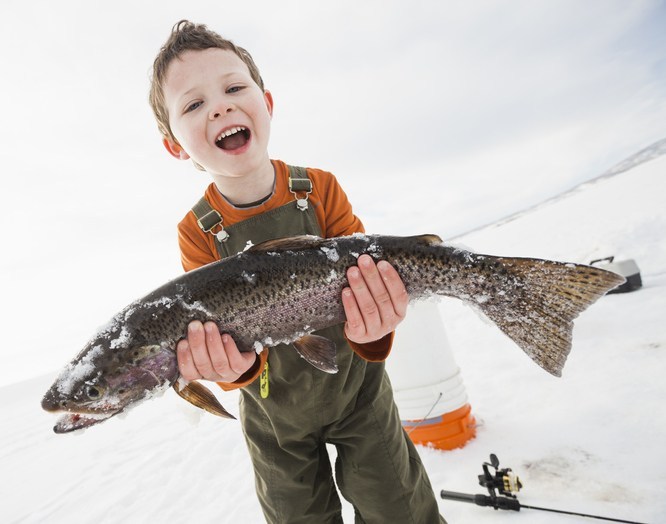 Ice fishing is seeing a surge of interest in recent years as a fun and unique way to spend time outdoors and enjoy the Ontario winter weather. It's a great opportunity to spend some time alone or with friends and family, disconnect, and just enjoy nature. Plus, if you're lucky, there's fish for dinner!
It might sound freezing and unbearable, but a lot of ice fishing actually takes place in cozy little huts set up on frozen lakes. At least the kind we're talking about does. There are many places such as resorts, cottage rentals and travel excursion companies throughout the province where you can rent an ice hut and cast your line for lake fish, or that will take you out on a guided experience package. First timers will want to make sure they're going somewhere that offers heated huts, equipment, pre-drilled holes and everything you need. That meas you won't have to bring your own auger (that giant sized drill used to make a whole in the ice that you'll fish through).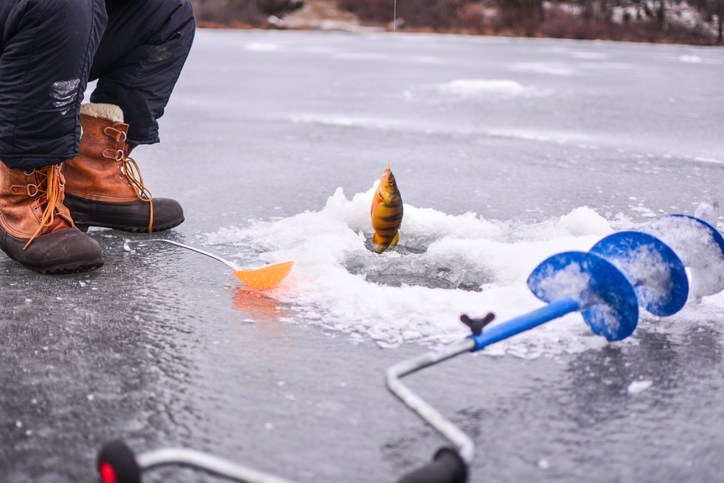 Many companies will also provide fishing equipment including rods, nets, pails, and tip ups (a device that allows you to set up your rod and walk away). When a fish takes the bait, a wire is tripped and raises a signal flag (the flag 'tips up'). They might also provide bait and lunch. Others expect you to bring your own equipment and provisions. If lunch is not provided, a cook stove or barbecue might be. Always get in touch and ask very specifically what you are expected to bring and what is provided for you.
Safety First.
No matter what the winter weather, ice conditions can be deceptive and unpredictable so be sure to always check local ice conditions before heading onto the ice to fish.
 Before Heading Out:

       It's worth repeating – check ice conditions with local ice hut operators or other anglers.

       Let others know where you're planning to fish and when you plan to return.

       Appropriate clothing and equipment are critical to safety and comfort. Many anglers wear floatation suits and carry a set of ice picks so be prepared with the appropriate emergency gear.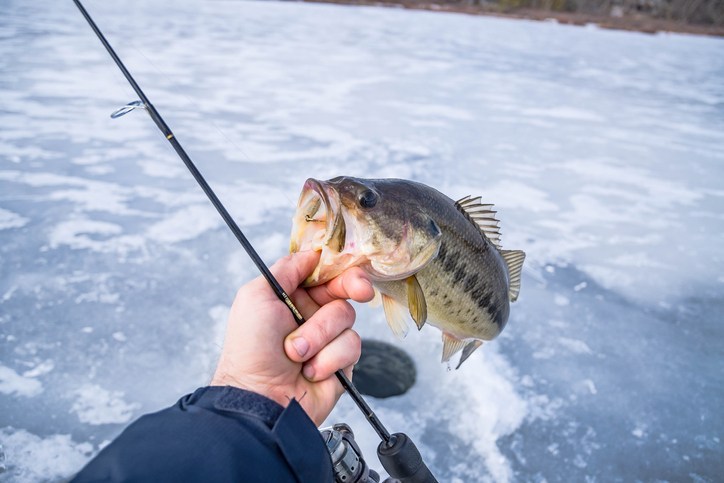 What to Bring.
A license. You need a fishing license to go ice fishing or any kind of fishing. You can purchase your license online and some of the resorts cottage rentals and travel excursion companies sell them on site.
Warm clothing. Ice fishing is a winter sport, even if you're in a hut. Like most winter outdoor activities, it's smart to dress in layers, so you can take them off as you get too hot and put them back on when you get cold again.
Warm, waterproof boots. The huts are warm, but you're still on a lake and surrounded by water, ice and snow. Wear waterproof boots with a thick sole, so your experience isn't ruined by cold and wet feet.
Among the companies offering fishing packages is Muskoka Shores Cottages in Muskoka, which has a two-night package on Three Mile Lake, where you can fish for pickerel and perch in winter (you can also rent a hut for the day).
You'll get a heated ice hut for the duration of your stay, and on Day 2 owner Karina White will make you burgers for lunch. On Day 1, you bring your own food and you can make use of the BBQ shack right out on the ice!
There is one fishing hole pre-drilled inside the hut and another outside, where you can set up your rod with a tip up.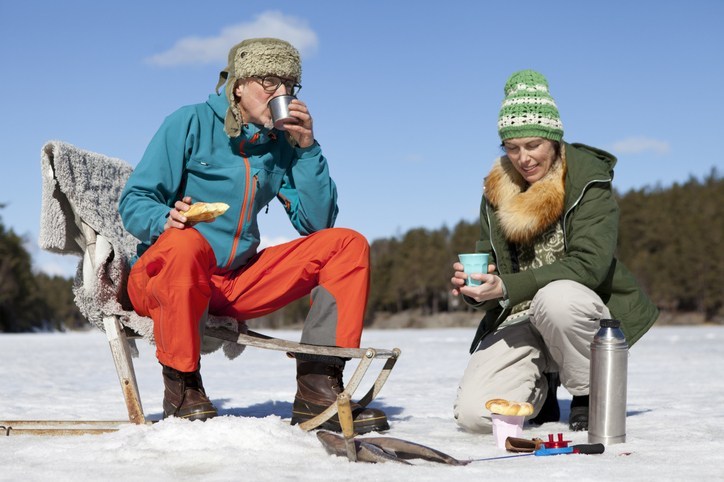 Asked how long it takes to catch something, White says it depends on whether the fish are biting. "Some days are great. I'll drop someone at their hut and by the time I come back to drop off the next people, the first ones are already catching fish," she says. Though, yes, "sometimes you'll be sitting there all day and not catch anything." That's pretty much the nature of fishing.
An optional piece of equipment that can help with this is a fish finder, says White, which will show you were they are. You can bring your own or White will rent you one.
An optional piece of equipment that can help with this is a fish finder, says White. This is a device used to locate fish underwater, or under the ice, by detecting reflected pulses of sound energy. You can bring your own or White will rent you one.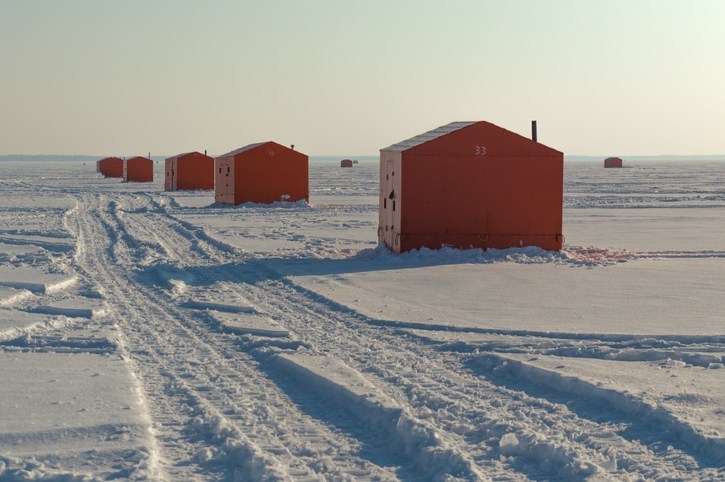 Where to Ice Fish in Ontario.
Muskoka Shores is one of the places offering ice fishing experiences around Ontario. Here are four more. Please call and ask for details about what you need to bring and anything else you need to know before heading out to fish!
Ride On Rentals, Kempenfelt Bay.
At Ride On Rentals, you'll get a four-hour ice fishing experience on Kempenfelt Bay, Lake Simcoe. Kempenfelt is home to several species including herring, perch, white fish and trout. The ice fishing experience includes a 16-foot teepee with seating for eight, pre-drilled holes, fishing jigs and propane heaters.
Buttermilk Falls Resort, Algonquin Highlands.
Buttermilk Falls Resort is a waterfront resort that offers ice fishing packages including heated hut rental, bait service and tip ups to catch species like whitefish and lake trout in Lake Bushkong. Other activities available during a winter stay include snowmobiling, tobogganing and skiing.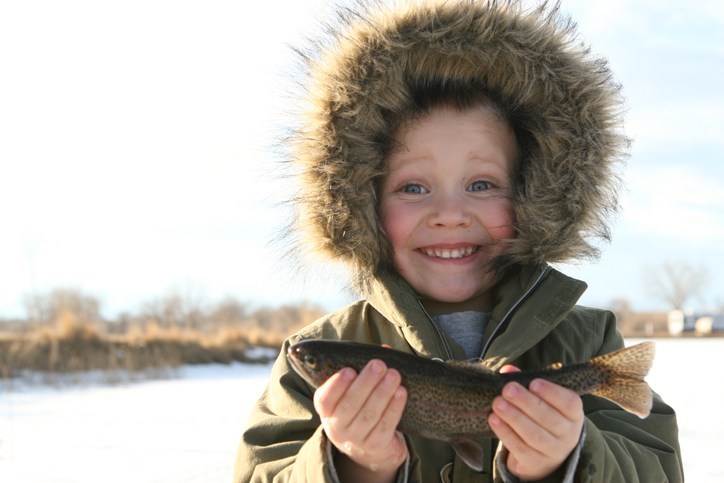 Sunset Cabins, Picton.
The Bay of Quinte and the surrounding area, in Prince Edward County, is known as the "walleye capital of the world." You can also catch perch and northern pike, among other species. Sunset Cabins offers heated ice huts, shuttle service to and from the huts and supplies bait and a heated fish cleaning station. Plus there's space in their freezer to store your catch.
The Briars Resort & Spa, Jacksons Point.
If you'd like to ice fish but want to be comfortable and maybe kind of pampered at the same time, the Briars Resort & Spa offers ice fishing excursions by local operators. This inn on Lake Simcoe will send you out, then when you come back you can check out the spa and enjoy some high quality dining after spending a day on the ice.