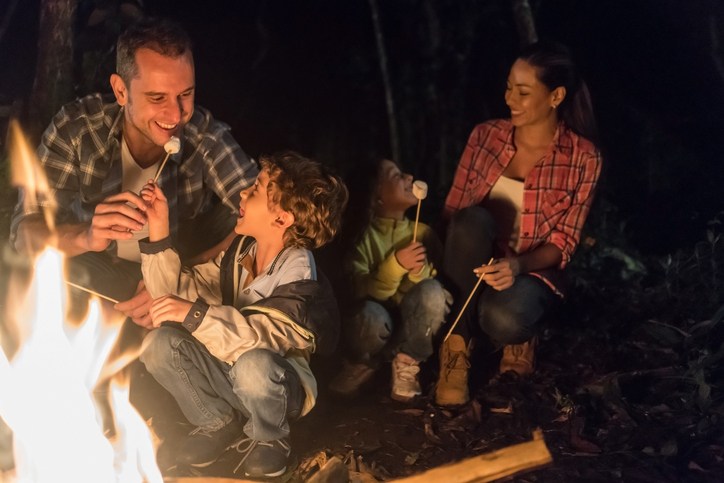 There are so many reasons to go camping in Ontario in the autumn instead of during the summer. Fewer mosquitoes and other pesky biting bugs for one. It's also less crowded, and the scenery is magnificent. Imagine hiking through forests of gorgeous red and yellow trees, canoeing and fishing on a lake, then sitting by a fire wrapped in cozy blankets and sipping hot chocolate on a quiet starry night. Heaven!
Here are six places to go fall camping in Ontario. All offer boating access, hiking, biking, and general camping activity options. And we've included opportunities for tents, cabins, yurts and RVs.
Let's go!
Mew Lake Campground, Algonquin Park.
Algonquin's Mew Lake, located on the Highway 60 Corridor is the national park's only year-round campground. The area features all modern camping amenities on 131 campsites. Options include yurts and RV sites, and the amenities include electrical sites, showers, flush toilets, laundry facilities and showers. Until Thanksgiving Monday you also have access to the Lake of Two Rivers store, which sells groceries and supplies and has a snack bar offering fare such as burgers and fries. The store also sells gifts and rents hiking and camping gear.
George Lake Campground, Killarney Provincial Park.
The Killarney area on Georgian Bay was a favourite of The Group of Seven's A.Y. Jackson, Franklin Carmichael and A.J. Casson.  So much so, according to Ontario Parks, "they persuaded the Ontario government to make it a park." Yurts and cabins offer more comfortable accommodations the year round. Some of the best hiking can be done on the 80 km, looped, La Cloche-Silhouette Trail. Or take a page from the Group of Seven's book and bring your art supplies to paint the scenery. Amenities include a laundromat and flush toilets. Just 10 km from the park you'll find the historic village of Killarney, founded in 1820 as a fur trading post on Georgian Bay, which is home to the world famous Herbert Fisheries Fish and Chips, one of the top 10 Fish and Chips restaurants in Canada, according to Canadian Living.  Open through Thanksgiving Monday, October 8, 2018.
Arrowhead Provincial Park.
Arrowhead, in Muskoka, offers three campgrounds: Roe, East River and Lumby. Roe campground offers privacy and great fishing access. East River Campground is close to Stubbs Falls, a cool place to explore, and is a good place to park your RV. You'll also find cabins and one deluxe tent that sits on a wooden platform, featuing rustic log furniture and two queen beds with comfort mattresses. Park amenities include flush toilets and a park store. The store, like the park, is only open through the Thanksgiving weekend. The park cabins open again for camping in December.
Bon Echo Provincial Park.
Beyond the usual hiking, biking, and boating, Bon Echo, about six km north of Cloyne, is home to Mazinaw Rock. This 100 metre high cliff is decorated with more than 260 Indigenous pictographs, which is the largest collection of pictographs in Canada. Bon Echo offers various sites with car and walk-in camping, cabins and soft sided shelters, yurts, RV camping, back-country camping and interior canoe-in and hike-in sites. You'll also find flush toilets, a laundromat and a store. And in Cloyne, which is just seven km away, there are more amenities, as well as groceries, antiques, hunting and fishing gear and a pioneer museum. Bon Echo is open until October 21.
Quetico Provincial Park.
Ready for a serious road trip? Quetico is an iconic wilderness class park located in Atikokan in Northwestern Ontario and a 15 hours drive from Toronto. You'll find towering rock cliffs, majestic waterfalls, pine and spruce forests, rivers and more than 2,000 lakes on more than 460,000 hectares of remote wilderness. The park features more than 2,200 interior sites in the back-country and options for short, easy trips or extended routes requiring serious outdoor skills. There are also year round Rustic Cabin rentals at Dawson Trail campground. Being a wilderness park means the back-country has no facilities, services or signs. However, the Dawson Trail, Ojibwa and Chippewa Campgrounds have comfort stations with flush toilets and showers and laundry. There is also a park store. Open until October 9.
Killbear Provincial Park.
Killbear is located on Georgian Bay in the Parry Sound district. The park offers car camping on seven campgrounds, most of which are just a few minutes' walk from the shoreline. There is also a lodge that sleeps 36, should you be looking for a place to take all your friends (or maybe your staff) camping. Comfort stations with showers, flush toilets and laundry facilities are available at six of the seven campgrounds, and electrical sites are available at three of them. At Killbear you'll find long stretches of rugged, rocky shoreline interspersed with sandy beaches, and lovely views of windswept pines and the famous Georgian Bay sunsets. Open until October 28.