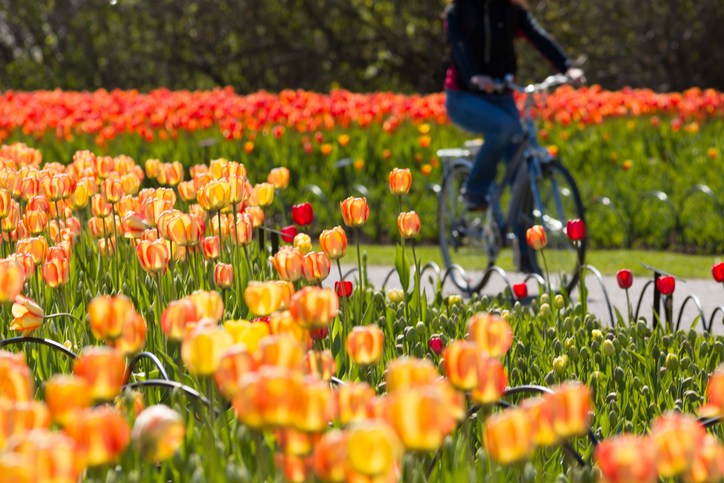 If April showers bring May flowers then Ontario should be in some for spectacular blooms. The warmer weather not only brings flowers but a spring in our step. As we slowly transition our lives from winter to spring the ground outside begins to thaw and determined flower buds start to grow. There are many places to see flowers in Ontario and below you will find everything from large festivals, greenhouses and provincial parks that are perfect for a spring road trip to the best blooms.
Canadian Tulip Festival – Ottawa.
Beginning May 11 our nation's capital will be hosting its colourful, annual Canadian Tulip Festival. The millions of tulips on display attract over 65,000 visitors each spring with four festival experiences. Commissioners Park will be packed with over 250,000 tulips in dozens of varieties occupying a pathway of one kilometre in length. Be on the lookout for the cream and yellow Darwin Hybrids World Friendship Tulip. There will also be guided tours, a tulip boutique and special programming. Then head to Landsdowne Park to check out handmade tulip art and cool workshops, Byward Market for tulip-themed activities and, of course, save time to explore the 40 blooming gardens and parks along the Garden Promenade. The festival sites can be accessed on foot, by bike or by bus. This family-friendly event is happening until May 21 and marks the 66th edition of this vibrant festival.
Centennial Park Conservatory – Etobicoke.
Drive over to Etobicoke for all sorts of blooming flowers at Centennial Park Conservatory. The main indoor house is home to over 200 varieties, including tropical plants, orchids, bromeliads and blossoming fruit trees. The south wing contains original cacti and succulents such as agave and aloe and is an arid dry house. This time of year, spring flowers will be part of the ever-changing display in the north wing, in additional to local trees and shrubs. Pack a picnic lunch because there are eight picnic sites and five shelters to relax in among the beauty of nature. See if you can find all 12 ponds as you take a spring walk around the gardens. Admission and parking is free.
Trillium Woods.
Pack up the car for a road trip to Oxford Township located south of Woodstock, four kilometres southwest of the village of Sweaburg and less than two hours from Toronto. Here you will find Trillium Woods with blooming white trilliums in May. It's a provincial nature reserve and you can also spot forests packed with sugar maple, white ash, black cherry and beech trees. Take a hike along the trail in search of these glorious white spring flowers, which also happen to be Ontario's provincial flower. Trilliums, which have three broad leaves and a three-sectioned seedpod, are a favourite food of the white-tailed deer.
Lake Superior Provincial Park.
If it's wildflowers you are in search of then Lake Superior Provincial Park is the place to be. Located between Sault Ste. Marie and Wawa, this vast and large park is 1600 square kilometres and the Trans Canada Highway passes right through it. Timing is weather dependent, but early May to mid-June is a good time to spot wildflowers that include Bunchberry, Moccasin flower, Bloodroot, Lady's slippers and Hyacinth. The park officially opens on May 4 and there are 11 trails to explore that include rocky shores, rivers, waterfalls and forests. After you are done searching for wildflowers, check out the stunning lookout points and the historical Agawa Rock Pictographs that open mid-May.
Royal Botanical Gardens – Burlington.
You will find Royal Botanical Gardens (RBG) on the western tip of Lake Ontario in Burlington along the slopes of the Niagara Escarpment World Biosphere Reserve. There are four gardens all contained within the 1,100 hectares that include both indoor and outdoor plant collections and 27 kilometres of nature trails. If you love perennial plants, check out Laking Garden with a panoramic view over the blooming gardens. In the spring at RBG you can find daffodils, tulips, cherries and magnolias. Towards the middle of May is typically when lilacs and irises bloom and in June the peonies and roses blossom. A complete list of seasonal bloom times are listed in a handy chart on their website.
Of course, in addition to these flower shows and provincial parks there should be spring flowers blossoming throughout the province in May – perhaps even in your own backyard.