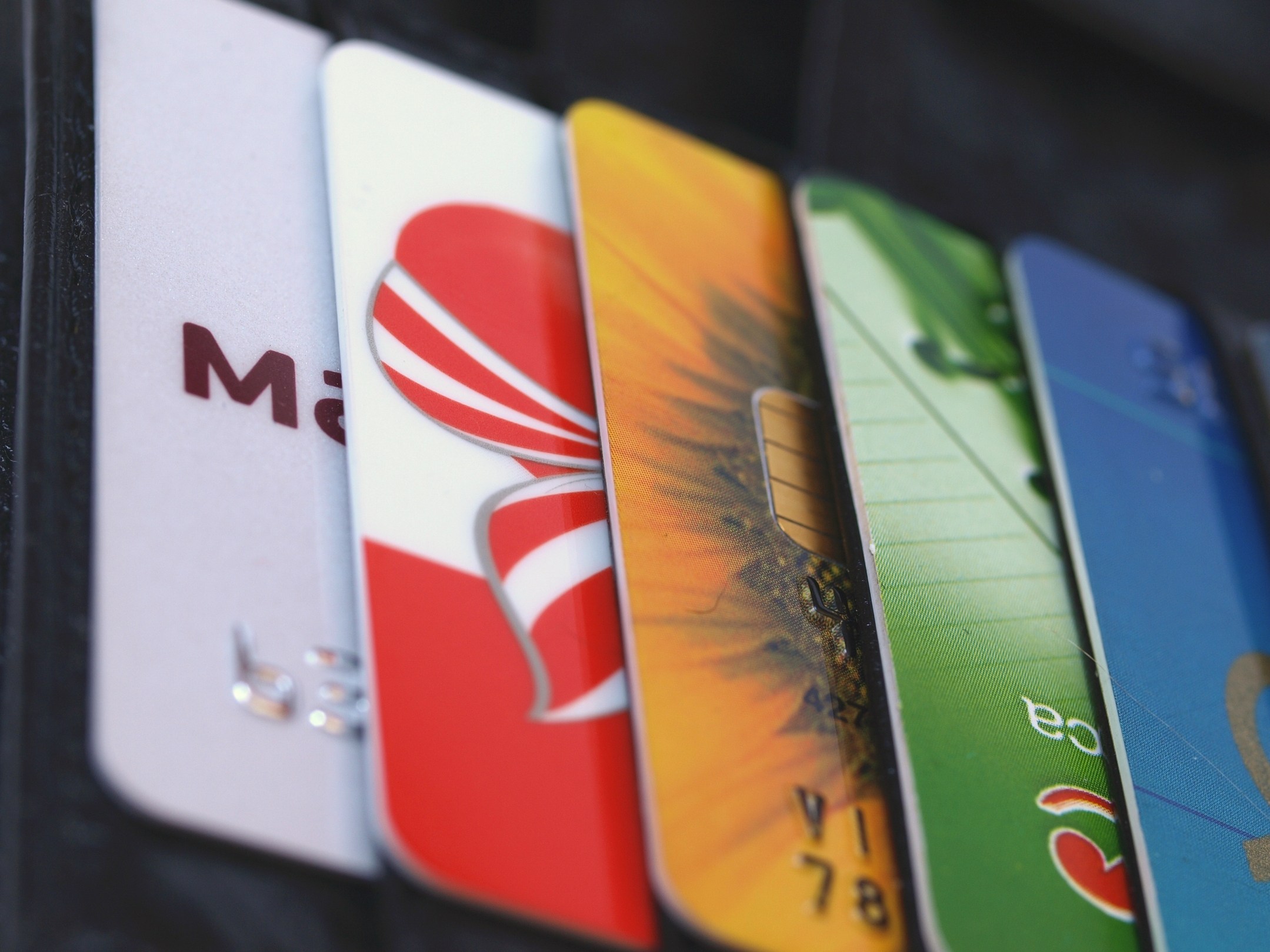 Today's post comes to us from Tania Monaco, writer at tania2atee. We're sure more than a few of our readers can relate to having a wallet full of loyalty cards! Don't forget to check out Tania's blog for more great posts and stories.
---
I'm a bit of a hoarder. Not in the kind of way that a camera crew and some professional organizers need to come to my house, but in the kind of way that I love to collect points and rewards. What I've realized is that there are some points and rewards that I have to do something with.
Going through my wallet, I have a ton of cards. If you can collect a point or earn a reward – especially at a place where I already shop anyway, then I'm all over it. I am a huge fan of loyalty programs. I collect Air Miles, CAA Dollars, Esso Extra Points, Petro-Points, Pampers' Rewards,  HBC Rewards, Shopper's Optimum Points and more.
As I look through my most loved, and most collected, there are some loyalty cards that I've already used, seen the benefit to having and continue to come out of my wallet. And there are some that I collect, but still haven't figured out what to do with. Here's my breakdown of what I collect:
I have been collecting Air Miles since college. I have connected all my bank accounts, my credit card and interac card to work in my favour, collecting points for my everyday transactions. It is at the front of my wallet, and is taken out at each and every chance. I have redeemed many of my miles too; I got new toasters, coffee makers, a vacuum, toys for the kids, CDs and my latest redemption got me a laptop. So I hoard them for a while, until there is something I need, and I get it. I still have more points to collect, but I've got my eye on a faster, sleeker camera. A while ago, they introduced Air Miles Cash, which allows you to use your Air Miles like money to pay for things where Air Miles is accepted. This concept is not for me. I'll stick to the Dream Rewards, thanks!
CAA Dollars are easy to collect too, and I always see the benefit come time for membership renewal. I always earn for filling up my car at Husky. In addition to the CAA Dollars, I get instant savings for shopping at places like The Gap Factory Store and Payless ShoeSource, just by showing my CAA membership card. I am considering adding my husband as an Associate this year, so my CAA Dollars will easily cover our renewal costs and maybe I'll even have some left over!
Which brings me to Petro-Points. This is probably the first gas card I ever got and I have a substantial amount of points. A few years ago I joined my CAA membership card to my Petro-Points card and I earn 20% more Petro-Points. But I have never done anything with these points. Every 1,000 Petro-Points is equal to 1 CAA Dollar! I'm thinking of converting them to CAA Dollars, and then I'll have enough to add my husband for sure.
Esso Extra Points are tricky. Esso isn't on my way to or from work, so I find I don't go there as much. So while I have some points, it's not much. Every time I look up what I can get with my points, I find there isn't anything that appeals to me. However I did discover that you can convert your Esso Extra Points to HBC Rewards, which I also have. So maybe I'll do that.
I think they changed the HBC Rewards program, because for some reason I think I used to have thousands of points, but again, never did anything with them. I remember getting a book once in a while, but the amount of rewards needed to get anything, even something small, was outrageous. So while on their site the other day, I realized that I can convert my HBC Rewards to Air Miles.
So I wonder if I can convert my Esso Points to HBC Rewards. And then convert all those HBC Rewards to Air Miles? I think I'm going to have to give it a try, because otherwise I'm not using either of these for anything.
I also have a crazy amount of Pampers Rewards. These 15-digit codes appear stuck to the side of diapers and wipes and pull-ups, and while I did cash some in when my Little Bird was younger for some cute Melissa and Doug toys, I haven't used any since. And I have a lot. And they don't have anything that I particularly want to exchange them for. So I'm going to wait it out a bit longer and then I'm going to have to cash them in for something. I love that parents get points for buying diapers, which all babies need anyway.
For the book lover, there are Plum Rewards. I used to be a Chapters rewards member for a long, long time. However they can tell your spending habits and when they launched the Plum Rewards program, the lady at the cash told me that for the past two years I didn't spend enough to earn my old membership, so it was time to stop paying for the card and use the free one. It takes longer to earn the rewards, but I have $5 off waiting for me the next time I go shopping!
And finally, I want to mention Shopper's Drug Mart's Optimum Points. I wait and wait to make my points balance reach a high level, as hard as it is. Because when Shopper's has a bonus weekend, where I can spend X in points and actually get to spend more money than I have (so $100 for only $85 worth of points) it's great. I spend the money anyway, so why not get something for it? And I don't know anyone who will say no to free stuff! I'm ready for a bonus weekend because I have enough again for a spree. Bring on the shopping!
What is your favourite loyalty program? Do you collect points or rewards? Is your wallet full of cards? Let us know in the comments section below!