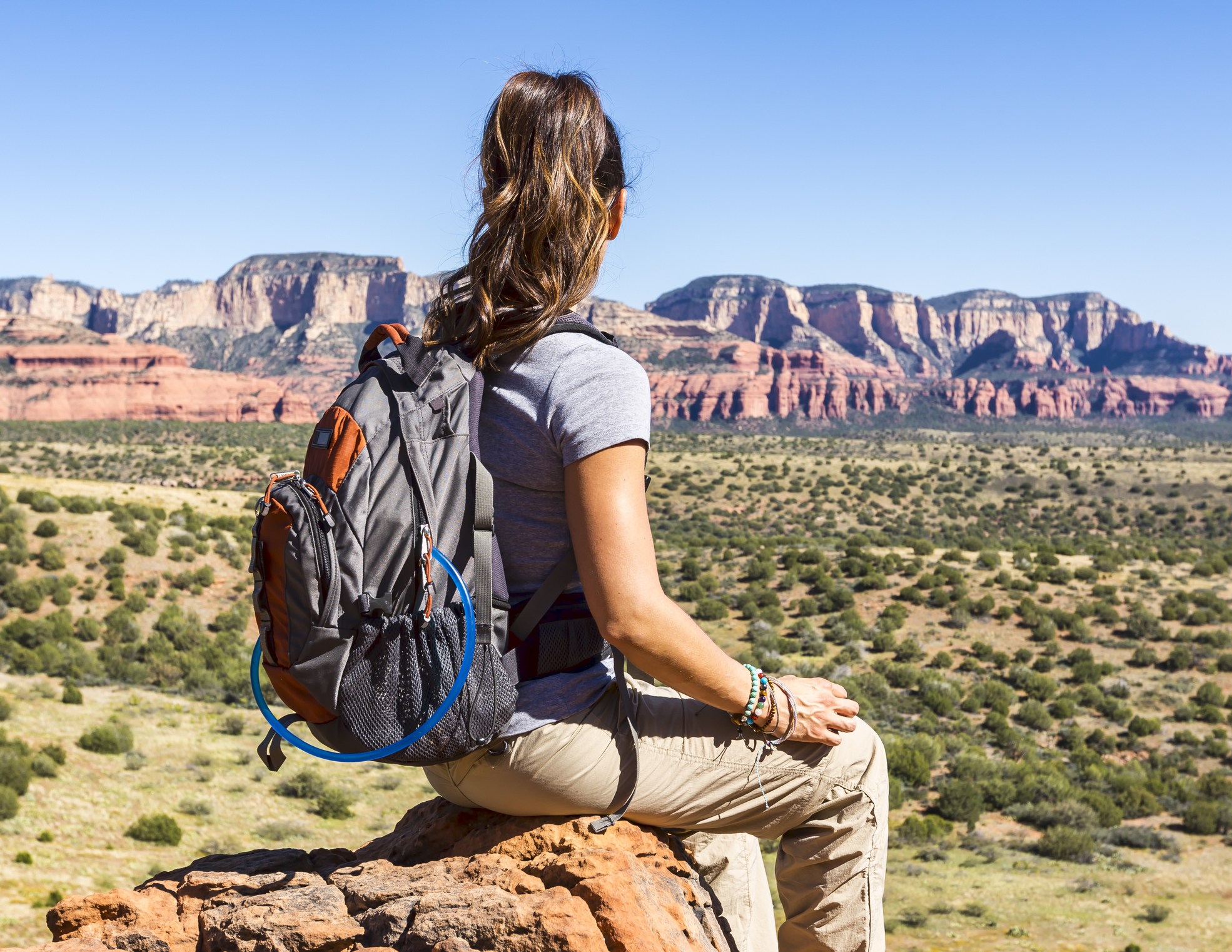 Sedona is known around the world for having spectacular red rock formations set among true natural beauty of extreme canyon walls. This Arizona desert town is also famous for luxurious spas, original local artwork, a strong spiritual energy and a history dating back to about 650 AD when the Sinagua people first lived on the land among the juniper forests and grasslands.
Explore the Red Rocks on an Adventure Tour.
For breathtaking views of the magnificent red rocks in all their glory, go off-roading with Pink Jeep Tours. These jeeps have been trekking up and down the red rocky hills for over 50 years and are a great way to check out Sedona's magnificent outback. They offer several packages, including their exclusive Broken Arrow Tour. This tour is not for the faint of heart, as you will bump along over rocks at the edge of a cliff. If you are staying at the Hilton Sedona, they have a partnership with Pink Jeep Tours and will pick you up in one of their fully customized, eco-friendly Wranglers. Ask for Anthony – tour guide and driver extraordinaire – if you want to laugh at his jokes while learning the history of the land. He will point out cacti, agave plants, juniper trees and tell you about the wild animals prowling in the distance, such as mountain lions and bobcats. Bring a small camera so you can take a selfie at the famous Merry-Go-Round Rock and prove you made it to the top. And yes, the jeeps are actually bright pink.
Get Pampered at the Spa.
Sedona is known for luxurious spas and wellness retreats that will have you relaxed and drinking sparkling cucumber water in no time. The Eforea Spa at Hilton Sedona Resort at Bell Rock focuses on healing their guests from the inside out. A visit here will invigorate your senses and help you unwind from the moment you enter the serene waiting area and the glowing pink Himalayan salt lamps cast their positive energy your way. Signature treatments include wraps, scrubs, facials and massages and can be customized with luxurious enhancements, including hot stones. The Essentials Journey treatment includes a Red Clay Body Wrap, which will leave your skin radiant and your mind at peace. After your spa treatment, grab a bite at the resort's newly renovated ShadowRock for freshly sourced and locally influenced meals or a desert-inspired drinks.
Immerse Yourself in Art and Culture.
Shopping and browsing through Sedona's Tlaquepaque Arts & Crafts Village is the perfect way to spend a Sunday morning. This unique, internationally renowned outdoor market is located along the banks of Oak Creek among sycamores and vine-covered stucco walls. Stroll along the cobblestone walkways and under arches checking out one-of-a-kind items by talented local artists. This space was originally an artist community and you will still see artisans working on their latest projects. There are over 50 specialty shops to purchase a Sedona treasure like Ninibah, which sells Native American artwork, and Rowe Gallery with lifelike wildlife sculptures. This Sedona village resembles a traditional Mexican village and the name Tlaquepaque appropriately means the "best of everything".
Glide over Red Rocks.
Red Rock Balloon Adventures will take you on a flight unlike any other you have experienced. Your pilot will explain the history of ballooning as you peacefully glide over red rock country with spectacular views. The fun begins in the early morning hours so you can watch the sunrise. Your adventure includes hotel pick-up and drop-off and a celebratory picnic after you have completed your flight. This floating ride is very calm with a gentle lift off and there will be a chase crew waiting for you at the end. While up in the air with a bird's-eye view, you may even spot Sedona wildlife down below running among the red rocks.
Learn Indigenous Histories.
It is important to know the history of the land you are visiting and V Bar V Heritage Site is the perfect place to learn about the Southern Sinagua people of the Beaver Creek Community. The area was acquired by the Coconino National Forest in 1994 and has been very well preserved. It's definitely off the beaten path, but you won't have to deal with crowds. Here, you'll have a chance to learn about the cultural heritage and Sinagua people through the 1,030 prehistoric images that have been carved, scratched or etched into the natural rocks at the largest known petroglyph site in the Verde Valley.
There are interpretive tours and a park ranger will explain the history of this ceremonial site. It is estimated the petroglyphs date back to between 11,000 AD and 13,000 AD.  The large panel of magnificent images carved into the rocks tell stories that others have tried to interpret over the years. Of course, as park ranger Eric points out, "The only people that know exactly what it means are the people that left it".
Have you been to Sedona? Did you visit any of the locales we've featured here? Let us know on Facebook or Twitter!