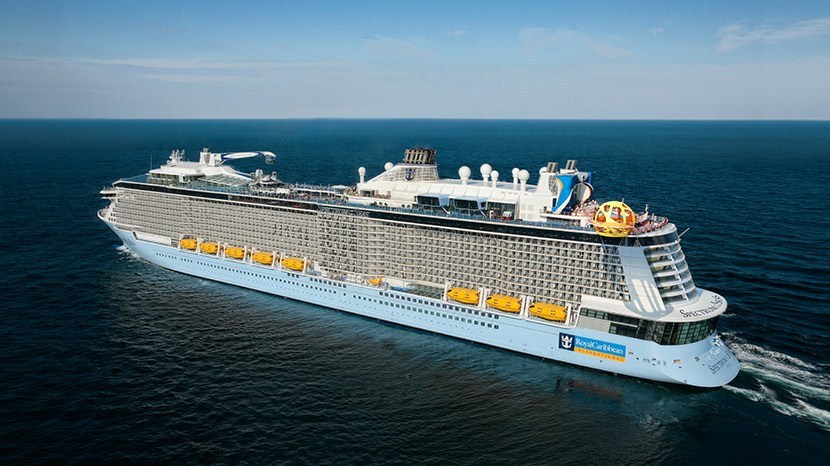 Trying to plan a dream family vacation? The new ship from Royal Caribbean International, The Spectrum of the Seas, will offer amazing accommodations and unforgettable adventures, with a particular focus given to families, when it launches later this year.
Spectrum is the newest, largest and most expensive ship sailing in Asia and RCI has pulled out all the stops for this one, creating new stateroom categories with families in mind and a host of ground-breaking onboard experiences.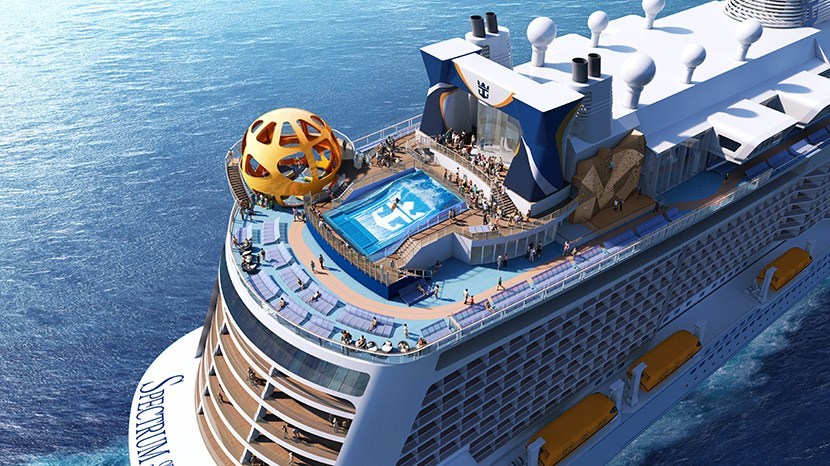 The Ultimate Family Suite.
One of the hottest travel trends we've seen emerging over the past few years is multi-generational travel where parents, grandparents and kids vacation together. Three generations of the family can spend quality time together and create lasting memories.
With groups like this in mind, Royal Caribbean international has created the Ultimate Family Suite. It's actually more of a duplex than a suite, as this 2,8000 square foot cabin has two levels, three bedrooms, and two bathrooms. This includes the stunning master bathroom which extends out over the edge of the ship.
The Ultimate Family Suite can accommodate up to 11 guests. Along with enough bedrooms for parents, grandparents and kids, it also features a kids' play room on the second level complete with a fun slide down to the main living room below!
They named this suite 'ultimate' for a reason. It really does have it all. There is a Lego wall, a rock-climbing wall, an air hockey table (which converts into a dining table), and a private cinema. This is an 85-inch HD TV for streaming movies, along with a popcorn maker and a countertop soda machine. The surround sound and 3D equipment can also be used for karaoke and video games as well as movies.
Out on the private balcony, guests will find a ping-pong table that also converts into a dining table, as well as lounge chairs and a full-sized whirlpool tub.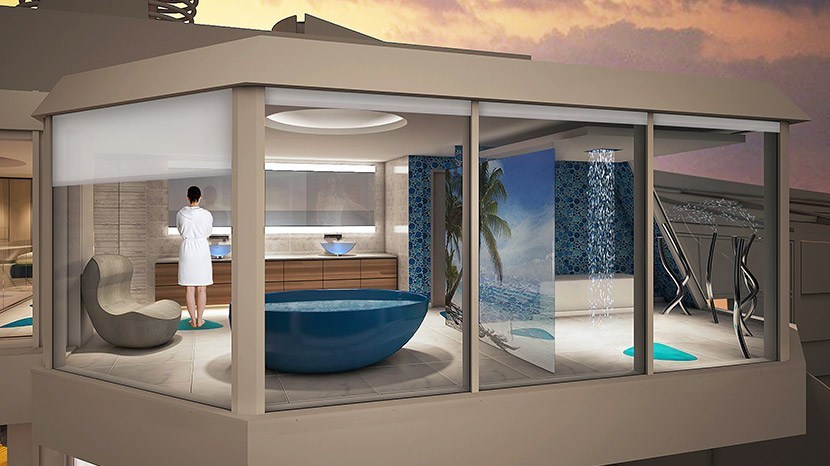 New Categories of Staterooms.
Spectrum of the Seas has been designed with families in mind. This ship features a variety of spacious suite classes with extra bedrooms and multiple bathrooms. There is a private key-card accessible portion of the ship reserved just for guests staying in these suites. This exclusive area between decks 13 and 16 at the front of the ship includes a private outdoor space and pool as well as dedicated shops, a restaurant and a lounge.
Of course, there are also a wide range of stateroom categories and sizes to choose from on the Spectrum of the Seas from connecting family cabins to new studio staterooms for solo travelers.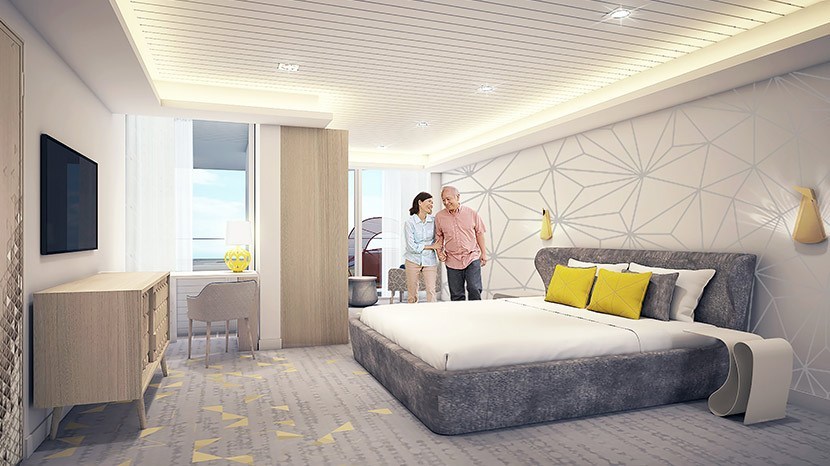 Onboard Adventures.
Above and beyond the luxurious accommodations, Spectrum of the Seas presents guests with an abundance of onboard activities for the whole family.
For the adventurous at heart, there is RipCord by iFly® – a skydiving simulator that lets guests experience the exhilaration of flying in a controlled environment. Equally thrilling is the top-deck Sky Pad℠ – a bungee trampoline venue with an added virtual reality experience for those who want to be transported to another time or planet.
The indoor sports complex, SeaPlex® – where families can enjoy bumper cars, roller skating and basketball – is also enhanced by augmented reality walls and floors.
For a different kind of adrenalin rush, Spectrum of the Seas introduces Star Moment, a bustling, high-energy karaoke venue where family and friends can belt out their favourite tunes.
Naturally, the ship has plenty of options for more relaxing days at sea as well, including 10 hot tubs, four pools, a full spa, and a 9-hole mini-golf course.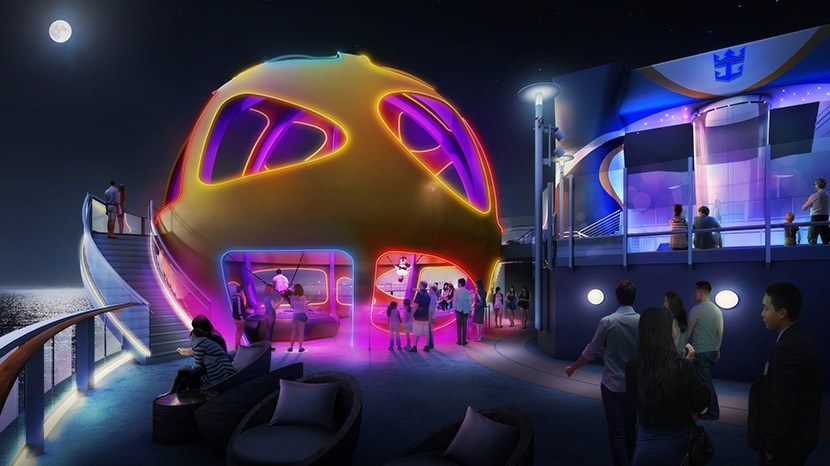 Asian and Western Dining.
Because Spectrum of the Seas was designed to sail in Asia, the dining options reflect the culture of the region, offering a variety of Eastern and Western options. These include everything from Teppanyaki, a Japanese hibachi restaurant specializing in grilled meats to Jamie's Italian, Italian cuisine by celebrity chef Jamie Oliver. The main dining room and buffets feature an intriguing mix of Chinese and international dishes.
The North Star Observation Pod.
One experience not to be missed while onboard Spectrum is to try the North Star. This is a jewel-shaped glass capsule on a crane that lifts guests more than 300 feet above the ocean for outstanding panoramic views.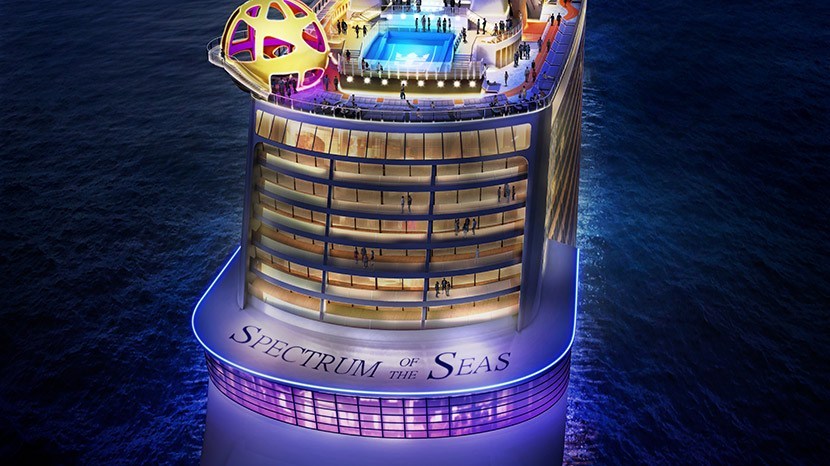 Itineraries.
Spectrum of the Seas will launch in April, 2019 with an epic 51-night Global Odyssey from Barcelona, Spain to Shanghai, taking passengers to 13 countries along the way. After this maiden voyage, Spectrum will sail out of Shanghai and Hong Kong to a variety of Asian ports. Check out the upcoming departure dates and destinations and book your ultimate family adventure today.
View our limited-time cruise offers online!
You can also give us a call at: 1-855-660-2292 or visit your local CAA Store to book with a CAA Travel Consultant.