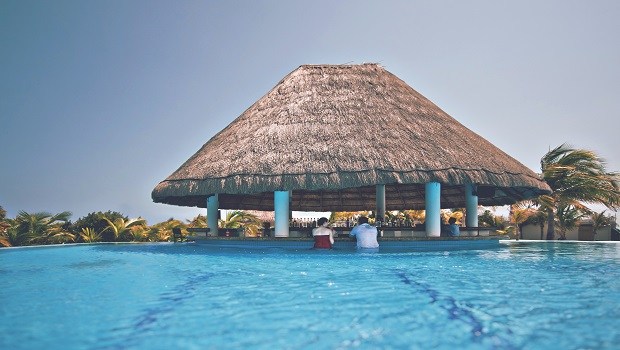 As a former travel writer, I've stayed in more than my share of hotels, motels, cozy inns, bed and breakfasts, and all-inclusive resorts. Each form of lodging offers a different experience for your stay. The latter, all-inclusive accommodations, have the particular appeal of allowing you to factor in your food and drink costs into one convenient payment.
This is particularly advantageous for travelers who like to know what they're spending on their trip in advance with no surprises. And that is actually the key advantage – and disadvantage, depending what kind of experience you're looking for – of spending your vacation at an all-inclusive: travel without surprises.
Here is a closer look at some of the other pros and cons of all-inclusive resorts.
The pros:
Affordability: Once you arrive at your resort, all of the food, drinks, and amenities you need are right there on location. Often even the trip from the airport to the resort is a part of your accommodation package. With all of your expenses paid up front, all-inclusive vacations are easy to budget for.
Convenience: Your beach towels and lounge chairs are provided by the resort. Most establishments offer drink service wherever you're relaxing by the water. While you're out, hotel staff will clean up your room and restock your supply of beer, water, coffee and toiletries.
Whenever you're hungry there will be food available. From breakfast and snack bars to lunch and late-night buffets and a variety of sit-down restaurants, food and drink are never far away.
Most resorts also offer a variety of free nightly shows and activities for travelers looking for lively entertainment.
For people who really want to unwind and have a relaxing vacation experience, with all amenities and activities contained in one central location, the right all-inclusive resort can be a haven of comfort and convenience.
The cons:
Limited cultural experience: The artificial surroundings of an all-inclusive resort form a barricade between travelers and the genuine charm of a destination's culture. Usually walled in and physically separated from the native population, resorts offer a high degree of security, but your trip will offer only limited experience of the local lifestyle.
Food quality: When it comes to resorts, as with most things, you get what you pay for. The quality of the food and drinks can vary widely between establishments. Generally, most of the offerings tend to be more buffet quality at resorts catering to a prepaid captive audience of diners than you would find at individual restaurants competing for guests. Resort food options are also usually selected to appeal to travelers of all ages from around the world, and so tend to be more generic in choice and reflect less of the local cuisine.
Many resorts also only offer lower-end wine and liquor with the all-inclusive price and charge a premium for top shelf brands.
Scheduling: Life on a resort moves at its own rhythm, and guests may have to learn to adjust their behaviour in order to make the most of the amenities. For example, while lounge chairs are provided by the pools and at the beach, you have to get up very early to claim the spot you want. Even moderately late risers may find themselves facing a mostly empty beach with every shaded chair reserved by a towel or pair of flip flops.
Airport travel from the all-inclusive is generally by shuttle bus which will be carrying travelers from various destinations. This means you may have to check out and line up in the lobby much earlier than you would if you were taking an independent taxi directly to the airport yourself.
The bottom line
In my experience, the pros of all-inclusives outweigh the cons for large groups travelling together. Wedding parties or family reunions can take advantage of the convenience of staying on the same resort for group meals and hanging out by the water while still enjoying the privacy of their own rooms. They can also be a great choice for people just looking for a break – a relaxing getaway, but not an adventure.
More experience-seeking travellers looking for a variety of dining options and to soak up the local culture would have a better time checking into a centrally located hotel and exploring the amenities and attractions at their own pace – and likely enjoying a few surprises along the way.
Pro tip: In either case, read online reviews. Is the resort clean and well maintained? Is the staff friendly and accommodating? How are the food and drink options? The shared impressions of previous travelers can give you the inside scoop before you book your trip.
My sister and I once stayed at neighbouring resorts in Cuba and had vastly different experiences of the trip, just based on the quality of the amenities and service. Do your homework.
CAA Travel Consultants are ready to help you plan your next vacation. Visit your local CAA Store, call us a 1-800-922-8143 or book an appointmentonline with an in-store CAA Travel Consultant.
A former travel writer and advertising copy writer, Peter Harris served as the chief editor of Sympatico/MSN, Yahoo! Canada, Monster.ca and Workopolis before founding http://yackler.com, a content marketing start-up. 
Photo: Picture of the Moon Splash Golf and Spa Resort, Mexico by Scott Webb courtesy of unsplash.com.