India's Pink City
Discover the beauty, the food and the history of Jaipur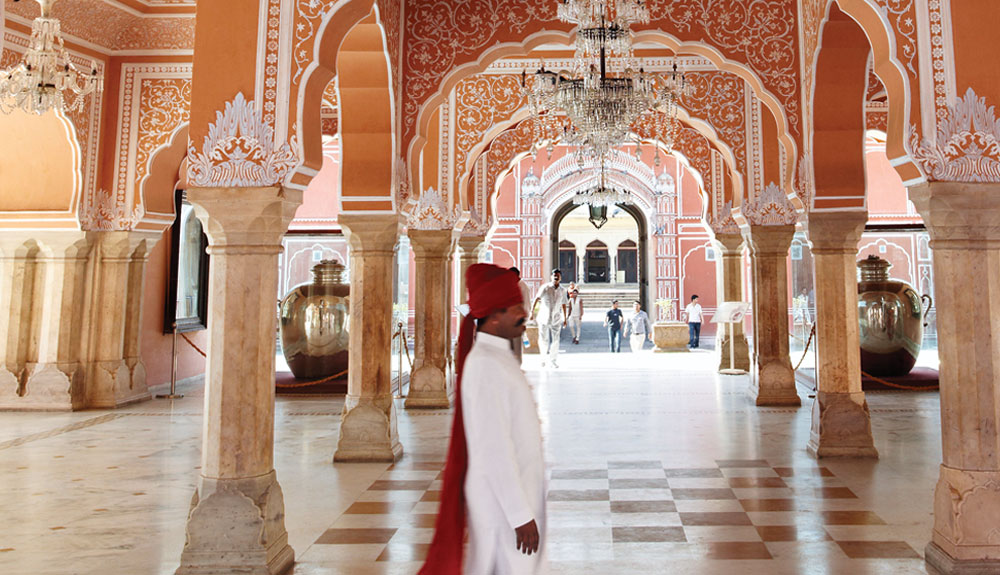 As another beautifully fragrant garland of chrysanthemums goes over my head, accompanied by an extravagant welcome of beaming smiles and namastes, I think I may have found the grandest restaurant in the world.
1135 AD sits high above it all inside the walls of Amber Fort: the regal precursor to the city of Jaipur, a UNESCO World Heritage site and one of the most-visited attractions in India after the Taj Mahal. I have a moment to reflect on the majesty of Jaipur as I tuck into a decadent set of dishes—rich, complex curries served in silver bowls with fresh-baked naan—based on recipes handed down through generations of royals.
At the heart of Jaipur's sprawling Pink City is the monumental City Palace. The legendary seat of the maharaja of Jaipur has lost none of its allure in the 284 years since it was built. It's still a royal residence, though the present-day maharaja is largely ceremonial, dedicated to keeping up appearances.
In the marble-floored private audience hall, two giant silver urns betray the mad excesses of Maharaja Sawai Madho Singh II in the early 20th century: on a visit to England in 1902 he demanded water from the Ganges River—considered sacred in India—be transported in these 4,000-litre vessels for his use abroad, as European water was decidedly unfit for ceremonial purposes.
The grandeur of Jaipur doesn't stop at the palace walls. The whole city, envisioned by Maharaja Sawai Jai Singh II in the 18th century, is a lasting homage to the unparalleled opulence and exacting design of the maharaja rulers. Needless to say, no expenses were spared.
Today, the wide-open boulevards laid out in a grid ensure you'll witness the renowned torrent of India's traffic full force, flooding the streets with everything from cars to camel-drawn carts to wandering cows. This parade of chaos exists in stark contrast to the spacious serenity Jaipur's maharajas enjoyed within their palace walls; just one example of the striking disparities that still exist all over the country.
Jaipur may have said goodbye to the days of powerful maharajas, but as I finish off my last sip of wine, it's clear to see the city's majestic heritage and all the pomp and circumstance that come with the territory are very much alive and well.
Population: 3,441,816
Location: About 260 kilometres (a four-and-a-half-hour drive) southwest of New Delhi
Did you know? Jaipur is called the Pink City because of the distinctly coloured stone used in its buildings. It's said that in 1876, Maharaja Ram Singh painted the city pink—the colour of hospitality—to welcome the Prince of Wales, Queen Victoria's son. Residents are now required by law to maintain the colour.