Places to Stop, See and Smell Spring Flowers
Discover colourful blooms on display at events across the province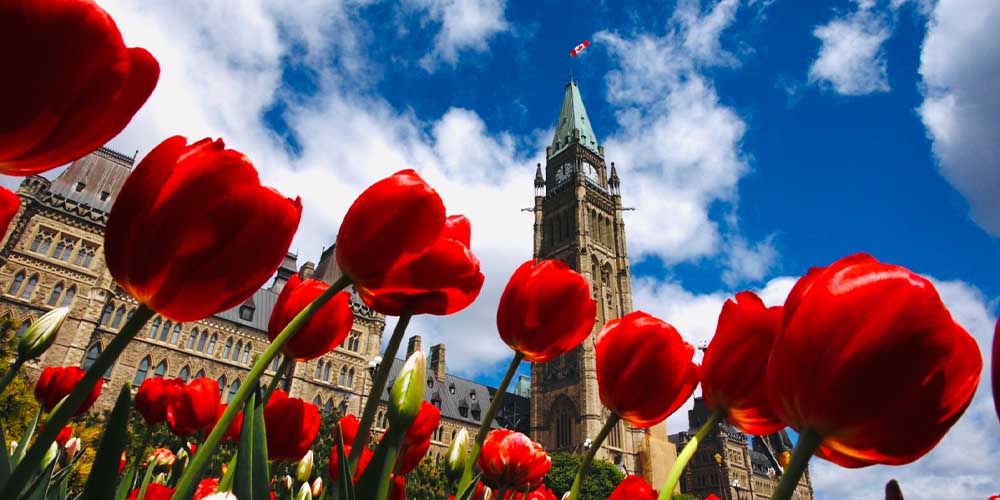 From rainbow-hued irises to fragrant lavender blossoms, the province comes alive this season with beautiful and rare flower varieties on display at these five must-see floral festivals.
Canadian Tulip Festival, Ottawa
Tiptoe through the tulips in Canada's capital from May 13 to 23.
Ottawa's iconic Canadian Tulip Festival celebrates its 70th anniversary this year and is expecting thousands of visitors as Commissioner's Park bursts into bloom with more than one million flowering tulips.
At nighttime, view illuminated flower beds along the backlit boardwalk.
Lilac Festival, Warkworth
Travel to Northumberland County to smell fragrant lilacs at the 10th annual Warkworth Lilac Festival.
The event kicks off on May 28 and 29 with an opening weekend celebration that features a Victorian-inspired tea service and family activities.
Wander along the Millennium Lilac Trail and enjoy the spectacular sights—and smells—of 83 unique lilac varieties.
This year, a special double white lilac is on display in honour of Queen Elizabeth II's Platinum Jubilee celebration.
Peony Festival, Oshawa
After a three-year hiatus, the annual Peony Festival returns to the Oshawa Valley Botanical Gardens on June 11 and 12.
Home to one of North America's largest peony collections, the scenic garden boasts more than 300 types in classic shades of pink, white and red, as well as vibrant modern hues like yellow, coral and peach.
The free two-day festival also features live music, gardening workshops and plenty of photo opportunities among the peony beds.
Irises in Bloom, Burlington
At the Royal Botanical Gardens, visitors can take in a beautiful collection of historic and contemporary irises beginning in late June.
Admire the beauty of the diverse colours and showy petals of the irises, which are named after the ancient Greek goddess of the rainbow.
Started in 1947, the Laking Garden's impressive iris colection is organized by decade and has grown to include close to 1,000 varieties, including award-winning tall and dwarf bearded irises.
Lavender Festival, Prince Edward County
The sweet scent of lavender fills the air in wine country at this annual event hosted by the Prince Edward County Lavender Farm.
Taking place on July 2 and 3, as well as July 9 and 10, the multi-weekend celebration features entertainment, food vendors and kids' activities amidst row upon row of aromatic purple blossoms.
Visitors can pick up handcrafted lavender-infused products at the on-site boutique and even spend the night at the farm's charming bed and breakfast.
A stroll through any of these beautiful flower events is a great way to spend some time with family and friends.
Earn more
Enjoy Member-exclusive savings and earn CAA Dollars® on dining, shopping, car rentals and hotel stays for your next road trip. Visit CAA Rewards for a complete list of partners.
Image credit: Wikipedia Commons/Andrew Scheer