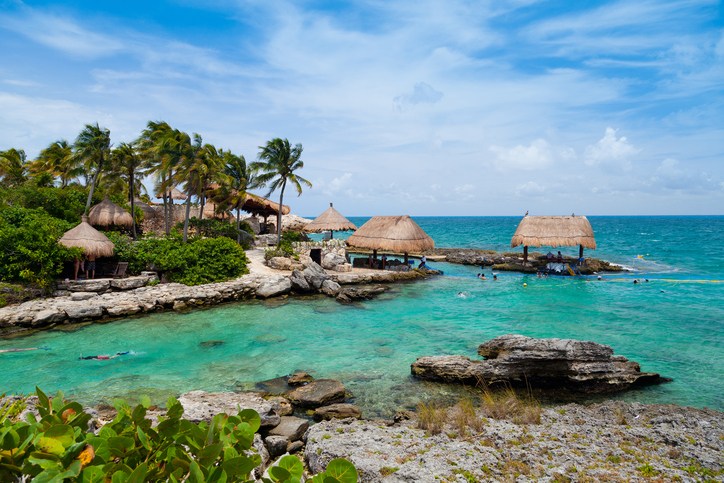 The Riviera Maya in Mexico's Caribbean Coast is located in the middle of the northeast Yucatán Peninsula in the beautiful state of Quintana Roo. The Riviera Maya stretches a glorious 120 km from Tulum to the Punta Allen Peninsula. This tropical paradise is home to soft, white sandy beaches, coral reefs, cenotes and clear waters, making it the perfect destination to snorkel in search of marine life. But with a strong history dating back to Mayan civilization, it's also a fantastic destination to explore ancient ruins, stone temples and learn the history of the land. For a change of pace, include a day of shopping and authentic dining in Playa del Carmen to complete your Mexican vacation.
Snorkel in Search of Fish and Turtles.
The Riviera Maya is known for spectacular snorkeling and exploring the gentle clear waters of the sea are a must. There are many idyllic locations in Playa del Carmen, Tulum, and Purerto Morelos where you can snorkel with your own equipment or sign up for a guided tour of your choice. Alternatively, head to Akumal Bay, it's a snorkelers paradise especially if you love gentle sea turtles. Literally hundreds of colourful fish call the bay home and you will also see corals, lobsters, rays, barracudas, and the famous turtles. Akumal Dive Shop has a one-hour tour with a certified guide and the price includes snorkeling equipment, lockers, showers, and water. You will be escorted through Akumal Bay by an experienced guide and learn about this beautiful area.
Explore a Natural Cenote.
There are multiple places to choose from in the Riviera Maya where you can swim in a cenote, one of them being Ecopark Kantun-Chi. Cenotes are natural formations that have been formed by collapsing limestone bedrock and the filtering of rainwater through the cracks over time. These pits and sinkholes expose the groundwater underneath the surface and are often referred to as magical waterholes. Also described as underwater caves, there are over 5,000 of them in the Yucatán Peninsula. These ancient formations filled with crystal clear, fresh water attract visitors and locals to swim, snorkel or dive right in.  In Kantun-Chi, there are four cenotes where you can explore tropical gardens, ancient Mayan shrines and colourful fish. Kantun-Chi is not far from Playa del Carmen and it's also accessible from Cancun if you rent a car or take a bus.
If you have done preliminary research on the Riviera Maya, you know a bit about the Mayan ruins and the ancient structures of Mexico. Aside from being the second most visited archaeological site in the country, Chichen Itza is by far one of the most spectacular Mayan centres of the Yucatán Peninsula.
With a history dating back almost 1,000 years, several limestone relics of the Mayan city known as Chichen Itza have survived. The remains of the ancient temples show an old civilization that lived from the Guatemala jungles to the Yucatán. Chichen Itza translates to mean "at the mouth of the Itza well" and for history buffs this is only the beginning of what you can learn about the Mayan empire that collapsed in approximately 900 AD. Chichen Itza is located between Valladolid and Merida and accessible from Cancun and Playa del Carmen by car or bus. If you are driving, be prepared for a road trip of about two and a half hours. And for all you daredevils, no, you can't climb to the top of the Chichen Itza.
Shop and Dine in Playa del Carmen.
Playa del Carmen's 5th Avenue is famous for funky, independently owns shops, brand name stores, cute boutiques, authentic cafes for a snack or drink, delicious restaurants for a Mexican meal and a booming nightlife. While the official currency is Mexican pesos, most places accept U.S. dollars. Learn some Spanish before you head out and be prepared to bargain at the souvenir shops and private merchant stalls selling colourful ceramics, blankets, hats, baskets and clothing. The main strip of shopping is a closed off pedestrian walkway stretching approximately five kilometres through town.
Have a Beach Day.
As much fun as exploring the Riviera Maya is, make sure you save time to chill out on one of the most gorgeous beaches in Mexico. Walk along white sandy shores and swim in the clear turquoise waters of the sea. Many of the big resorts have private beaches that are beautifully kept with everything you need already included. Sit under a palm tree sipping coconut drinks and leisurely read a book to the sounds of waves crashing against the shore. Or if you want another adventure, you can explore the public beaches of the Riviera Maya. Maromo Beach is quiet, secluded and peaceful – as is Puerto Morelos Beach, which is not too far from Playa del Carmen. If you are looking for a trendier beach scene with music, head to Mamitas Beach – it's also great for swimming and close to a beach club if you want to rent beach chairs and umbrellas.
These five Riviera Maya highlights are just a starting point for what you can explore in a destination that's packed with adventure and tropical relaxation.
Ready to explore the ancient ruins of Chichen Itza, swim, snorkel and shop or just lay back on a pristine Mayan Riviera beach? CAA can make it happen. 
Check out all of our Mayan Riviera  travel options now!