Explore Toronto on two wheels for FREE!
We've partnered with Bike Share Toronto to bring back another month of FREE Ride Wednesdays. That's right! Enjoy FREE 30-minute bike rides every Wednesday during the month of May.1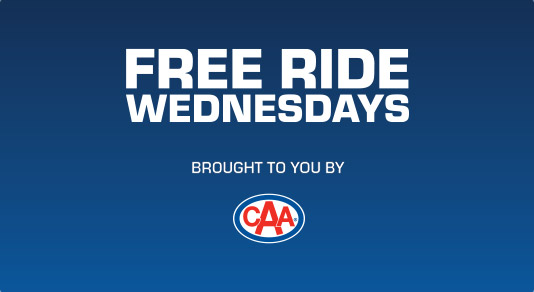 Every Wednesday in May, grab a FREE 24-hour access pass and enjoy unlimited 30-minute station-to-station trips courtesy of CAA.1
Whether you're running errands, heading to an appointment or just getting outside to get active, navigate Toronto on two wheels. With 625 stations and 6,850 bikes, Bike Share Toronto makes it easy to get around town. Both CAA Members and non-members can enjoy this benefit.
CAA Rewards Offer.
If you want to get around any other days, CAA Members can get four free one-way rides with the purchase of ten rides online! 2
FREE Ride Wednesdays: How to Start Exploring.
You're ready to ride, return and repeat while your pass is active for 24 hours!
Go to any of the 625 Bike Share Toronto stations any Wednesday in May.
Download the PBSC app (the official app of Bike Share Toronto) onto your mobile phone for a quick and contactless experience or visit a Bike Share Toronto station.
On app, select Buy a plan, then $0 One-Day and follow on-screen instructions - OR - At kiosk, select Buy a Pass and follow the touch screen flow.
Insert your credit card information (to get the $20 refundable deposit back and for any overage fees, should they apply).²
Once you have purchased the $0 One-Day pass, unlock a bike with PBSC app's QR code unlock feature or enter your 5-digit ride code on any dock with an available bike.
Want to ride again? Dock the bike after 30 minutes and use the same pass to unlock the bike.
Helping protect cyclists for over two decades.
From CAA Bike Assist™ to our most recent Dutch Reach campaign, CAA has been advocating for cyclists across Ontario since 1998.