Quiz: How Knowledgeable of a Traveller Are You, Actually?
Consider yourself well travelled? Take our test and find out.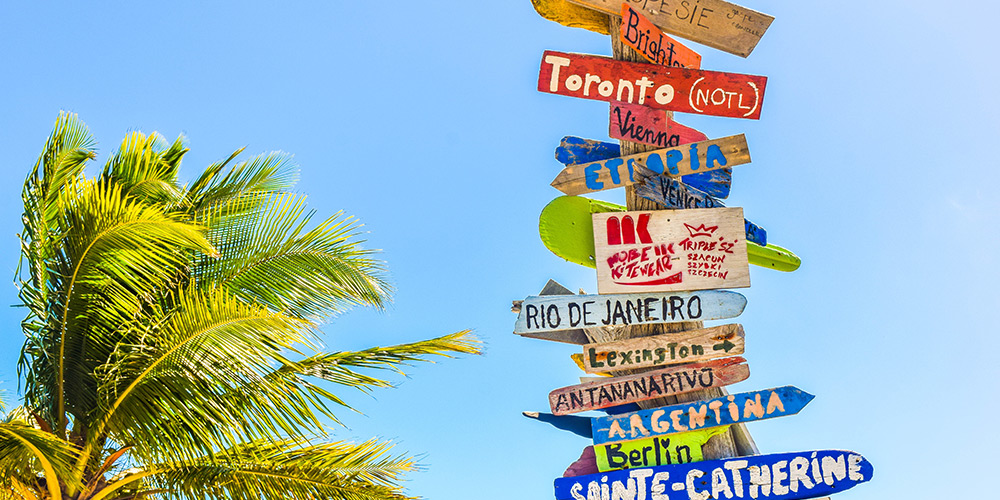 How well do you know the world? If you fancy yourself a savvy traveller, challenge your global smarts with our quiz.
Results
0–33% correct: Time to renew your passport
Don't sweat your score too much—the journey is half the fun! But it might be time to dust off your suitcase and get reacquainted with the world.
34–66% correct: You're halfway there
Clearly, you've got a solid understanding of the world and have jumped on a few planes, trains and automobiles. Perhaps it's time to hit the road again and sharpen your travel smarts.
67–100% correct: You're practically a pilot
You're flying high with your travel savvy! It's obvious that you really know your stuff and have picked up a trick or two from your time on the road. For your next trip, consider going to a new destination and broadening your knowledge even further.
Feeling quizzical?
Test your knowledge of our home and native land in our How Much Do You Really Know About Canada? quiz.
Or see what kind of adventure suits you in our What Kind of Road Tripper Are You? quiz.
And remember, no matter where in the world you travel, CAA has you covered with travel insurance.
Answers
A1: The Great Barrier Reef. Spanning 2,300 kilometres down the east coast of Australia, the Great Barrier Reef is the largest living structure in the world. The reef is large enough to be visible from space!
A2: New Zealand. Kiwi are a significant national icon, cherished by all cultures in New Zealand. New Zealanders have been called "Kiwis" since Australian soldiers bestowed the nickname during the First World War. Today, there are dedicated efforts in New Zealand to prevent the five species of kiwi birds from becoming extinct.
A3: Danish. Denmark has one official language: Danish. There are, however, several minority languages spoken throughout its territory, if you include the Faeroe Islands and Greenland. More than 98 per cent of the population in Denmark speaks Danish.
A4: All of the above. Air Canada, WestJet and Porter permit passengers to check strollers, golf clubs, and bicycles on flights.
A5: Sydney, Australia. Hemingway and his first wife, Hadley Richardson, moved to Paris, where he began writing copiously. He lived at 1597-1599 Bathurst Street in Toronto from 1923 to 1924 while working as a journalist for the Toronto Star. In 1939, Hemingway moved to Cuba with his third wife, the war correspondent Martha Gellhorn, and wound up staying 22 years.
A6: Saigon City. In 1976, Saigon, Vietnam, officially changed its name to Ho Chi Minh City.
A7: Venezuela. Angel Falls (Salto Ángel) in Venezuela is the highest waterfall in the world. The falls are 979 metres high, with a continuous drop of 807 metres.
A8: Madrid. Not only is Madrid home to around 3.1 million people, it's also home to a famous berry-loving bear. It first appeared on the city's coat of arms, eating fruit from a tree, and is now immortalized on a city square in a statue known as "el oso y el madroño" (which translates roughly as "the bear and the strawberry tree").
A9: Angkor Wat, Cambodia. The largest religious structure ever built is Angkor Wat (City Temple), enclosing 401 acres in Cambodia. It was built by the Khmer king Suryavarman II between 1113 and 1150 to honour the Hindu god Vishnu.
A10: Hartfield-Jackson Atlanta International Airport. Atlanta's international hub has taken the top spot since 1998, with more than 101 million passengers passing through its gates each year.
A11: Swiss franc. As the country is not part of the European Union, Switzerland has kept the Swiss franc instead of switching to the euro.
A12: Mount Kilimanjaro, Kibo, Tanzania. Kilimanjaro is actually composed of three distinct volcanic cones: Kibo, Mawenzi and Shira. At 5,895 metres, Kibo is the tallest—and the highest mountain in Africa.
A13: Turkmenistan. The Darvaza Crater, nicknamed "The Door to Hell," opened up in the desert of northern Turkmenistan 40 years ago, likely as the result of a drilling mishap.
A14: Costa Rica. The country abolished its military in 1949 and subsequently allocated tax dollars that had gone to the armed forces to health and education.
A15: 10 years. Canadians now have the option of getting the traditional five-year passport or the new 10-year version.