CAA Celebrates Student Safety Leader
A pupil is praised for his efforts to keep peers safe in school zones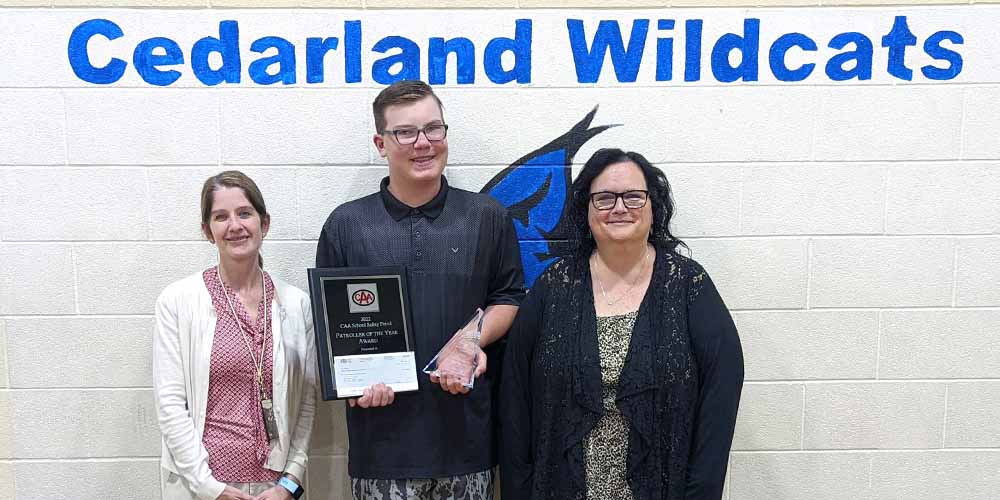 CAA has recognized a student from Brantford for his outstanding contributions to keep kids safe while commuting to and from school.
Award winner
Jeremy Tarrington, a grade eight student from Cedarland Public School, was named the CAA School Safety Patroller of the Year.
Tarrington, who has been a Patroller for two years, was praised for taking on extra shifts, leading program-related meetings and serving as a role model for younger Patrollers.
Recognizing Patroller efforts
His teachers describe him as polite, friendly and dedicated to keeping fellow students safe on their commutes. They say he goes out of his way to help others.
"He was always happy, greeting everybody with a smile," says Jodi Kreitner, CAA Patrol Supervisor and teacher at Cedarland. "He had such a calm, patient presence."
Tarrington would also find coverage for Patrollers who couldn't make their shift and if no one was available, he would work himself. "That was a huge help," Kreitner says.
Mentoring others
Last year, Cedarland had 25 student Patrollers and most were in grades six and seven. Kreitner says that as a grade eight student, Tarrington served as a mentor to younger Patrollers.
He was also part of a group of Patrollers who campaigned for additional safety measures in front of the school.
For his dedication, Tarrington received a $500 cheque and a personalized trophy. His school was also awarded a plaque to commemorate his win.
About the program
Tarrington was part of the CAA School Safety Patrol program, a 93-year-old initiative that aims to reduce road collisions involving school kids.
At the core of the program are trained student volunteers who keep their peers safe on school buses and in school zones. It spans more than 800 schools in Ontario and includes more than 20,000 student volunteers.
For more information on the CAA School Safety Patrol program, visit caaschoolsafetypatrol.com.
This advice is intended to provide general information only and is not intended to provide legal or professional advice, or to be relied on in any dispute, claim, action, demand or proceeding. CAA South Central Ontario does not accept liability for any damage or injury resulting from reliance on this information.