Equine Therapy Offers Health and Hope
A volunteer-run org in Windsor-Essex helps people experience the benefits of riding horses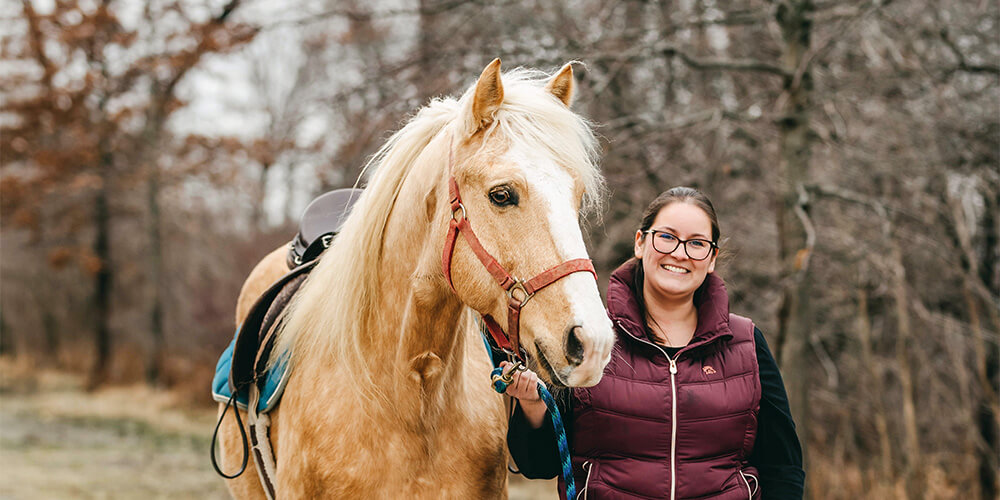 Whether they are two years old or 50, there are generally two types of first-time riders at the Windsor-Essex Therapeutic Riding Association. The first is all excitement, delighted to start their first lesson. Then there are the nervous riders—the ones who wouldn't even look at or touch the horse during the intake process. It's completely understandable, says Paige Shepley, a riding instructor and WETRA's program director. "It can be incredibly intimidating to have an 800-pound horse looming over you," she says.

"Some of our riders have cognitive delays or autism, while others experience physical exceptionalities and mobility barriers. And so, for a lot of them, this enormous horse reminds them of the many challenges they have faced, and the people with authority who stand tall over them."

But as the steady and calm staff and volunteers gently guide riders through the process of climbing up the stairs to mount the horse, something incredible happens. "You can feel them gaining a sense of power and leadership with every step," notes Shepley. And when they first swing a leg over that horse, she says, they no longer feel small.

The benefits of equine therapy are massive. Physically, riders notice improved balance, coordination and strength, while emotionally, stress levels decrease, and confidence and self-esteem increase. Today, nearly 200 riders with special needs receive therapy every week at WETRA and about 80 percent of them are children.
WETRA's instructors are all certified through the Canadian Therapeutic Riding Association, Professional Association of Therapeutic Horsemanship International and/or Ontario Equestrian. Volunteers are also crucial to the success of the programs, with duties ranging from farm maintenance to side-walking the horses. The 18 horses at WETRA have all been specially selected for their impeccable training and exquisitely forgiving, kind and gentle temperaments.

Size is an important consideration, too. You don't want a horse that's too small (short legs make for a choppy ride), and for riders with mobility issues, being on a horse with a wide, swinging gait is the first time their bodies can experience the sensation of walking. While the work the horses do isn't physically demanding, their mental health is crucial and thoughtfully tended to through consistency (they work with the same handlers) and lots of time off.
And beyond therapeutic riding, WETRA hosts school groups for at-risk youth to experience life in the stables. "They usually come in quite quiet and awkward," Shepley says. "But there's soon a wonderful buzz around the facility." That shift, she says, can be attributed to the typical nature of horses. "They are so peaceful and grounding—and so completely non-judgmental." Visit wetra.ca to learn more.
Do you know of a Good Place?
We want to celebrate community organizations that strive to make life better for all. Send nominations to drivenbygood@caasco.ca to share their story.