Warm-Up to Old Man Winter in Quebec
Here are five fun winter activities to embrace the cold weather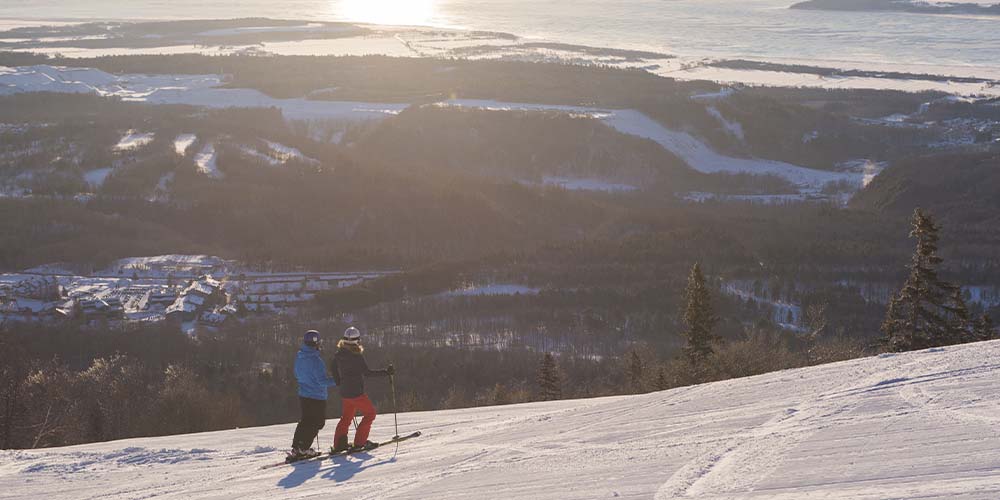 From the first snowfall, Quebecers are known for enthusiastically embracing all things winter, and the cold weather kicks joie de vivre into high gear.
If you're looking for a cool holiday trip idea, here are five fun things to do in Quebec.
Canoe on ice
Since the 1600s, ice canoes have shuttled people and goods across the St. Lawrence River.
Propelled by five paddlers using long oars in open water, occupants become scooters who jump out and push the canoe over stretches of ice.
Book your icy voyage through Canot à glace expérience in Quebec City.
Snow slides
Just 20 minutes north of Quebec City, you'll find Village Vacances Valcartier—home of the largest winter playground in North America.
Hop on an inner tube and rocket down one of five snow slides, ranging in difficulty from easy to extreme.
If you'd rather slide with friends, pile into an inflatable raft together and share the laughs as you zoom down the hillside.
For a more relaxing experience, the Village offers a one-kilometre skateway that winds around the resort.
Channel your inner mogul
If freestyle skiing is your thing, Mont-Sainte-Anne has the snowparks for you.
Located in the Laurentian Mountains about 40 kilometres northeast of Quebec City, Mont-Sainte-Anne offers riders a variety of obstacles for beginners and experts.
Go cross-country skiing, mountain biking and snowshoeing through beautiful winter terrain.
Or take an alpine tour, where you'll hike up the hillside then take the slide back down!
Dog sledding
If you've always wanted to yell "mush!" into the crisp, cold air—this is your chance.
Fifteen minutes from Quebec City you'll find Chenil La Poursuite, which offers dog sled packages for one hour or up to a half-day.
Meet your Malamute husky team and climb aboard for the experience of a lifetime.
Soak it all in
Rest and recharge with a rejuvenating thermal experience at Strøm Spa Nordic in old Quebec City.
The spa overlooks the St. Lawrence River and offers a number of massage and beauty packages for a luxurious retreat.
Soak in the hot pool, then take an invigorating cold dip to rest and energize the body, stimulate blood circulation and promote the release of endorphins, which improve your sense of well-being.
Get packing for an unforgettable winter experience in Quebec.
Plan your trip
Ready for your winter adventure in Quebec? Connect with a CAA Travel Consultant by visiting caasco.com/travel. They can help you book your ideal trip while also ensuring you're prepared with the right travel insurance coverage.
Image credit: Francis Gagnon/Destination Québec cité