The sourdough bread recipe you need to try now.
A popular bakery in Northern Ireland shares their tasty recipe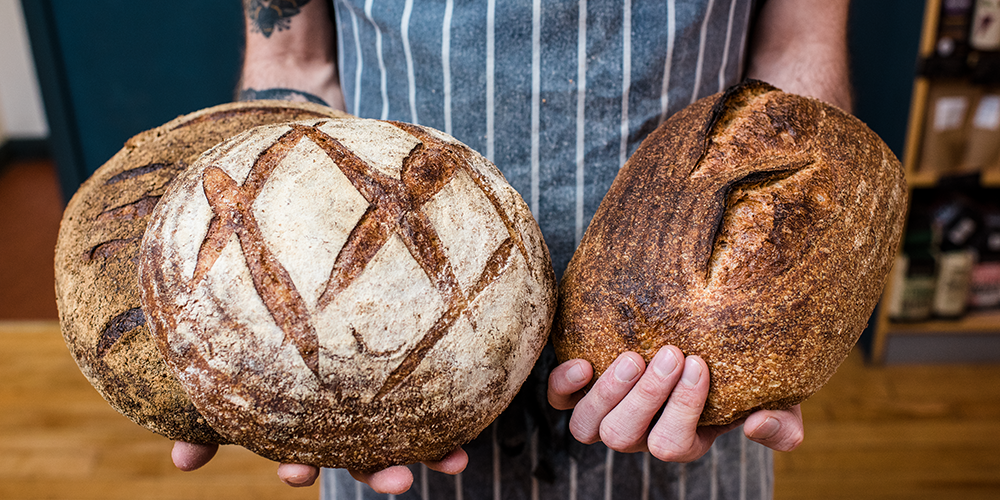 Ursa Minor Bakehouse in Ballycastle, Northern Ireland, is known for their 36-hour sourdough. Here is their shorter recipe, which takes about eight hours.
Ingredients
3 cups (680 g) water
1 cup (250 g) sourdough starter that's bubbly and active
7 ½ cups (1,000 g) flour
1 tbsp + ¼ tsp (20 g) salt

Directions
1. Add 2 ¾ cups (670 g) of water to a large mixing bowl. Using a wooden spoon, stir starter into the water, then flour. Keep stirring until all the ingredients have been incorporated, then leave the dough to rest, covered, for 10 to 15 minutes. Add remaining ¼ cup (10 g) of water and the salt. Let the dough ferment for 30 minutes.
2. Give your dough a turn in the bowl, stretching it and folding it over itself four times. Cover the dough and let it rest again for 30 minutes. Continue giving your dough a turn every 30 minutes for up to 3 hours.
3. Once your dough is fully fermented, turn it onto a lightly floured worktop and roughly shape it into one large or two smaller loaves. Let it rest for 5 to 10 minutes.
4. Shape your loaf into a round and place it in a floured, tea towel–lined proving basket, seam side up, or baking pan, seam side down. Cover dough with a tea towel and let it rise for 2 to 3 hours.
5. Place a roasting pan on the lowest rack of your oven and preheat the oven to its highest temperature. Sprinkle flour on a baking sheet and the seam side of the dough. Gently turn the dough onto the baking sheet. Score the top of the loaf with a sharp knife and place it in the oven on the middle rack. Pour boiling water into the empty roasting pan (to create steam) and quickly close the oven door. Reduce the temperature to 450°F and bake for 25 to 30 minutes.
6. Open the oven door to release the steam. Close the door and continue baking until the bread has a dark golden crust and makes a hollow sound when you tap it on the bottom. Remove the bread from the oven and allow it to cool for about an hour before slicing.
Tip: Need sourdough starter? Ask a local bakery to give you some, buy it online or make your own.
Get the full flavour of Northern Ireland
Read the spring 2019 issue of CAA Magazine for more about Ursa Minor Bakehouse and other great foodie stops in Northern Ireland.
Image credit: Elaine Hill