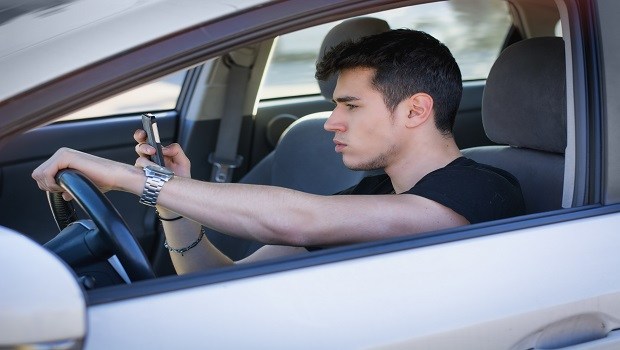 It is an issue that impacts Ontarians across the province, at all times of day and year round.  Distracted driving continues to be a concern for motorists.  Changes made to legislation by the Ministry of Transportation are designed to curb these practices and keep road users safe.
Although distracted driving laws were strengthened one year ago (September 1, 2015), according to a recent Ipsos survey conducted for CAA South Central Ontario (CAA SCO), drivers less than 35 years of age are not getting the message and are the group most likely to still use a mobile phone while driving.
While penalties for distracted driving in Ontario have increased to a minimum of $490 plus three demerit points, not all motorists have adjusted their habits to put their devices down and keep their hands on the wheel.  In fact, 35% of Ontario motorists with less than ten years of driving experience admit to using a mobile device while driving.
The rules of the road for novice drivers.
New drivers in Ontario, who are within the graduated licensing system are now subject to additional penalties, including a possible suspension or full removal of driver's licence when convicted of distracted driving.
These restrictions complement the original intent of the graduated licensing program – to help reduce the risks that new drivers face, and to help prevent collisions and save lives.  While the rules around distracted driving have been in effect since September 2015, only 28% of those who identified themselves as distracted drivers were aware of the additional consequences for novice drivers.
In addition to the $490 fine, novice drivers are also subject to the following, if convicted of distracted driving:
First conviction:                30-day driver's licence suspension
Second conviction:           90-day driver's licence suspension
Third conviction:               Cancellation of your driver's licence
Novice drivers will not be subject to demerit points
Drivers can reduce distraction by following these safety tips:
Focus on driving;
Never talk or text/ email while driving;
Before driving, turning off theirs phone or set the ringer to "silent" and putting the phone away. Use voice mail.
Do not adjust the radio/CD,  eat, drink, or groom while driving; and,
Drive defensively. Even if not distracted, others may be.
Visit headsupontario.ca to learn more about the new road rules in Ontario along with tips for staying safe on Ontario's roads.
The Ipsos survey was conducted for CAA SCO in June 2016, among a sample of 801 licensed drivers in Ontario. The credibility interval for this study is +/- 3.5 percentage points, 19 times out of 20.  
A novice driver is defined as a driver that holds a car (G1/G2) or motorcycle (M1/M2) licence under the province's graduated licensing system.  The graduated system allows novice drivers, who are still learning to drive, to gradually acquire the necessary skills and driving experiences to operate a vehicle.