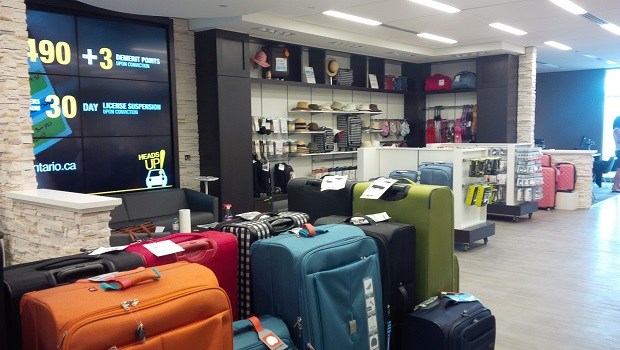 At CAA, our Members and customers always come first. This means we're constantly improving our products and services to better suit your changing needs. Our CAA Stores are part of this, and we're proud to announce the unveiling of a number of new and/or remodeled stores throughout Ontario.
As soon as you walk through the doors you'll realize that these retail experiences are unlike any other. The stores, which underwent massive months-long renovations, are designed to mimic the look and feel of the comforts of home, complete with a fireplace, living room and cushy sofa chairs. That said, the stores' offerings are anything but rustic; each boasts a video wall, three digital displays and a tablet you can browse as you enjoy your surroundings.
"We are proud to unveil unique retail experiences for our Members and customers," says Kathy Kelly, Director, Sales & Distribution, CAA South Central Ontario. "The new, modern look and feel is the result of dedication, hard work and countless hours of planning, designing and constructing our new stores."
When you visit a CAA Store, you'll receive the superior customer service you've come to expect from us, whether you're booking your next family vacation, purchasing movie tickets, updating your passport photo or reviewing your insurance needs.
Check out our new retail outlets (listed below) and experience the best that CAA has to offer. And stay tuned for upcoming news about our grand opening festivities for each location!
CAA Windsor (New store to replace 1255 Ouellette Avenue)
Roundhouse Centre
3155 Howard Avenue
Windsor, Ontario, N8X 4Y8
Now open!
CAA Peterborough (New store to replace 680 The Queensway)
898 Monaghan Road
Peterborough, ON, K9J 1Y9
Now open!
CAA Pickering (New store to replace 3563 Lawrence Ave. E., Scarborough)
1099 Kingston Road
Pickering, ON, L1V 1B5
Now open!
CAA Oshawa (Renovated store)
1050 Simcoe Street North
Oshawa, ON, L1G 4W5
Now open!
CAA Guelph (New store to replace 170 Silvercreek Parkway North)
1005 Paisley Road
Guelph, ON, N1K 1X6
Now open!