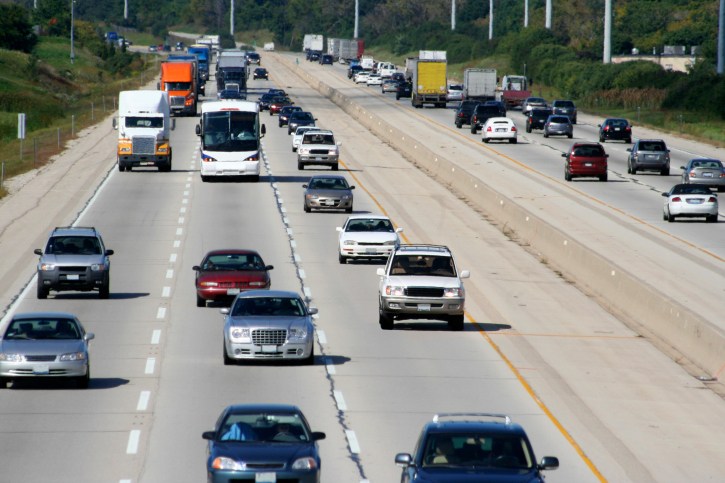 Today's post is brought to you by Teresa Di Felice, Director of Government & Community Relations/Driver Training here at CAA South Central Ontario. 
---
Are you consistently hearing about gridlock, congestion and transit? Are you wondering what all the fuss is about? Well, the biggest issue is that, for many decades, there's been a lot of talk and not a lot of action when it comes to fixing our traffic issues; simply put, a big challenge is getting everyone to agree on how to deal with it! It's a serious 'hot potato' issue for politicians who have to ask taxpayers for billions of dollars.
So after years of talk, we are still woefully behind on achieving the transit system needed in the Greater Toronto and Hamilton region. Not only do we need more transit to meet population growth, employment growth and a lack of space, but we also need to take into account the environmental impact of traffic as well as impact on the economy to move goods and services.
In September, CAA was granted a seat on the Premier's Transit Investment Strategy Advisory Panel; an honour as well as a dilemma. The objective of the panel was to deliver with recommendations on how to fund transit and get public buy-in on paying for the needed investment – easier said than done. So we had a decision to make: respectfully decline, or accept and hope that a decades' worth of research, understanding and discussion about this issue would make a positive contribution to the work of this panel.
As has been the case for a decade, many people failed to recognize how CAA could contribute to the topic of transit; after all, we represent motorists, right? We've spent many years bridging that gap for a number of reasons:
First, better transit should mean that those who don't have to drive (or don't want to drive) have access to alternate means of transportation, freeing up more space on our now congested roads and highways.
Secondly, while many people may join CAA because they have cars, our research shows that many of them get by using other means, including transit, cycling and walking.
Third, all the talk about how to fund transit, particularly in the last five years, has focused on extra fees or taxes levied heavily at motorists.
And lastly, with the expected population growth our advocacy has focused on better infrastructure to serve the communities in which our Members live, work and play.  So the decision was easier and CAA agreed to be on the panel.
In December, the panel delivered its report to the Premier and Minister of Transportation and released its 20 recommendations on how to build transit in the Greater Toronto Hamilton Area.  Plenty of media coverage and concern has appeared over the proposed gas tax increases, and rightfully so. Motorists are already feeling like they pay a lot at the pumps, and a good chunk of that cost is taxes.  So why would we ultimately agree to them?
The issues are complex and probably too much to get into in just one blog post. The reality is, with one million more cars expected on GTHA roads and highways over the next 20 years, taxes are the best, steadiest way to collect the much-needed revenue. Also, the plan requires a sizeable dollar figure to become a reality, and years of debate have only made it worse.  It means either several little taxes, or some sizable ones that make sense and meet international principles of best practices on how transit is funded.
There have been lots of calls by others to raise or start a number of taxes to raise the needed money, and motorists were going to shoulder a larger proportion of them, including things like gas taxes, tolls, parking levies, etc. Through our work on the panel and with others like the Conference Board of Canada, we effectively demonstrated that motorists are paying towards what it costs to operate and maintain current infrastructure – but not growth in roads or transit.
CAA has been advocating for all revenue collected from motorists to be placed into a separate fund dedicated solely to infrastructure instead of general revenues, and since 2010, we've asked for HST collected on fuel to go into a dedicated fund for transportation. Our Members have also told us if they do have to pay more, they want to see tangible benefits. We've also called on the government to help municipalities with better access to stable funding for infrastructure, and repeated that the GTHA transit issue is a regional issue, and not just focused in the City of Toronto.
We're pleased that the panel's report and recommendations are reflective of CAA's advocacy positions on these matters, and we believe this demonstrates the need for us to be at the table during future discussions.
Of course, there's more in the report than just fuel tax. The funding recommendations also place responsibility on the corporate sector and – of course – the need to have a dedicated fund containing all HST collected on fuel.
Coming to these conclusions wasn't easy, and no one wants to pay more taxes, but in order to come up with a responsible way to fund transit, fix our infrastructure, stop congestion from worsening and give people better quality of life without putting the province further into debt, concessions had to be made. The cost of doing nothing has hurt Ontario and fixing the situation will only get more expensive if we keep delaying the problem.
Municipalities around Ontario will be in an election near the end of this year, and there may also be a provincial election as well.  We want to help our Members become more familiar with these issues so they can ask meaningful questions of their candidates and cast their vote for those that best understand their concerns.
As of yet, we don't know what will happen with the report.  It's now in the hands of the government to decide whether to debate or act on the recommendations.
If you'd like to read the report, it's available at www.transitpanel.ca. We encourage you to learn more about this issue and to contact CAA at gr@caasco.ca if you have any questions, concerns or issues.