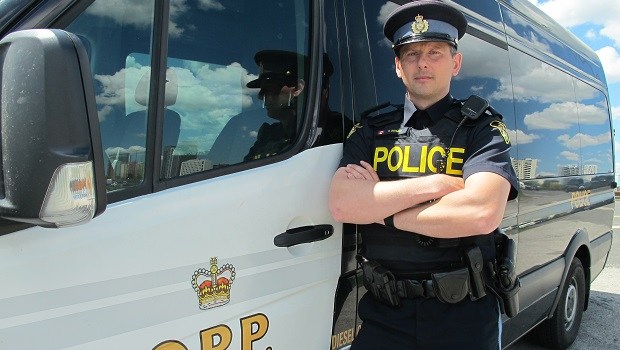 Fourteen lives have been lost, so far this year. The senseless deaths come at the hands of distracted drivers on OPP patrolled highways in Ontario.
And while the number of fatalities due to inattentive drivers is slightly down from the same time last year, OPP Sergeant Kerry Schmidt says he still sees distracted drivers on our roads, each and every day.
"They aren't really hard to miss, weaving in and out of their lanes, heads bobbing up and down all while holding on to their phones, talking or texting."
Last year, the OPP laid approximately 20,000 distracted driving charges. "It's still a huge issue," stresses Schmidt.
The OPP Sergeant who can be seen regularly on the side of a closed down highway conducting media interviews or live tweeting about the dangers of distractions from a collision scene admits "it has become so main stream that everyone is doing it, all across the board, all ages, young and old, men and women."
Schmidt calls it "extremely frustrating," adding "it's illegal, dangerous and in 14 cases this year it's been deadly."
In Ontario, it's been illegal for drivers to talk, text, type, dial or email using cell phones and other handheld devices since October 2009. And as of September 1, 2015, drivers who are caught breaking the law now face a minimum fine of $490, plus three demerit points upon conviction.
"We live in this hyper-connected world and more and more it's difficult to disconnect. Drivers hear their phone buzz or see the red light flashing and it's almost impossible for them not to look down. They think to themselves, it might be important and I can't miss this call or text. I have to see who it is," says Schmidt.
The mind set of drivers needs to change and so too does public perception. Like impaired driving, distracted driving needs to become socially unacceptable. Distracted driving continues to surpass impaired driving as one of the leading causes of deaths on our roads in the province.
Schmidt believes the problem lies with those overconfident drivers who think they can multi-task behind the wheel.
"They know the rules of the road and yet they still do it, but when they see me in uniform in my marked vehicle, they drop their most prized gadget and expensive accessory in a hurry."
In a day and age bombarded by traffic safety commercials, PSAs, education and awareness campaigns, people still aren't getting the message. "It's not until they are personally affected by a horrible tragedy — only then they realize the true risks. I wish drivers could just learn from other people's mistakes before it's too late," adds Schmidt.
He is also appealing to passengers to speak out and be vocal about distracted driving. "If you are in a car and the driver reaches for their phone, don't be afraid to say something. Don't be the silent majority, make your voice heard. "
Please don't let your friends or family members drive distracted.
Ontario's road rules have changed. Visit www.headsupontario.ca to learn more or click here for information about distracted driving penalties.