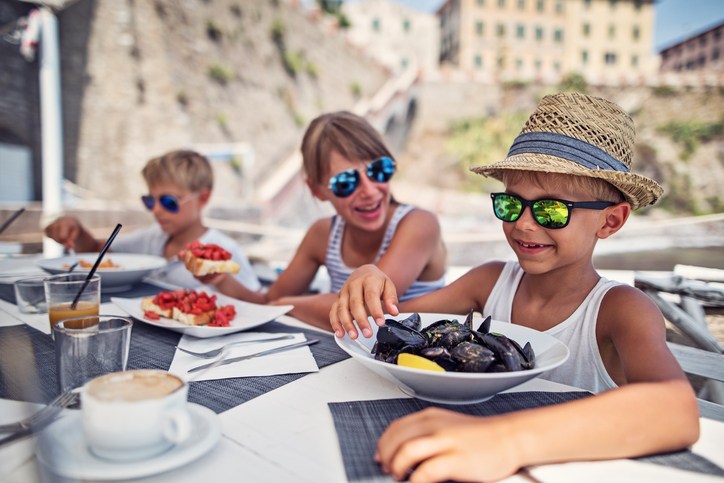 It's road trip season!
And one of the greatest things about road tripping is stopping to discover new and exciting eateries and food experiences along the way.
Fortunately, Ontario is a foodie's paradise, with amazing restaurants to enjoy all across the province. From cheap and cheerful to upscale (and also cheerful) your options are vast.
Let's head east, from Waterloo to Wellington, Prince Edward County. Here are some of the best restaurants we encountered along this route.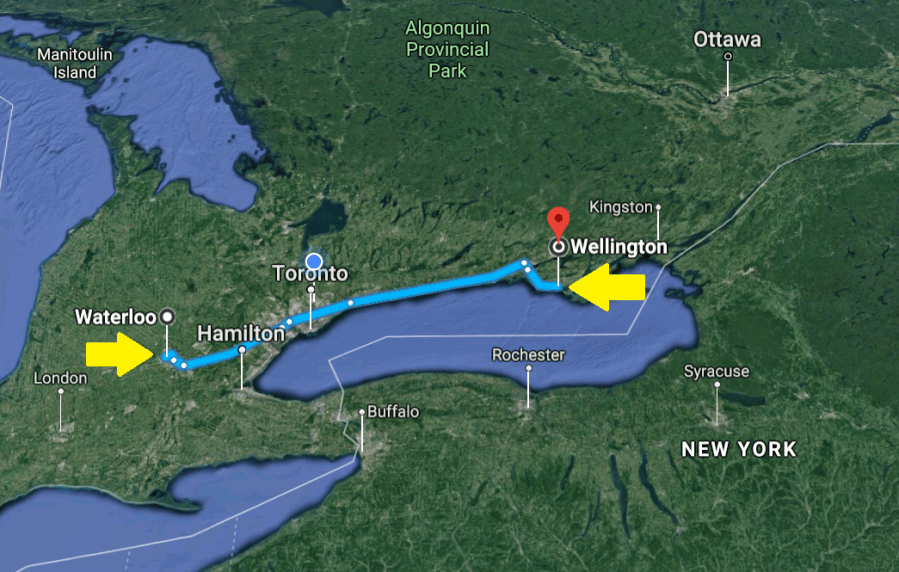 Shawerma Plus.
Address: 220 King Street North, Waterloo, Ontario.
Cuisine: Mediterranean
Distance: 297 km to go!
Start at Shawerma Plus in the tri cities area. This family run restaurant with heart is said to be the best around and a favourite with locals. The owners pull inspiration from Syrian, Mediterranean, and Canadian cultures, and aim to create the highest quality food with the freshest ingredients. The menu features items with a crazy conceptual twist, like Shawarma poutine (yes), and Micho Shawarma nachos, alongside more traditional fare, such as falafel wraps, and chicken shish tawooq wraps.
Korner Kitchen.
Address: 1595 Victoria Street, Kitchener, Ontario.
Cuisine: Diner, North American
Distance: 294 km to go!
Or if you'd rather start with a traditional breakfast, Korner Kitchen in nearby Kitchener offers up great and affordable hearty fare – eggs, benedicts, pancakes, omelets, bottomless coffee – in a friendly atmosphere. Super hungry? Go for the steak and eggs, or the smoked meat and hash (we're getting super hungry ourselves). Korner Kitchen also serves up good old lunch staples like sandwiches, salads, soups, and souvlaki.
Mezcal TNT, Hamilton.
Address:150 James Street South, Hamilton, Ontario.
Cuisine:Mexican gourmet
Distance: 267 km to go!
Just 45 minutes or so east is Mezcal, a mid-priced Mexican-inspired casual restaurant by chef Manny Fereira (Chopped Canada), that regularly garners accolades. The cantina atmosphere offers fare cooked "with a conscience", using both international and locally sourced, seasonal ingredients. Try the pork belly, baja fish, or wild boar tacos. Add a taco salad, or guacamole and chips. But don't forget that the "TNT" stands for "Tacos and Tequila".  Your road trip passengers might like to try one of the dozens of tequilas, or a mouthwatering cocktail.
Raw Aura.
Address: 94 Lakeshore Road East, Port Credit, Ontario.
Cuisine: Raw, Vegan
Distance: 223 km to go!
If you're a vegan or vegetarian, or just interested in exploring those options, head just about 45 minutes from Hamilton and Raw Aura will delight you. Raw Cuisine is food that is not heated past 43C/110F. Chefs at Raw Aura re-create familiar flavours using raw-vegan ingredients that are also gluten and sugar free. You won't just find wonderful salads, but dishes like raw Ravioli, made with red beets, and stuffed with cashew "ricotta cheese", and topped with red pepper marinara and crumbled dehydrated kale chips. Or Pad Thai, made with zucchini and kelp noodles, tossed with shredded carrots and a traditional tamarind based sauce, topped with green onions, diced almonds and cilantro. The results are eye opening.
Teddy's Restaurant and Deli.
Address: 245 King St W, Oshawa, Ontario.
Cuisine: North American, Diner
Distance: 144 km to go!
Teddy's is a local favourite, serving the Durham region for more than 35 years. Patrons compare the food to what your mom or grandma would make. Brothers Chris and Ted promise that everything served is prepared on the premises. From the soups to the salad dressings, they grind their our own steer beef daily and roast their own meats. This would explain why their hamburgers and sandwiches are so tasty. Menu favourites include the mouth watering deli meat sandwiches and the house-made strawberry pie. There are also daily lunch specials on offer. The staff is friendly and the atmosphere warm. Note that there is often a lineup, so be prepared for a bit of a wait.
Dairy Dream.
Address: 613 Burnham St., Cobourg, Ontario.
Cuisine: Ice Cream!
Distance: 84.4 km to go!
Time to satisfy your sweet tooth with some ice cream. Cobourg's oldest family-operated ice cream parlour, Dairy Dream is open from May through September. Dairy Dream sits close to the beach and serves hard and soft ice cream, real fruit frozen yogurt and other cold and frozen treats.  Customers rave about the banana splits, the milk shakes and the sundaes. A great place to stop and take a breather before continuing on the way to your next stop.
Mrs B's Country Candy.
Address: 7 Prince Edward Street, Brighton, Ontario.
Cuisine: Candy & Ice Cream
Distance: 44.7 km to go!
Alternately, you can hold off for another half hour and hit Mrs. B's Country Candy in Brighton. Or, you know, go to both! Sweets for days!  Mrs. B's is near Presqu'ile Provincial Park on the north shore of Lake Ontario. "Nestled among the apple orchards and maple sugar bushes," Mrs. B's promises, "we know country living and we know country goodness – especially the kind Grandma used to make." Products like truffles, haystacks and dinosaur eggs are hand made onsite, one batch at a time, with "only the finest ingredients" and no salt or preservatives. And the shop also offers ice cream during the warmer months, along with a selection of other local products from "the finest confectioners, chocolatiers, and master chefs."
Drake Devonshire.
Address: 24 Wharf Street, Wellington, Ontario.
Cuisine: Bistro, North American
Distance: You made it!
The Drake chain of hotels and restaurants does fine casual boutique hospitality better than anyone. The Drake Devonshire  is located in an historic building on the shore of Lake Ontario, and the restaurant overlooks the water. A seasonal menu features innovative takes on bistro and comfort food. This includes steak tartare with capers, gherkins, shallots, egg yolk, and crostini; kale and squash salad with red rice, lentils, apples, pickled sour cherries, sprouts, sesame seeds, and almonds; and a whole pork hock with cabbage, buttered leeks, chickpeas, and apple mostarda. They are also open for lunch during the week and brunch on weekends. The Drake hosts music, food, and art events. So, check the calendar to see what's going on.
Know any great spots to stop for a bite between Waterloo and Wellington?
Let us know in the comments!