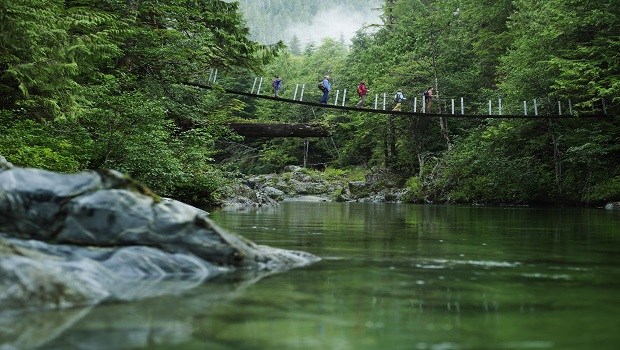 While British Columbia is naturally a wet climate it does not deter any of its residents from taking advantage of the great outdoors, which by the way, plays an integral part in their quality of life. Whatever the season, there is always something to do. There are also numerous places that offer a variety of adventure, unmatched anywhere else.
Vancouver Island.
In 2015 Vancouver Island was named the #1 island in continental US and Canada by Travel + Leisure. Quite the accolade. But if you have experienced this wonderful place you'll know it's well deserved. Not only does it boast magnificent beaches, mountains, lakes and rainforests but it offers hiking, kayaking, salmon fishing, golfing and lots of wildlife.
Whistler.
Whistler is the ultimate playground and literally offers year-round adventure and excitement. In winter, you can ski and snowboard, snowshoe and toboggan and there's even ski jumping at the Olympic Park. Summer is just as exciting with white water rafting, ziplining, cross country biking, golf and a host of festivities to enjoy with your family.
Kamloops.
Here's a fun fact – Kamloops is one of Canada's sunniest destinations, which makes it perfect for hiking, mountain biking, fishing, tubing, kayaking and of course golf. But there's another side to this quaint destination – it has a vibrant art community, lots of music festivals and various cultural sites. It's also very proud of its First Nations heritage.
The Okanagan.
The Okanagan is popular with everyone as it offers something for all. For families, there are numerous lakeside beaches and resorts with amenities galore. For the wine lover or aficionado, there is valley after valley of lush vineyards waiting to be explored. The outdoor, adrenaline junkie, well let's see, there is water skiing, golfing, biking, hiking and that's just in the summer. Winter's another story all together.
If you're planning on taking a trip out west, then we have hotel and car rental deals just for you – take a look.
Parks Canada is celebrating 150 years and offering free admission to all national parks and historic sites, so discover beautiful British Columbia.