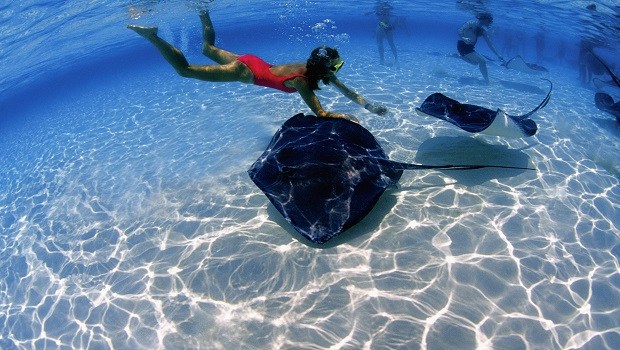 If you were here in the Cayman Islands and wanted to sound like a local, you would say Hail up!  It's the equivalent of saying 'Hi' or 'Hello', only it's in Jamaican patois, the other language spoken here. Since being here for one week I have picked up on a few other words or sayings and I'm starting to get the hang of it, pretty happy with myself.
While I'm waiting for my scuba guide, let me tell you about this magical place.
The Cayman Islands consist of three islands – Grand Cayman, Cayman Brac and Little Cayman. Together, these islands form a tropical paradise that has quickly become one of the leading tourist scuba diving destinations in the world.
The Cayman Islands are located in the western Caribbean Sea and are, in actuality, the peaks of a massive underwater ridge (known as the Cayman Trench), which stands 2,400 metres from the sea floor. The islands lie in the centre of the Caribbean, south of Cuba and west of Jamaica. Grand Cayman is by far the biggest, with an area of 197 square kilometres.
The  climate in the Cayman Islands is good all year, as the trade winds ensure it doesn't get too hot. Peak season runs between December and April, while the rainy season runs from May to November. Travellers who choose to vacation in the Cayman Islands between May and November are advised to keep an eye on the weather reports in the days before arrival, as this is also hurricane season. However, many tourists regard the wet season as the best time to visit, as room rates are cheaper, the beaches less crowded and the rain comes in short, sharp bursts that does not usually impact on holiday fun.
Here are some places you need to visit:
Wreck of the 10 Sail
Stingray City
Smith's cove
Seven Mile Beach
Atlantis Submarines
Q.E. ll Botanic park
Got to dash, the ocean awaits me.