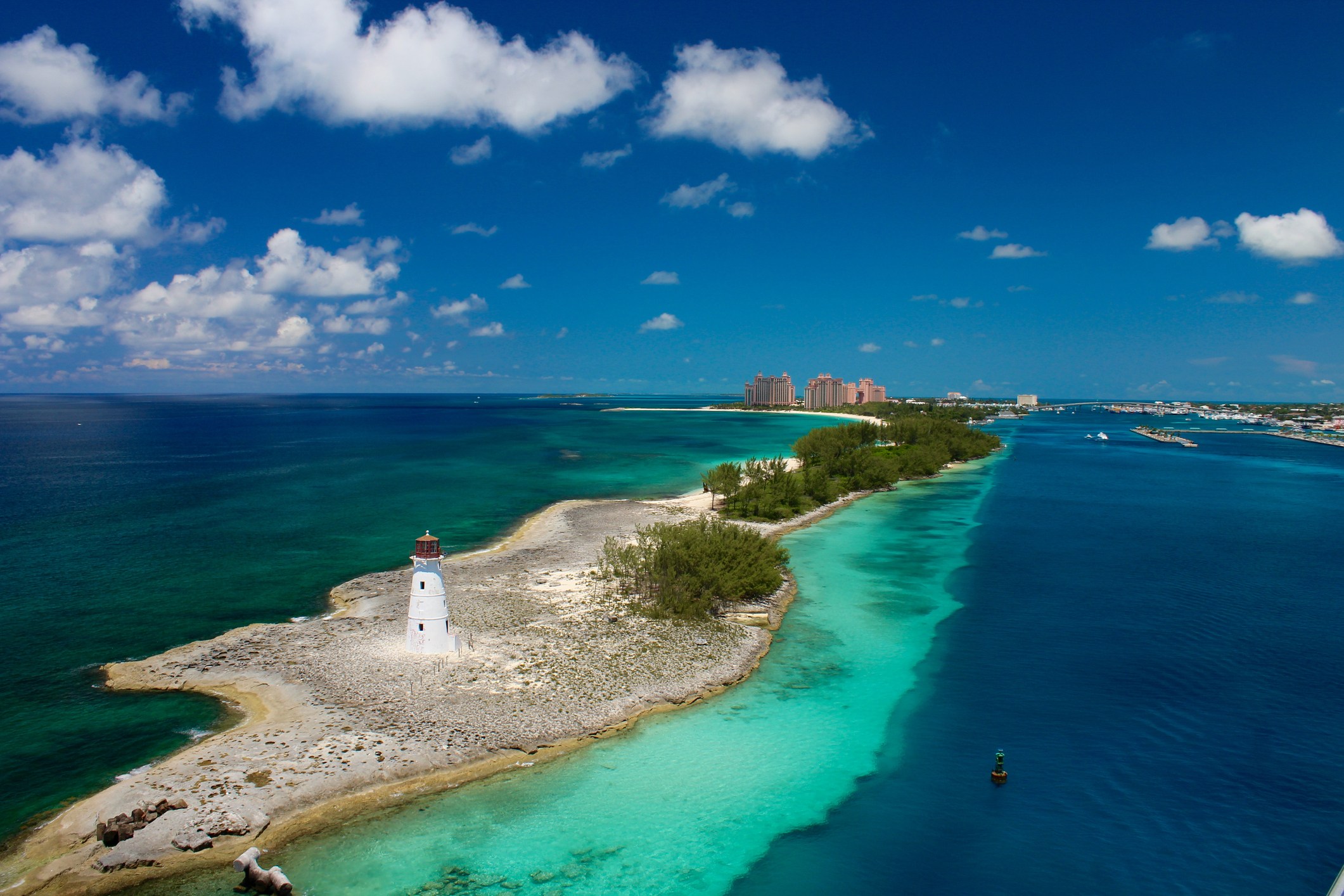 It should come as no surprise that the Bahamas encompass the most beautiful islands in the world – all 700 of them actually. That's right, there are 700 glorious islands and over 2,000 rocks and cays that form this archipelago haven, which spans 100,000 square miles in the Atlantic Ocean. Some of the clearest blue water in the world is here, as are magnificent coral reefs, natural sand bars and the finest white sandy beaches. Of course, of the 700 islands most are uninhabited, but some are packed with luxurious resorts just waiting to welcome excited visitors to this tropical paradise. Below are some of our favourite places to visit while on the island.
Nassau.
Nassau, the capital city of The Bahamas, is a wonderful vacation destination because you're not far from the bustling hub of a city, but you still have the relaxing and glorious beaches at your doorstep. Nassau is located on the island of New Providence and the main harbour is protected by Paradise Island, which is accessible via Nassau bridges. Nassau is known for wonderful snorkeling and diving and the adorable pastel-coloured British Colonial buildings in town.
Get ready to experience Nassau's latest and greatest resort, The Grand Hyatt Baha Mar. Since its grand opening in April 2017, excited guests have checked into the 1,800 contemporary guestrooms and suites to enjoy spectacular views and fresh ocean air. Lavish amenities await you at Cable Beach, one of the most stunning beaches in Nassau, where the resort is located. Choose to swim in one of six luxurious pools, play a round of golf or a game of tennis, test out the water sports and walk along the white sandy shores at your leisure. Then come nightfall, get ready for the energy and excitement of the prestigious Baha Mar Casino, the largest in the Caribbean, which features state of the art slot machines and table games. Top off your day with a frozen cocktail at Palms Café or a signature margarita at El Jefe.
Atlantis – Paradise Island.
Atlantis is home to five miles of gorgeous white sandy beaches and turquoise blue water. Choose to explore Cove Beach, Atlantis Beach, Paradise Beach or Paradise Lagoon Beach with its protected environment for paddleboats, snorkeling and water sports. Every guest can swim to their heart's content and choose from 20 swimming areas and 11 pools, including three kids' pools. The family-friendly Grotto Pool has two cascading waterfalls in a secluded setting while the River Pool connects to the famous Lazy River Ride where you float along a tropical paradise. Younger kids can splash all day at Splashers, a Mayan-themed water park with slides and fountains. Guests can choose between casual, gourmet or premium dining plans and enjoy meals at multiple restaurants, including Poseidon's Table – perfect for Sunday brunch. Atlantis is also home to a world-class casino spanning a 7-acre lagoon with innovative glass sculptures and 85 gaming tables. Save a day for the Mandara Spa and indulge with a Caribbean Coffee Scrub body treatment. Don't worry, your kids will be busy building their own stuffed animal at Atlantis Pals to remember their vacation long after they have left Paradise Island.
The Exumas.
The Exumas are divided into three major areas known as Great Exuma, Little Exuma and The Exuma Cays – all with clear blue water and sandy beaches. Located southeast of Nassau, The Exumas are an archipelago of 365 cays and islands with exclusive resorts and private homes to famous celebrities.
Located on a mile-long stretch of beach and the iridescent waters of Emerald Bay, Grand Isle Resort and Spa is ideal for families that want to unwind and get pampered. There are several stunning beaches to choose from, including Coco Plum Beach with its perfect picnic spots and the Beaches of Staniel Cay with magnificent reefs for a snorkeling adventure. Back at the resort, kids can join the Hummingbird Hut for daily complimentary activities such as kayaking and boogie boarding and adults can experience marine healing via seawater-infused treatments to help restore balance and well-being in their lives at SeaStar Spa. For dinner, you can indulge in the luxury of a private chef for a special occasion or head over to The Palapa Grill for a meal cooked with fresh, local ingredients. There is also a weekly Junkanoo Bonfire on the beach for an authentic Bahamian experience.

Regardless where you stay in the Bahamas, there is a white sandy beach waiting for you and CAA Travel can take you there. Book a vacation online today, contact your local CAA Storeor call 1-855-660-2293 to speak with one of our knowledgeable Travel Consultants to help plan your trip of a lifetime to the Islands.