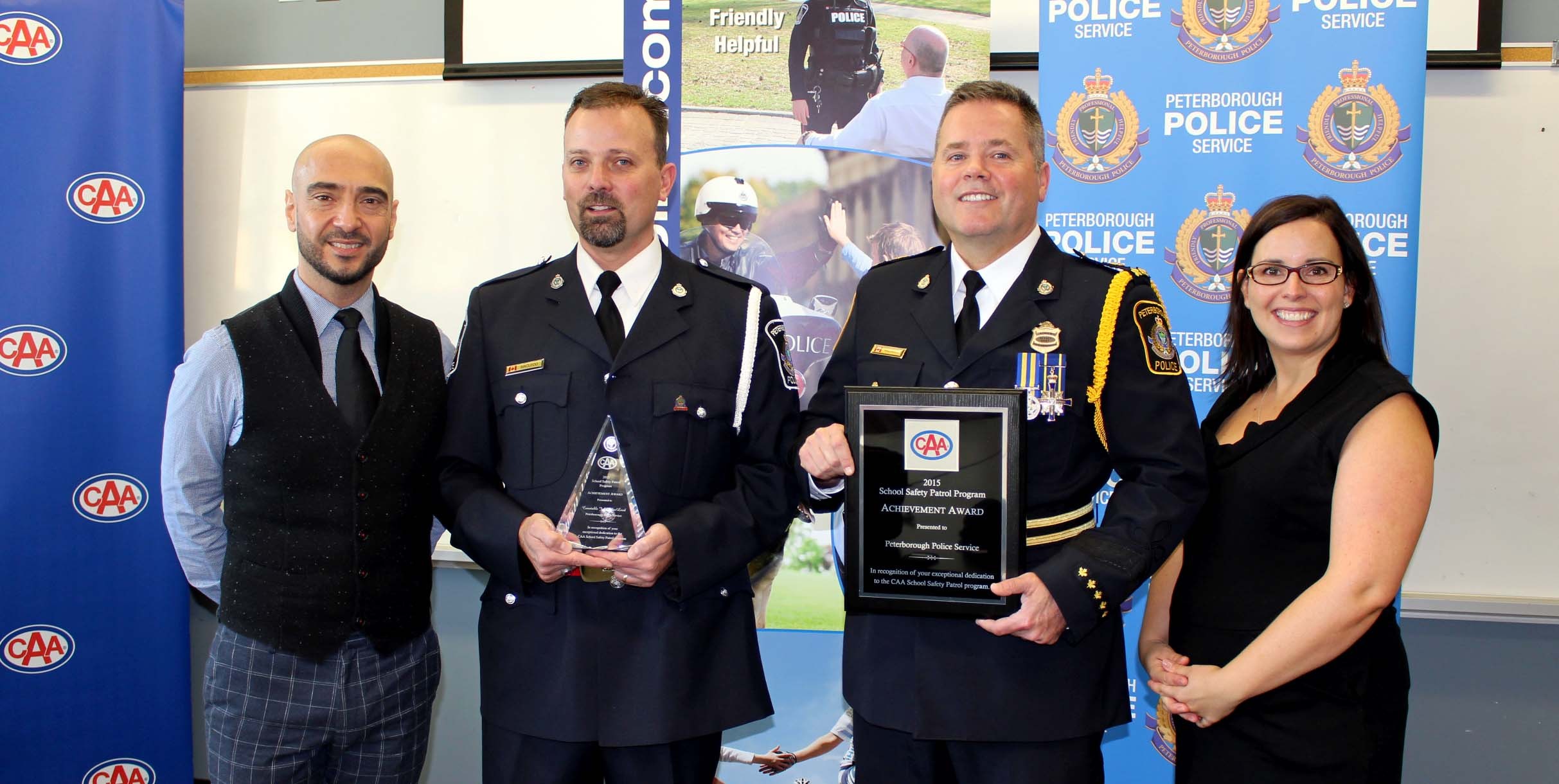 CAA's School Safety Patrol is well-known for protecting schools all over Ontario and for working with police services in communities to help keep children safe. On November 20, 2015, the Peterborough Police Service was honoured with the CAA School Safety Patrol Program Achievement Award at their police headquarters. This award is given annually to police services that that lend exceptional support to the School Safety Patrol (SSP) program.
SSP Patrollers to Police Officers
Peterborough Police Chief Murray C. Rodd and Constable John MacLeod volunteered as Safety Patrollers long before they became police officers. The officers fondly remember being patrollers as children and Constable MacLeod's daughter is following in her father's footsteps as a foot patroller Captain.
In a statement about the SSP, Chief Murray Rodd said, "I'm proud to receive this honour for the Peterborough Police Service. I have fond memories of being a patroller when I was a child and recognize the tremendous value in this program. Our Service is proud to be a partner in this program which works to keep our children and community safe."
Constable MacLeod has greatly contributed to the program's success. His leadership has made a difference in Peterborough by ensuring the safety of children and fostering an environment of student leadership. He has served with Peterborough Police for 15 years, and has managed the School Safety Patrol program in his community for the last 5 years. In addition to his leadership, he has also developed a rewards program for patrollers to acknowledge their good deeds and organizes a year-end picnic to thank them for all their hard work throughout the year.
This year, he was able to offer his patrollers an opportunity to attend the National We Day event in Ottawa. His future patrol captains attend a 3-day summer camp to continue their safety and leadership training, preparing them to be leaders at school the following year.
Giving back to the community
Peterborough police have participated in the CAA School Safety Patrol program for over 40 years. Several schools in Peterborough currently partner with CAA and the police service to run the SSP program. There are over 300 foot patrollers in Peterborough and the program is expanding in 2016.
CAA's School Safety Patrol program instills community and leadership mindsets in the children who train to be patrollers. Foot and bus patrollers are able to guide their peers and keep them safe during the school year. Over 55 police services across Ontario are involved with the SSP program.
To learn more about how the School Safety Patrol program gives back to the community, click here.