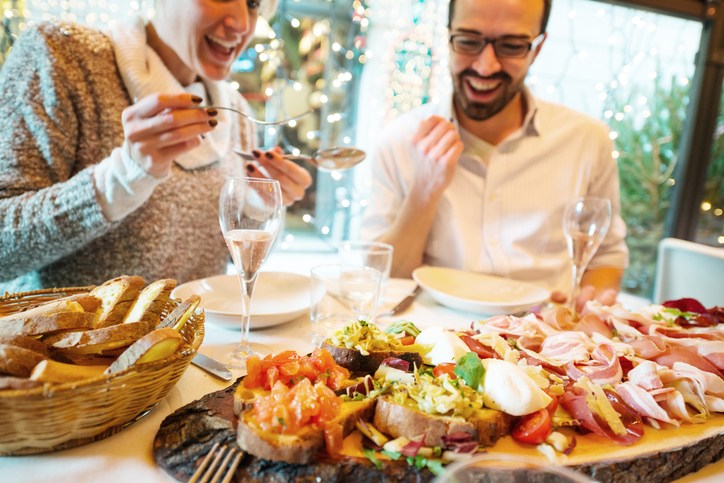 From the sights and sounds of bustling cities and beautiful county sides to the art, culture, and music that will surround you wherever you go, visiting Italy is a festival of sensations. Savour the aromas of traditional Italian delicacies and the flavours of world class wines that vary throughout the country's diverse regions.
While there is so much to see and do during a visit, when we think of experiencing authentic Italy, one of the most important senses that comes to mind is the taste, the food. Be sure to enjoy samplings of cheese, cured meats, bread, chocolate, gelato and more of the classic flavours of Italy.
The best way to discover the local specialties and unique flavours of Italy's classic culinary regions is by touring a variety of the country's most famous cities.
When in Rome.
The bustling streets of Rome are alive with the sweet and spicy aromas of sumptuous foods. Pasta, porchetta, and pizzas are among the classic dishes of Rome. Many consider a plate of spaghetti carbonara to be the signature meal of the Eternal City. Pasta is so central to the culture of Italy's capital region that there is even a Pasta Museum dedicated to it.
Because Rome has been a hub for busy travellers from the world over since antiquity, street food has come to play an important part of the flavours of this city alongside the famous ristorantes. Supplì (fried rice balls coated in breadcrumbs and stuffed with cheese), traditional pizza by the slice, and fresh porchetta sandwiches are among the most popular offerings in the streets of Rome.
Of course, when in Rome, you'll want to experience more than just the food. This city is a feast for the eyes and ears as well, alive with history and culture. Take a walking tour of the Trastevere neighbourhood or a step back into history with a guided tour of Classical Rome, including the spectacular Colosseum.
Taste the Delicacies of Tuscany.
While pasta is eaten throughout Italy, over in Tuscany, the local cuisine more heavily features olive oil, breads, and grilled meats served alongside local vegetables. Chicken Florentine was named after the capital city of the Tuscany region. Roasted lamb is a local classic. However, it is the Tuscan steak, known as the Bistecca Fiorentina, a T-bone served rare accompanied by roasted potatoes and beans that is a must-try for meat lovers.
One the area's signature dishes will appeal even to those who aren't carnivores. Ribolita – or 'boiled twice' – is a traditional bean and kale soup served with toasted bread. Fungus fans will also delight in the local cuisine and shouldn't leave the region without sampling the porcini and truffle pasta.
Tuscany is also home to some world-famous wines as well as local family-owned vineyards. Many tours of the region include visits and tastings of each. Renowned flavours of the region include Chianti, Montalcino and Montepulciano wines.
Savour Seafood in Veneto.
The region of Veneto in northern Italy is home to the famous canalled city of Venice as well as Verona, the setting for William Shakespeare's Romeo and Juliet. This is also an important wine growing area, producing Prosecco, Merlot, and Valpolicella among many other varieties.
The food from this region is also quite distinct from other areas of Italy. Venice is the most populous – and popular for travellers – city in the territory, and its cuisine heavily features seafood. Local markets and menus offer a stunning variety of fish, along with crabs, shellfish, mussels and much more.
Veneto is also home to some of Italy's most important farmlands making for a sumptuous array of fresh fruits and vegetables as well as grains, poultry, and pork. The many flavours of the region can be enjoyed at fine restaurants or inexpensively sampled with a glass of local wine at an osterie. These are wine bars – even more casual than a trattoria – that serve platters of grilled meat and fish with pasta accompanied by local wines.
A great way to soak in the sights and sounds of Venice is with a stroll across the Rialto Bridge, a beautiful stone archway that spans the Grand Canal while gondolas pass underneath. It is lined with shops selling local treasures such as jewellery, linens and blown glass from Murano Island. This shopping area connects to the popular Rialto market area of the city.
While Italian food has arguably become one of the world's most popular cuisines, that broad term belies the savoury nuances of the many regional variations and delicacies. From pizza and pastas, of course, to roasted lamb and fresh seafood, from the world's most expensive truffles to legendary wines, there are different worlds to discover within a single culture.
The best way to get a true taste of the authentic flavour of Italy is with a tour of several different classic cities. The food and wine, as well as the sights and sounds, and the arts and culture will be a feast for the senses. Taste them all!