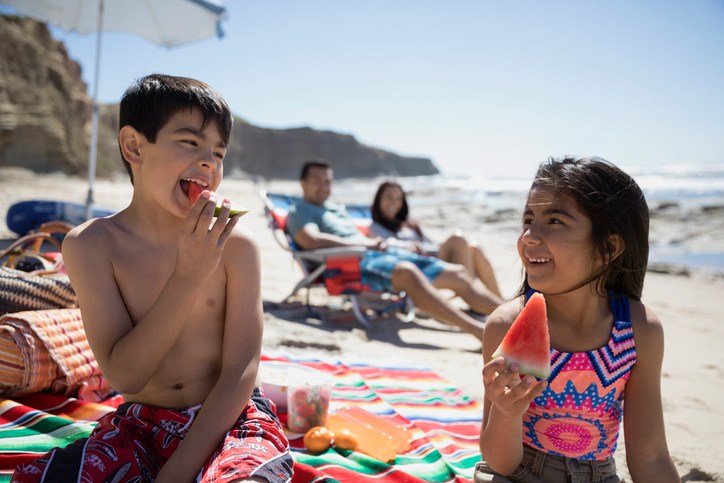 Of course, Canada is home to a wide range of fantastic beach towns. Bordering on three oceans, this country has the longest coast line of any nation in the world. Plus, we are also home to The Great Lakes and a host of other bodies of water large and small dotting the countryside.
If you were trying to complete a bucket list of hitting all of Canada's top beaches in a single road trip, starting in Newfoundland and heading west, here's where you would stop along the way.
Sandy Cove Beach, Eastport, Newfoundland and Labrador.
Newfoundland is famous for its friendly people and dramatic rocky coastlines. It isn't as well known for its beaches. However, the Eastport Peninsula draws an influx of visitors every summer who come for its ocean views, fishing villages and excellent sandy beaches. Sandy Cove Beach with its white sands and shallow waters is a favourite swimming spot for locals and travellers alike.
Basin Head, Souris, Prince Edward Island.
The great thing about being in PEI in the summer time is that you are never very far from the beach. While Brackley Beach, Cavendish and North Rustico are favourites, Basin Head is the real gem. Located on the South Eastern end of the island, near the town of Souris, Basin Head is a long and wide beautiful white sand beach. Because the levels of silica and quartz in the grains of sand causes them to squeak as you walk on them, the beach has been dubbed "home of the singing sands."
Once a secret beach destination where those in the know would drive down a dirt lane between potato fields to park on the sand and enjoy the surf, Basin Head is now a provincial park. Today there are lifeguards, changing rooms and showers, a restaurant and a museum on site.
Parlee Beach, New Brunswick.
Sheltered from the Atlantic by PEI and the Gulf of St. Lawrence, Parlee Beach boasts the warmest salt waters in Canada. The beach is a part of Parlee Provincial Park which has a camp store and restaurant, change rooms and camp sites. All summer long, Parlee hosts events such as volleyball, football, ultimate frisbee and sand sculpture competitions.
Parlee is the most popular beach in New Brunswick and for good reason. However, for something a little different, check out the Hopewell Rocks. Located on the Bay of Fundy, Hopewell Rocks Provincial Park features a few sandy beaches for swimming and sunning. It also has the famous towering rock formations that are half submerged at high tide. You can walk on the ocean floor around their fully revealed stature at low tide.
Martinique Beach, Nova Scotia.
Nova Scotia is home to many fine beaches along its seemingly endless stretches of Atlantic coastlines. With its sprawling five kilometres of white sand, Martinique Beach is one of the most beautiful and the longest beach in the province. Along with sandy shores for swimming and watersports, the beach features open and shaded picnic areas behind the sand dunes. Boardwalks and hard-surfaced paths make the beach accessible for wheel chairs and strollers. Lifeguards are on duty for safe swimming in July and August. The large waves make Martinique a favourite spot for boogie boarding, surfing and body surfing.
While in Nova Scotia, a visit to Cape Breton Island is always worth the trip for its scenic drives and ocean views. Beach lovers will particularly enjoy the unique Ingonish Beach. Ingonish has sandy shores on the Atlantic Ocean and it also has a freshwater lake. Swimmers can plunge into the salty sea and then rinse of in fresh water, right from the same beach. Washrooms and a canteen concession stand are available on site.
Havre-Aubert Beach (Sandy Hook), Iles de la Madeleine, Quebec.
Quebec's island community in the Gulf of St. Lawrence, the Îles de la Madeleine offers over 300 kilometers of beaches to choose from. One of the finest is Havre-Aubert Beach – also known as Sandy Hook – on the Havre Aubert Island. This beautiful beach features 12 kilometres of white sands on clear blue waters perfect for swimming, kayaking and kitesurfing. This beach is also the site of the Madeleine's annual sandcastle contest.
Visitors can also walk as far as Bout du Banc point at the very tip of the island, where you'll have ocean waters on three sides and enjoy a magnificent, unobstructed view of the Entry Island.
Sandbanks, Ontario.
Sandbanks Provincial Park in Ontario is home to three beautiful, wide sandy beaches that are among the very best in Canada. Sandbanks is famous for having the largest fresh water sand bar and sand dunes in the world.
Sandbanks Provincial Park is a favourite spot for camping, but you can also visit the beach for the day for swimming and sunbathing. The park is situated in Prince Edward County – one of the province's fastest growing wine regions – near the charming town of Picton for a variety of dining, shopping and accommodations.
Wasaga Beach, Ontario.
Wasaga is a bustling beach town all summer season, drawing over two million visitors every year. The famous 14 kilometres sand shoreline on Georgian Bay is the world's longest fresh water beach. Those waters are also fairly shallow, allowing their temperatures to rise quickly in the heat of summer, making for some of Ontario's warmest swimming.
For something a little different, while in Ontario, consider swinging by Erie Beach near Port Dover on Lake Erie. The beach and the pier have the ambiance of a festive, tropical beach town all summer long. That southern vibe is only enhanced by the line of real palm trees swaying in the breeze off the lake. (They are planted every summer and moved to greenhouses in the winter months.)
Grand Beach, Manitoba.
About an hour and a half outside of Winnipeg, on the shores of Lake Winnipeg, is the Grand Beach Provincial Park. The beach itself stretches over three kilometres of fine white sand and is bordered by high sand dunes. There is also a lively boardwalk for hanging out and people watching. The beach has received the internationally-recognized Blue Flag designation for extraordinary clean and safe beaches.
Grand Beach holds a sand sculpting festival every August drawing crowds of creative sand artists vying to construct the very best sand castle. If people watching and sand castles aren't your thing, the beach is also a bird sanctuary for the endangered piping plover.
Manitou, Saskatchewan.
About 100 kilometres southeast of Saskatoon is a spot that is often compared to the Dead Sea in Israel. Little Manitou Lake is rare saltwater lake that is so buoyant that you can easily float on the surface. There are three shallow beaches that draw visitors for natural spa days, attracted by the healing properties of a saltwater soak. The waters also contain magnesium, potassium and iron.
The Manitou Beach Village has a mineral spa and resort plus, there is also camping and golf nearby. The beaches themselves have showers and washrooms, as well as a playground for the kids.
Lesser Slave Lake, Alberta.
White sand beaches probably aren't the first thing that comes to mind when you think of central Alberta. However, if you drive about two and a half hours north of Edmonton, you'll find the lovely Lesser Slave Lake Provincial Park. This park features three kilometres of soft sandy beaches on crystal clear blue waters. The Trans-Canada hiking trail runs along the length of the shores. The park hosts annual sandcastle competitions and a songbird festival at the Lesser Slave Lake Bird Observatory.
Long Beach, British Columbia.
Long Beach is the biggest and longest beach in the Pacific Rim National Park Reserve on the western shores of Vancouver Island. Stretching over 16 kilometres, the beach is lined by crashing surf on one side and dense forest on the other. The consistently wavy waters make Long Beach a top draw for surfers. There are nearby campgrounds, hiking trails and excellent views from the top of Radar Hill.
The nearby town of Tofino offers plenty of dining, shopping and accommodation options.
For something a little different, B.C. is also home to Canada's largest clothing optional beach. Located near the University of B.C. campus, Wreck Beach is a nearly eight-kilometre-long nude beach just 15 minutes from downtown Vancouver. Soak up some sun – with no tan lines.