What You Need to Know About Travelling With Pets
Expert advice for driving or flying with your dog or cat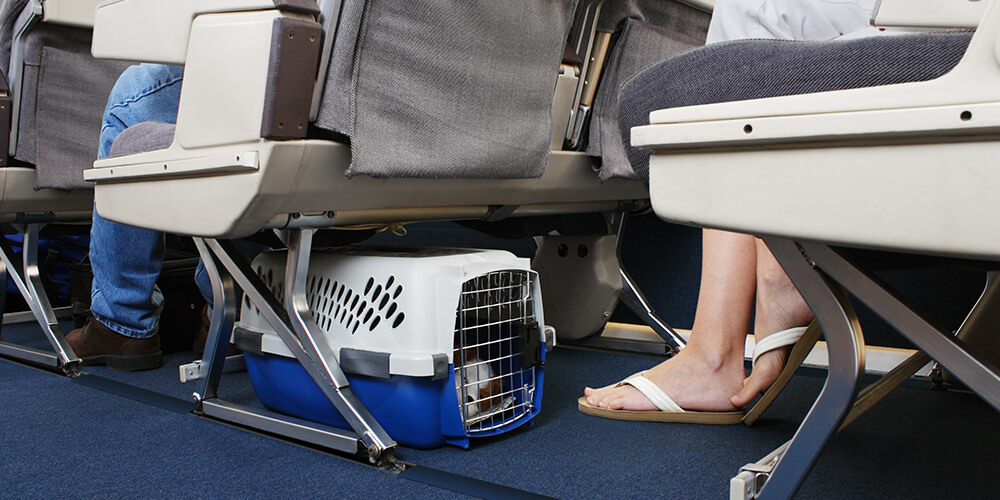 Travelling and animal companions are two of life's pleasures, but combining them requires planning. Consider leaving your pet at home as travelling may not be for every pet. But if you do plan on taking your pet with you, ensuring your pet is safe will help create a stress-free experience for both of you. Here are six tips on how to travel safely with pets.
Keep them in the back seat
Have your pet ride in the back seat and not in the front with you, says Narissa Weston, a registered veterinary technician with Highway 24 Veterinary Clinic in Guelph, Ont. "The air bags located in the front of the vehicle can be very harmful or even deadly for your pet," she says. "Allowing your pet to ride in the passenger seat can also be distracting for the driver."
If the windows are rolled down in your vehicle, make sure your dog doesn't stick his or her head out of a moving car. "Debris like pebbles have been known to cause eye injuries or eye irritation," Weston says.
Consider a crate
If you can, secure your cat or dog in a crate. A crate or kennel is the most ideal, though there are also dog harnesses, which can be secured into the car's seatbelt buckle.
Pack the essentials
Even if it's only a short drive to your destination, make sure you have the following:
identification, such as a tag with contact information or a microchip
a leash along with a sturdy collar or harness
a crate, kennel or seatbelt harness
poop bags or kitty litter, along with a scoop and disposable bags
water and a collapsible water bowl
treats
Take a break
If you're driving with a dog, plan to stop at least once every two hours so that your pet can stretch its legs and relieve itself. "Ensure your pet is on a secure leash for bathroom breaks during your trip," Weston says.
Offer your cat water at least every two to three hours, and line the cat's carrier with absorbent pee pads to allow your pet to freely urinate during the trip.
Rules and regulations for flying
If you're flying or taking the train, make sure to check with your airline or rail service provider for their specific requirements for pet travel. Some carriers only allow pets in the cabin if they are a particular size or weight, others may not allow pets at all depending on your seat and in some cases, there may be an additional fee for your pet.
Weston also recommends a pre-trip visit with your vet to ensure your fur baby is fit enough for travel. At this appointment, you can also discuss with your vet ways to help reduce travel anxiety for your pet, such as giving them sedatives or anti-anxiety medication.
At your final destination
Reward good behaviour with treats and praise.
Ensure your pet wears proper identification at all times. To help your pet feel more comfortable in his or her new surroundings, bring along a piece of clothing, pillow, or a familiar toy that smells like home, Weston suggests.
Get the right coverage
Help protect your four-legged family member with pet insurance from CAA's provider Pets Plus Us, which can include coverage for accidents or illness, even boarding fees and emergency trip cancellation. Call 1-833-323-2452 for more information and to get a quote.
The information herein is summarized, the actual policy issued Terms and Conditions will prevail. All Pet Insurance plans have limitations and exclusions. Specific products, features, rates, and discounts may vary by province, eligibility, and are subject to change.
© 2022 All rights reserved. Pets Plus Us Pet Insurance policies are underwritten by Northbridge General Insurance Corporation, distributed by PTZ Insurance Services Ltd. & Société d'Assurances Collectives (Sodaco) Inc. in Quebec. Pets Plus Us Pet Insurance is available in all provinces and territories. Pets Plus Us®, Pets Plus & Design and related words and logos are trademarks and the property of PTZ Insurance Services Ltd. For the terms and conditions, click here.