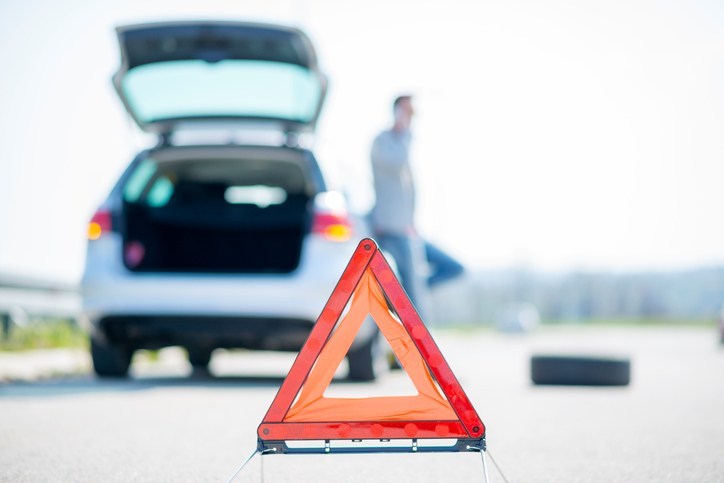 Do you have what you need if your car breaks down? What if you're stranded somewhere for several hours? Check out this list of things you should have in your car then hope that you never need to use them!
1. Extra batteries and cables for your cell phone. This can make the difference between getting help quickly and having to walk several kilometres on the highway shoulder. Whether your phone has a replaceable battery or not, you can buy portable battery packs that will allow you to get a few more charges out of your phone. (Make sure you periodically recharge the battery packs themselves the lithium-polymer cells used in most portable batteries self-discharge at a rate of approximately 5% per month.)
As a bonus, having a lot of phone power in reserve also means that you can dispense with carrying a traditional flashlight and simply use your smartphone's LED flash light.
Note: Even if you don't subscribe to a cell phone service, keep an old phone in your glovebox, all phones can be used to call 911 in an emergency. Just keep it powered off and check its battery level from time to time.
2. Jumper cables. Car batteries can go kaput without warning. Keep good quality jumper cables in your trunk and remember: when trying to jump start your car, connect the good car's positive battery terminal to your battery's positive terminal, and the good car's negative to an unpainted metal part of your car – NOT the negative terminal of your battery!
3. Bottled water. Not only to drink, but should your car experience a coolant leak, you can use the above-mentioned duct tape to temporarily patch the leak, then use the water to top up your coolant level.
4. First-aid kit. It should ideally include band-aids, adhesive tape, gauze pads, aspirin, antiseptic wipes and an antiseptic cream or ointment.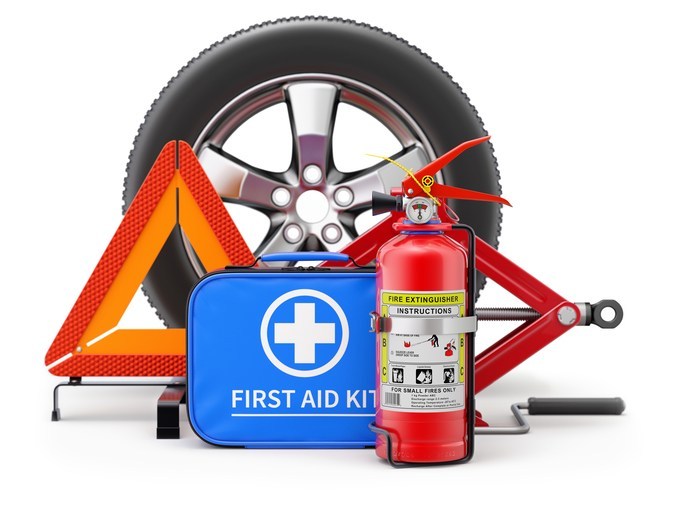 5. Fire extinguisher. Although your vehicle is designed with safety in mind, many of its components are potential fire hazards. If you suddenly have to deal with a vehicle fire, having a fire extinguisher on hand will help you stay safe and minimize vehicle damage.
6. Reflective warning triangles. Get a pack of at least three triangles. If you break down and need to stop on the shoulder of the road, place the first warning triangle about 20 metres behind your vehicle, and each subsequent triangle another 10 to 15 metres behind, to give oncoming traffic enough of an advance warning. For extra security, get a kit that includes a bright reflective safety vest that you can wear while placing the triangles on the road.
7. An emergency escape tool. This widely-available tool is usually shaped like a small hammer and it includes a sharp blade that can be used to cut a seat belt in case of a severe accident. You can then use the hammer to smash a window and free yourself from the vehicle. This is one of those things you don't know you'll need, until you do.
8. Tire gauge. If your car comes with a spare wheel and tire, use this tire gauge to periodically check its air pressure. The last thing you want when you have a flat, is to find out that your spare is also flat!
9. Snacks. Non-perishable snacks like protein bars can be a life-saver if you somehow get stuck in a remote area for an extended period of time.
10. Your CAA Membership.  The best thing you can have with you while on the road in case of any emergency is CAA Roadside Assistance1. Whether you're the driver or passenger of your own car, a friend's car or even a rental, you're covered 24/7, 365 days a year. You can give us a call at *222 for Emergency Roadside Assistance. We offer towing, battery, flat tire, emergency gas, lockout service and more.
Not a CAA Member?  Join today and take advantage of all these automotive perks and more.
CAA's Consumer and Technical Services (CATS) team provides Members with free automotive advice. If you have questions about car care, buying a new or used vehicle, auto repairs, vehicle inspection, driving costs and more, contact CATS by phone 1-866-464-6448 or email 
+ Terms and Conditions
1
Basic Members receive four tows up to 10 km, Plus Members receive four tows up to 200 km and Premier Members receive one tow up to 320 km and four tows up to 200 km within North America. Bike Assist counts as one of your allotted roadside calls during your membership year. Service will be provided to cyclists where there is permitted vehicle access, and based on seasonal availability.