CAA Battery Service
Let us come to you! CAA's Mobile Battery Service¹ will test, replace and recycle your old car battery from your home, workplace or even from the side of the road. Delivery and installation are included at no additional cost.

CAA Members save $25 on the purchase of a new CAA Premium Battery!
Your battery benefits include:
A 6-year warranty
CAA Premium Batteries are backed by a 6-year total warranty. If the battery fails within the first three years, you will receive a free replacement. After three years, you are protected by our prorated guarantee. For full warranty details, click here.
CAA Members save $25
CAA Members save $25 on the purchase of a new CAA Premium Battery². If your vehicle has problems starting, Members can request their battery be tested at any time using one of their Roadside Assistance² service calls.
Free disposal
After you have had your battery replaced by CAA, our mobile Battery Service will properly and responsibly dispose of your old battery at no additional cost to you. If you choose to keep the old battery core, a fee will be applied to your invoice.3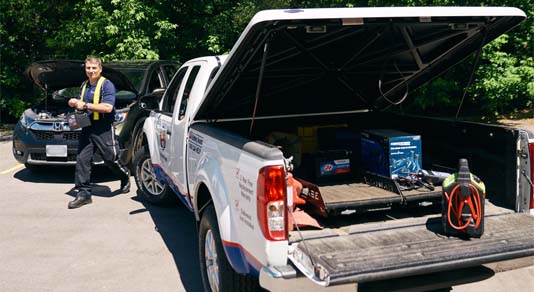 Dead battery? We can help.
Just call *222 from your mobile phone and a trained CAA Battery Service Representative will provide a helping hand.
Estimated wait times.
Whether you are in your car, a friend's car or even a rental, you will never find yourself stranded with CAA.
View Wait TImes
CAA Roadside Assistance.
From having a flat tire, running out of gas, being locked out of your car or not being able to start it, help is just a click away.
Get Roadside Assistance
CAA on the go.
Request a battery quote, get roadside assistance and check out many more features on our CAA App.
Learn More