Keeping members safe since 1903.
For over 115 years, CAA has been advocating to improve traffic safety, mobility, transportation infrastructure and consumer protection.
In January 2016, CAA South Central Ontario (SCO) and CAA Manitoba announced the two clubs would merge.
In October 2016, the merger was official and the two clubs formed CAA Club Group.
CAA SCO has over two million Members.
CAA Manitoba serves over 200,000 Members.
CAA provides exceptional service to over six million Members across Canada.
One in three Ontario households has a CAA Membership.
CAA Timeline.
1903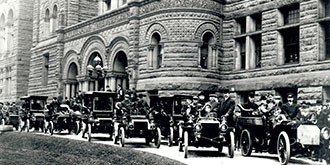 Twenty-seven motorists gather at Queen's Park to form the Toronto Automobile Club. Dr. Perry E. Doolittle is the first president.
Founding members of Canada's first advocacy group for motorists take MPPs on a ride to show it is safe to increase the speed limit from 8 mph to 10 mph.
1904
First automobile race held at Exhibition Park.
1906
The first legislation dealing with motor vehicles is enacted.
CAA publishes the first official Road Guide of Canada.
1907
Toronto, Hamilton, Ottawa and Kingston Auto Clubs operate as the Ontario Motor League (OML) to represent motorists' interests. OML's membership includes 170 active and 56 associate Members.
OML maintains Motor Vehicle Registrations for Ontario.
1912
Auto clubs advocate for increased speed limits of 15 mph in urban centres and 20 mph in rural areas.
1913
OML erects Ontario's first wooden road signs, under the direction of Dr. Perry Doolittle. By 1937, more than 200,000 road signs are erected on Ontario highways.
Canadian Automobile Federation is formed, the original name of the Federation, before changing to Canadian Automobile Association (CAA).
1914
During First World War, OML provided ambulances for the armed forces. Members also pitch in by bringing their vehicles to the train stations to meet returning soldiers and drive them to their homes.
Canadian Motorist Magazine is first published and is issued monthly. This magazine is the forefather of CAA Magazine.
OML is one of the founding members of the Ontario Safety League.
1916
Canadian Automobile Federation changes its name to Canadian Automobile Association (CAA).
Reciprocity of motor vehicle licences between Ontario and New York begins after 10 years of lobbying by CAA. Reciprocity with other provinces and states soon follows.
1919
OML advocates speed limit increases to 20 mph in urban centres and 25 mph in rural areas.
1922
CAA urges the federal government to build a Trans-Canada Highway.
1923
Emergency Road Service (ERS) is first introduced to Members of the OML in Toronto on May 1, 1923. The service, which included mechanical service and tow-ins were available for an additional $5 a year, on top of the $5 annual membership fee.
1925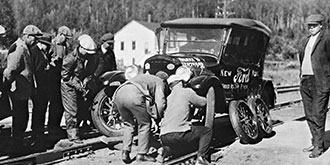 Dr. Perry E. Doolittle, CAA President, and Edward Flickenger, a Ford Canada photographer, complete a remarkable drive across Canada in 40 days, the first successful completion of a cross-Canada trip by a car under its own power. This is to build support for a Trans-Canada Highway.
1926
OML announces that ERS and Legal Defence benefits are now available province-wide to Members. At this time, there are about 200 service stations on all main travelled routes in Ontario.
1927
A driver's licence becomes mandatory with OML as one of the issuers.
Speed limit increases to 35 mph in rural areas.
1930
OML's Engineering Department conducts official tests and issues certificates of motor vehicles and fuel performances.
OML's main advocacy issues include snow removal from highways, luminous warning signs, guard fences, banked turns, road markings, side paths for pedestrians, uniform traffic regulations and glaring headlights.
1934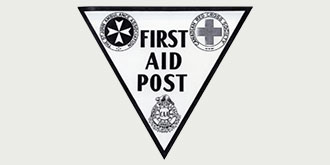 With the co-operation of the Canadian Red Cross Society and the St. John Ambulance, OML establishes first-aid posts along the main highways in Ontario.
1937
OML introduces Personal Accident Insurance as a Member benefit.
CAA launches the School Safety Patrol® program. Student volunteers aged 10 to 13 years from across Ontario are trained to keep their peers safe in school zones.
1949
Parliament passes the Trans-Canada Highway Act.
1951
Membership fees increase to $15 a year and all memberships include ERS and Legal Defense.
1959
OML adopts CAA's oval emblem.
OML participates in AAA Foundation for Traffic Safety.
1961
OML reorganizes into 11 autonomous auto clubs in Ontario.
Traffic Safety Division is started at OML (Toronto Club).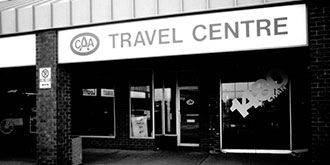 CAA's first travel agency, known as World Touring Counselors Limited, opens in Ontario.
1962
OML advocates for seat belt use in vehicles. As part of its safety campaign, CAA supplies Members with belts that meet Canadian Safety Association standards.
1963
Through an Order in Council, Ontario bans the sale of seatbelts that fail safety standards.
1965
Emergency Call Boxes are installed on Gardiner Expressway.
1966
Emergency Call Boxes are installed on Don Valley Parkway.
International Driving Permits (IDPs) are issued exclusively through OML offices.
1967
CAA's travel agency, World Touring Counselors Limited, is renamed to CAA Travel (South Central Ontario) Inc.
1968
OML funds a gas tax study.
1970
OML is renamed to CAA.
1974
The Ontario Motor Insurance Company is established.
1976
Law passes making seatbelts mandatory.
1977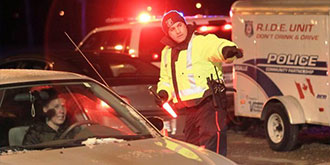 CAA aids in starting the R.I.D.E. (Reduce Impaired Driving in Etobicoke) program.
Approved Auto Repair Service is initiated.
1978
R.I.D.E. program goes province-wide and becomes Reduce Impaired Driving Everywhere.
1982
Plus Membership is launched.
Ontario Motorist Insurance Company becomes CAA Insurance Company (Ontario).
1983
Property Insurance is offered by our insurance company.
1985
CAA Central Ontario is established with the amalgamation of CAA Toronto, CAA Eastern Ontario, CAA Peterborough, and CAA Windsor clubs.
There are now five CAA clubs in Ontario, with CAA Central Ontario being the largest.
1995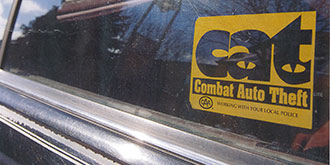 CAA works with Crime Prevention Ontario to create Combat Auto Theft (CAT) decals for motorists to deter car thieves.
1998
CAA holds its first Licensed to Live presentation, a hard-hitting, anti-drinking and driving program that includes students' dramatizations and solemn presentations by victims, survivors and offenders of impaired driving tragedies. Over 4,000 students participate.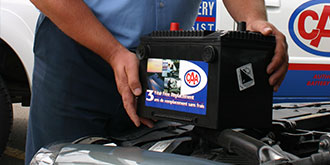 Battery Assist program is introduced, providing Members with on-the-spot battery assessment and replacement.
1999
More than 1,000 CAA Members and their guests attend CAA Central Ontario's 'Women Auto Know' event, making it Canada's largest car care seminar specifically for women.
CAA Central Ontario introduces its own locksmith service and focuses on automotive, residential and commercial industries.
2000
CAA creates Shifting Gears, a safe driving program geared to seniors. The program, co-sponsored by the provincial government, is later expanded province-wide.
2002
CAA and key stakeholders launch the Worst Roads campaign to raise awareness about Ontario's infrastructure. Thousands of Ontarians participate each year.
2004
CAA launches Mission Possible, encouraging safer and better driving behaviours through awareness, education, and enforcement.
2005
CAA Central, CAA South Central and CAA Mid-Western Ontario clubs amalgamate to become CAA South Central Ontario.
CAA Brokerage becomes part of CAA South Central Ontario during the amalgamation.
2006
CAA introduces legislation to ban novice drivers from using cell phones and other portable electronic equipment while driving.
CAA SCO introduces the Premier Membership, which offers Members five tows per year, one at 320 kilometers.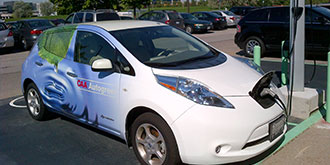 CAA launches Autogreen, educating motorists on eco-friendly driving and vehicle maintenance practices to reduce their vehicle's environmental footprint.
2007
CAA collaborates with 22 police services and the Ministry of Transportation to launch E.R.A.S.E. (Eliminating Racing Activity on Streets Everywhere).
2009
Distracted driving legislation prohibiting the use of handheld devices comes into effect.
2010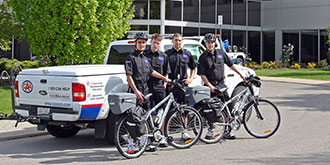 CAA SCO introduces the Bike Assist App to provide roadside assistance to CAA Members using a bicycle as a primary mode of transportation.
CAA asks that a portion of provincial revenue generated from HST charged on fuel be dedicated to Ontario's transportation infrastructure.
2011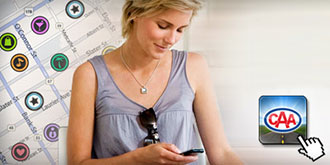 CAA SCO introduces the Join on Arrival program, where stranded motorists can contact CAA SCO and obtain service and a membership at the same time.
CAA calls on the provincial government to improve safety for roadside assistance workers and motorists through an amendment to the Slow Down, Move Over legislation.
2012
CAA SCO partners with other CAA Clubs to launch the first CAA App for multiple mobile platforms.
CAA SCO in partnership with Alberta Motor Association, forms its own Travel Medical insurance company, Orion Travel Insurance Company, underwriting its own travel medical insurance.
CAA SCO's Associates form a 'glee team' to compete on Canada Sings, a national TV competition to win money for SickKids Foundation. They are successful and win $25,000 for the charity.
2013
CAA introduces Drive/Ride Vacations, where Members can access pre-planned cycling routes throughout North America and Europe.
2014
CAA SCO rolls out the new Corporate Membership program.
Service Tracker is introduced, allowing Members to track their service vehicle. This technology is shared with all clubs in CAA and AAA.
CAA Connect®, our usage-based insurance program is introduced.
2015
CAA Insurance Company (Ontario) becomes CAA Insurance Company.
CAA Distinct™, our high-net-worth insurance product, is introduced.
2016
CAA SCO and CAA Manitoba merge to become CAA Club Group (CCG).
2018
In July, we launched CAA MyPace, the first-of-its-kind, pay-as-you-go auto insurance to Ontario motorists.